Young Social Entrepreneur Rebuilding Education
This post was originally produced for Forbes.
Chase Winder, a young social entrepreneur whom I recently met through my local Rotary Club, is working to dramatically improve education in the United States through his nonprofit Digital Learning Alliance or DLA, which advocates the use of technology that personalizes the learning experience for each student.
Launched less than two years ago, "DLA is working to scale this model nationally in all 50 states and we are currently working in some capacity in 44 states," Winder says. "State legislatures have the power to quickly and effectively implement quality technology enhancements that are improving student and teacher outcomes."
DLA has assembled a high quality board and a deep management team, including a board members Stephen Lasters, who serves as McGraw Hill Education's Chief Digital Officer, and Tom Schenck, the President of Follett School Solutions.
Winder,who is officially the Managing Director of DLA, will join me on Thursday, July 10, 2014 at 4:00 Eastern for a live discussion about his ambitious effort to improve education. Tune in here then to watch the interview.
More about the Digital Learning Alliance:
To improve economic growth across America by advocating for personalized education through the use of digital learning technologies as we empower legislators with the resources to pass new legislation—state by state—integrating technology solutions in pre-K–12, higher education, and adult learning, resulting in the skilled workforce of the future.
Winder's bio:
Social impact is an integral part of my life and inspiration for what I do every day. After graduating from the University of Utah and moving home to Salt Lake City from Washington DC two years ago I co-founded a national education nonprofit called the Digital Learning Alliance (DLA). The vision of DLA is to help students of every age by providing education research and program templates to solve dozens of educational issues by leveraging proven digital learning technologies, which can multiply the effectiveness of teachers and enable students to achieve their full potential. Prior to DLA I spent two years in Washington DC and Virginia working in policy and politics. My experience in policy comes from supporting legislation as a Research and Policy Fellow on water, oil, and Middle Eastern issues for U.S. Congressman Jim Matheson. And during the heat of the 2012 Presidential election I had the fortunate opportunity to become a congressional Communications Director for Retired Air Force Brigadier General John Douglass in Virginia's battleground 5th District.
Remember to "join the cavalry" by subscribing to Devin's content here.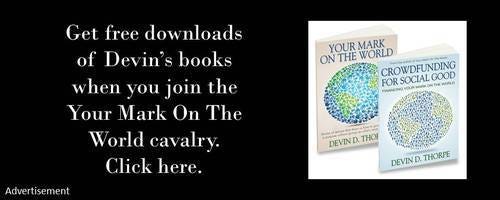 The post Young Social Entrepreneur Rebuilding Education appeared first on Your Mark On The World.