Young And Old Partner To End Child Slavery
This post was originally produced for Forbes.
Ten-year-old Vivienne Harr is working with 79-year-old Olga Murray to end child slavery in Nepal.
As I've reported previously, Harr launched her campaign nearly two years ago in response to tragic Lisa Kristine images she'd seen depicting children in slavery.
Murray, an American immigrant from Transylvania, had a successful law career and then launched a second career to help poor children in Nepal who are too often victims of slavery.
Harr and Murray, recently announced their collaboration. Harr's Make a Stand lemonade, led by her father Eric Harr, has pledged to help Murray's organization, the Nepal Youth Foundation, raise the money needed to empower young people in Nepal to break free of slavery.
The Freed Kamlari Development Forum, a Nepalese nonprofit, has provided a $30,000 fund to make co-op loans to young people seeking to free themselves from the Kamlari slavery system, but it already faces demand for another $40,000.
On Thursday, June 26, 2014 at 6:00 Eastern, Murray and Harr will join me for a live discussion about their work to end child slavery. Tune in here then to watch the interview live.
More about the Nepal Youth Foundation:
Nepal Youth Foundation (NYF) is a U.S. based nonprofit that works to provide Nepal's most impoverished children what should be every child's birthright: freedom, health, shelter and education. NYF was founded in 1990 by Olga Murray at age 65 after she retired from a career as an attorney for the California Supreme Court. At age 88, Olga continues to serve as Honorary President, spending half the year in Nepal and half in the U.S.
More about Make A Stand Lemonade:
Make a Stand is a social impact brand that supports its 10-year-old founder's vision of a world where all 18 million children are free and safe.

The company is developing a new mobile technology that allows anyone to "make a stand–wherever they stand" just like Vivienne did.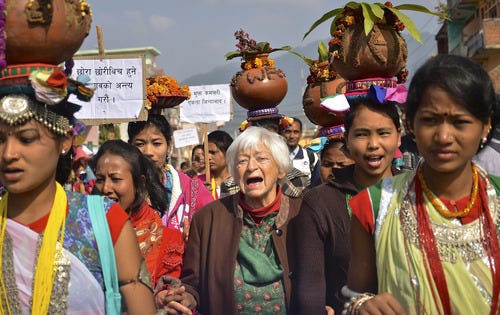 Olga Murray marches for freedom
Murray's bio:
Olga Murray – Founder, Honorary President

Olga Murray is living proof that getting older doesn't mean slowing down. Born in 1925 in Transylvania, Olga came with her parents and sister to the U.S. when she was six year old. After graduation from Columbia University, she earned a law degree from George Washington University, where she was one of a handful of female students. Olga worked her way through school as a researcher and writer for famed muckraking columnist Drew Pearson . With her law degree in hand, she found that no law firm would hire a woman. So Olga knocked on the door of the California Supreme Court, where she became a research attorney for Chief Justice Phil Gibson. When he retired, Olga joined the law staff of the new Justice Stanley Mosk. During her 37-year tenure at the Court, Olga helped to write important decisions in the areas of civil rights, women's rights, and environmental policy. In 1990, at the age of 65, Olga founded the Nepal Youth Foundation (NYF). Now, hundreds of NYF kids call her "Olga didi," meaning older sister. Annually, Olga spends half the year in Sausalito, California, raising funds for NYF, and the other six months in Nepal overseeing NYF projects — redefining just what a didi can do.
Harr's bio:
After seeing a photo of two boys her age living in slavery, Vivienne Harr, 8, set up her lemonade stand every day for a year and raised $101,320 to fight child slavery. She became the first girl in American history to bottle her lemonade-stand lemonade which is now served across America. Of their 230 million users, Twitter chose her to ring the bell at their IPO. Town & Country Magazine voted her one of the top 50 most influential philanthropists in the country with Laurene Jobs, Leonardo Dicaprio and former NYC Mayor Michael Bloomberg. Now, she is working on a new mobile crowdfunding technology with her friends at Twitter and Square that will allow anyone, anywhere, at any age to "make a stand–wherever they stand." It launches on August 15th.
Remember to "join the cavalry" by subscribing to Devin's content here.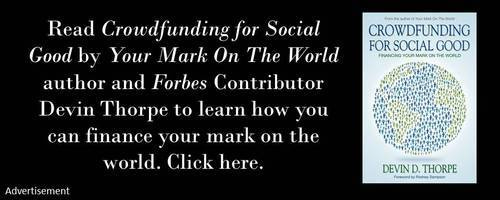 The post Young And Old Partner To End Child Slavery appeared first on Your Mark On The World.