Sunday March 18, 2012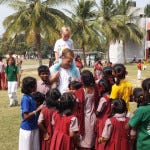 Our friends, the Smiths, have moved on to India where they are volunteering at Rising Star Outreach, a school for the children of parents with leprosy. Each day as I try to learn more about both the problems in the world and the efforts of noble people to address them, I am equally moved by the scale and scope of the problems and by the courage, character and charm of those who battle them. How will you make your mark on the world?
The post appeared first on Your Mark On The World.