Wix.Com Co-Founders Invest In give2gether, an Intelligent Crowdfunding Platform
Next-Gen Crowdfunding Can Triple Donor Engagement Rates
(New York, NY, September 3rd, 2014) Co-founders, Giora Kaplan, Avishai Abrahami and Nadav Abrahami, for Wix.com, a leading web development platform, have personally invested in give2gether (www.give2gether.com). give2gether is the world's first crowdfunding platform that uses advance game theory optimization algorithm to enable nonprofits to raise significantly more funds through targeted crowdfunding campaigns. The Wix co-founders will not be taking on any official role in give2gether and will not be involved in the day to day operation of the company.
give2gether's crowdfunding platform enables user to set up fundraising campaigns that are fully integrated with their social media efforts in less than 15 seconds. Based on ten years of research and five years of actual testing of live campaigns, give2gether provides nonprofits with a comprehensive solution for managing all their online fundraising needs such as crowdfunding, peer-to-peer, teams and event fundraising, automated receipts, social sharing, and CRM integration.
The announcement was made today by Arnon Shafir, CEO and Co-Founder of give2gether.
"My Wix co-founders and I invested in give2gether not only because of its great product and the intelligent way they disrupt this $20 billion market but also because we know this investment goes beyond great ROI," said Giora Kaplan, Wix Co-Founder and Chief Technology Officer. "Every dollar invested in it will yield a 10 times multiplier in some charitable cause THIS year, and that's a great double impact investment."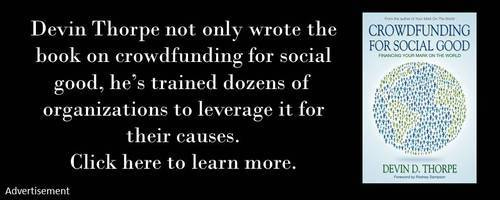 give2gether is the only platform in the world based on a distinctive optimization engine that can advise nonprofits in determining critical giving parameters for the success of their crowdfunding campaigns such as contribution range, duration of campaign, and a donation default value.
"The Wix co-founders believe that give2gether is outsmarting the crowdfunding heavyweights," said Shafir. "Because give2gether powers a new generation of smart crowdfunding campaigns to not be just social or cool. Our vision is a revolution, a type of democratization of fundraising."
give2gether was co-founded by senior economics professors at New York University (NYU is a minority shareholder in give2gether) and Professor Shachar Kariv, UC Berkeley Economics Department Chair who consults with government and inter-government organizations and whose groundbreaking research work has been published in the American Economic Review, Games and Economic Behavior, and most recently in the prestigious Science magazine.
What makes people buy/invest/give?
give2gether uses unique algorithms to help nonprofits predict online donor preferences and behavior. Similar to the Nobel Prize auction mechanisms adopted by Google in its advertising platforms back in 2002, give2gether is based on intelligent mechanisms that according to Kariv, "improve the probability of success for nonprofits crowdfunding campaigns. The understanding that giving is not only about the particular donor, but mainly about the social impact, individual interactions and lack of information with other online donors is key."
Like Kickstarter, give2gether recommends a conditional fundraising approach. If a targeted fundraising goal isn't met in the specified period of time, donors can either get their money back or divert it to a different cause. "As counter intuitive as it may sound, so is most good recommendations of game theory," says professor Kariv. "The secret sauce and algorithmic insights on 'what makes people give' is what sets it apart. The suggested gift levels, and various non-intuitive parameters such as the restricted contribution range motivates people to give more and engages three times more visitors to turn into donors."
Interesting give2gether Facts:
give2gether boasts an impressive success rate, with more than $5.5 million raised to date.

In 2013, nearly 80% of give2gether's campaigns were successfully funded.

Linkin Park, who partnered with Save the Children, were the first give2gether commercial campaign to raise more than $360,000 in 30 days through crowdfunding in order to provide help for tsunami relief in Japan.

Nathan Low's "Bike for Chai Life Line" individual fundraising page raised more than $155,000.

An average individual page on give2gether raises more than $2,800.

Eight give2gether campaigns have raised more than $300,000 each.

The average crowdfunding campaign is five weeks and raises $38,000.

One give2gether campaign raised $60,000 in less than 24 hours.

The FIDF (The Friends of the Israel Defense Forces) and a few other $100 million New York based charities as well as Brandeis University, ASU, Niagara University and Hadassah have all used give2gether.

Animal welfare organizations seem to be the early adopters of give2gether crowdfunding platforms in North America. Nonprofits such as the Connecticut Humane Society and calendar contests like "Make Your Pet a Star" or the most recent Medical Emergency campaign saving more than 32 fairy animals by the BCSPCA (The British Columbia Society For The Prevention Of Cruelty To Animals, Canada) raised over $400,000 in total through give2gether.

"Save a Child's Heart to Climb Mount Kilimanjaro," raised over $700,000 through give2gether.

give2gether provides a SaaS (software as a service) crowdfunding platform allowing midsize and enterprise nonprofits to raise two times more revenue at 1/5 of traditional cost.

give2gether won the best StartUp award from the Israeli military Unit 8200.

In 2013 over $21 billion was raised online through crowdfunding.

Within ten years commercial/investment crowdfunding is projected to surpass $93 billion according to a recent UC-Berkeley study commissioned by the government and inter-government organizations.
Remember to "join the cavalry" by subscribing to Devin's content here.
The post Wix.Com Co-Founders Invest In give2gether, an Intelligent Crowdfunding Platform appeared first on GoodCrowd.info.