Winners Announced: World's Greatest Small Social Entrepreneurs Recognized
Today Your Mark On The World announces the winners of the Hand Up for Social Good Awards for the best small social entrepreneurs based on their mission and impact.
The winner, who will receive $1,000 from Your Mark On The World, The Yonkofa Project, has been profiled in my Forbes blog.
The runner up for the Hand Up for Social Good Award which comes with a $500 prize from an anonymous philanthropist goes to The Senase Project.
For this post, I interviewed The Senase Project founder Christopher Toone. I'll share that interview with you directly and unedited as Chris tells his story much better than I could.
How did you come to start The Senase Project?
I get this question all of the time and simplest and most accurate answer is this: I was in the right place at the right time and it fell right into my lap. Rather than ignoring it, I just went with it.
The Senase Project began when I was studying abroad on a program called Semester at Sea which consisted of living on a ship while visiting and experiencing 12 countries around the world. When I was initially looking into this program, I was immediately drawn to the fact that I would be visiting Ghana. Although I couldn't explain it, I just felt like this was my opportunity to do something on a much larger scale than my usual volunteer efforts such as cleaning up parks or painting fences. In an effort to see the real side of Ghana, rather than what most tourists see, myself and six others met up with a local man named Fred who took us to his home village for three days. This village, called Senase, was not accustomed to visits from Americans and few spoke English. Little did we know that the experience would change us forever.
On the first full day of our stay in Senase, we took a ride in the back of a pickup truck down a dirt road for about 15 minutes to a school in the neighboring village of Akatim. We came bearing supplies for the children, however Fred warned us that we should not expect much. He told us how very few kids attend the school and the lack of a safe structure prevents the students from learning. Even though he had briefed us on what to expect, I'll never forget the gut wrenching feeling in my stomach when we pulled up to the school in the middle of a torrential downpour. The seven us sat there soaking wet in the back of a pick up truck staring at a "building" consisting of a few pieces of wood holding up a "roof" with students huddled in the middle of the classroom. The tin ceiling was leaking to the point where it was raining inside the classroom and the sound of the rain on the roof was so loud that the teachers couldn't speak over it. It quickly became clear that this was not an environment conducive to learning and something needed to be done.
We ended up spending the entire day at the school talking to the children, teachers, and the dean. We learned that the school was originally established by the villagers under the condition that the Government would supply a school building, however three years later there was nothing. No sign of any support from Government officials at all. The teachers had no materials to work with and the entire time there I did not see one child smile which is what killed me the most. No notebooks were on desks, no pens, no pencils; no way for the students to take notes and retain information from the teachers.
I have grown up knowing that hope never fails. If you have hope, then you'll always make it through and things will get better. This was the first time I had ever been in a truly hopeless situation and I wasn't quite sure how to process it. Part of me felt like breaking down in tears and the other part of me was more motivated than ever to change things. To make matters worse, we walked a few of the children home at the end of the day only to find that these students, grades k-6, were walking 3 miles each way to and from school down dirt roads filled with speeding farming vehicles.
When we departed Senase and made it back to the ship, we all sat down together and realized that this experience would stay with us for a lifetime. We couldn't just sit there knowing that these children were in a hopeless situation. That at the time of their lives when they should be being told they can achieve their dreams, they are performing physical labor in the farm fields rather than receiving an education because the community views the school as pointless. From then on, every day we spent at sea was researching how to start a non-profit and when we reached Hawai'i and had reliable internet we filed our paperwork to become TheSenase Project, a name that honors a community that changed our lives forever. Our mission, to eradicate poverty through community development, is what keeps me going. Knowing that we are fighting for those that deserve a chance yet may not have access to the resources they need to live a full life is a feeling that I wouldn't trade for the world. Geography shouldn't determine survival, and that's ultimately what we're trying to overcome.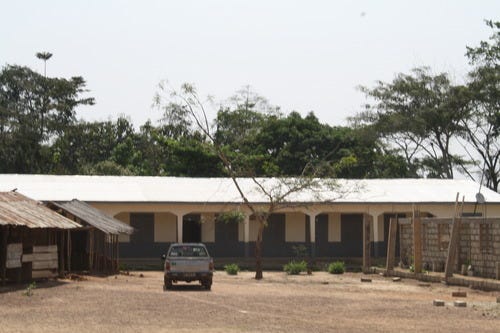 We don't just provide charity to these people and go in assuming we're going to build a school or a well. Rather we sit with the village elders and the people and ask what they need, not what we can provide, which is how our first project, the Akatim Village School came into existence. We aren't taking on projects that directly change the lives of the people, rather we are enabling them to help themselves. A school doesn't bring someone straight out of poverty, but it certainly gives them the opportunity to educate themselves, achieve their goals, and help their community which is something that will last for years to come.
What are you most proud of having accomplished?
Speaking in regards to tangible results, our greatest accomplishment is providing the Akatim Village School with four brand new classrooms and nearing the completion of the final three (still about $9,000 away from doing so) in order to have a full primary school built. These classrooms provide the students with an environment conducive to learning and protect them from the elements from being outside. Each class is able to have their own space oriented to their needs and the teachers are now able to focus on the needs of their own class rather than trying to teach two different class levels at the same time which greatly increases the effectiveness of their instruction.
Beyond that, I'd have to say that the amount of hope we have managed to instill in that community and in those children in just over two years amazes me. Back when I first visited in Fall of 2010, I did not see one child smile or laugh. I will never forget standing in the front of the classroom, putting my arm to my face, and belting out the most realistic elephant noise humanly possible yet receiving no laughter in return. Seeing the hopelessness in those kids made me want to say. I am proud to say that during my return visit this past January, the atmosphere was a completely different. The children would run outside to greet our team, play games during recess, speak up in class, and ultimately be excited to be at school. There is actual hope now and it's only continuing to grow. Even though the construction project isn't fully finished, this hope gives us the chance to move forward with great strides to help the school in other ways.
How did you do it?
Much of this success was through our partnership with the Ministry of Education for the Berekum District of Ghana. Instead of funding this project on our own dime, we shed enough light on our trip to get the Government to notice and finally, four years later, follow through on their promise to build four classrooms for the village. Our organization then committed to picking up the rest of the cost for the final three classrooms. This goes hand in hand with our efforts to enable people to help their own people, as this partnership with the Ministry ultimately allowed them to take on a project they wouldn't be able to fund without our help.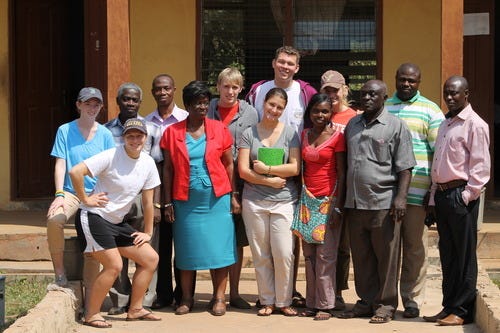 Beyond this partnership we are so fortunate for the group of supporters we have here in the United States. We continued to be floored by the messages of encouragement, out of pocket donations, and all around good vibes we receive on a daily basis. Without our gracious donors and followers, none of this would be possible and the three classrooms that are currently being constructed would be a dream rather than a reality. We can't begin to thank everyone enough.
What are your hopes and plans for the future?
We hope to continue to take steps towards creating a sustainable school in Akatim once the classrooms are completed. A major part of this is helping the teachers, who day in and day out make enormous sacrifices to teach at a school that no one else wants to be a part of. In fact, in January when I visited, one teacher mentioned that when they go to district meetings and announce that they are from Akatim, everyone laughs. Our organization's goal is to help the teachers turn that laughter into jealousy. We hope to create sponsorship programs to provide the teachers with numerous teaching aids and accessibility to textbooks. In addition, we are in the process of working with teachers to create an after school program for the students. The Village of Akatim mainly consists of self recognized uneducated farmers, so it is the parents' wish that their students have educated supervision when completing homework. This program would allow students to receive extra help after school in an effort to boost the effectiveness of that day's particular lesson. Overall, we wish to create an environment where parents, teachers, and the Ministry of Education all work together to create an environment that allows the students to achieve their dreams.
Moving beyond the Akatim Village School, our organization is also in the early of stages of partnering with Ghana Health Services to construct a much needed health center in the village of Senase. This clinic would serve over 11,000 people and provide everything from pediatric medicine to emergency services and a maternity ward.
How does it feel to be recognized for your accomplishment?
It always feels great being recognized for an accomplishment, just like getting an A on a test or scoring the winning goal during a soccer game, however I think it's important to realize what this recognition actually means. We, The Senase Project, are a group of college students from all across the United States. We break all stereotypes of "typical" non-profits. Our Board meetings are conference calls at obscure hours of the night as we try to incorporate three different time zones, I file reports and have department meetings between homework and internships, and our organization was thought up in Ghana, had paperwork submitted in Hawai'i only to become incorporated in Nebraska. If nothing else, I hope this recognition shows people that anyone can make a difference no matter how large or small. No one is ever too young, or too old for that matter, to overcome obstacles in order to change the lives of others. Many people wonder how we've managed to pull this off while juggling college, jobs, and internships, especially because The Senase Project is all volunteer. To us, this one big adventure day in an day out. It's just as rewarding for us as it is for the students in Akatim and that keeps us motivated more than anything else.
While on Semester at Sea, I was fortunate enough to be in the company of Archbishop Desmond Tutu. He taught me the phrase "Ubuntu," which simply means "I am, because you are." Without our family and friends constantly supporting us and our donors both here and abroad, there is no way we would be where we are today and I hope that they take as much pride in this recognition as our organization does. We have been able to overcome numerous hurdles together over the past two years. I'm sure I will never stop hearing the phrase "you're in college and trying to run a non-profit organization… are you crazy?" All I have to say to that is yes, all of our staff is – just crazy enough to make it work and leave our mark on the world.
Let me offer a special thanks to our panel of expert judges who chose our finalists:
The post Winners Announced: World's Greatest Small Social Entrepreneurs Recognized appeared first on Your Mark On The World.