When These 700 People Roll Into Town, You'll Love What They Do
This week, Gail and I are in Puerto Peñasco, Mexico with Rotarians from around Utah doing service. There are several projects underway, including the construction of three homes, in partnership with a small nonprofit called Families Helping Families. Others are working on improvements to a school that is supported by Rotary. A group, led by my club, is working on the expansion of a small piñata factory that only employees special needs people.
A home rises out of the sand in Mexico, as if by magic, at the hands of dozens of Rotarians and their young counterparts, Rotoractors.
It is exciting for me to see the tremendous impact that 700 people can have in just a few days. Homes are rising out of the sand almost by magic. Working on the construction of the piñata factory today, we laughed as the painting crew began painting the exterior within seconds of us putting up the exterior walls to be painted–no exaggeration.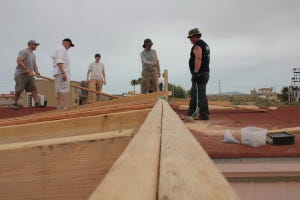 Rotary Club 24 leads effort to expand piñata factor for special needs employees.
It was also great to learn a bit about the little social enterprise that makes the piñatas and employs the developmentally challenged and otherwise disabled people. By giving their employees an opportunity to be productive and constructive adults they are redefining the lives they might have. By creating a social venture that is funded largely by the sale of their piñatas, they have created a financially sustainable organization that not only serve their employees indefinitely into the future, the organization can continue to grow.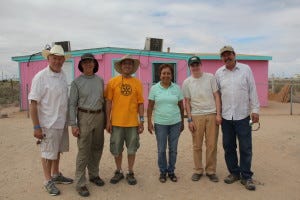 Volunteers pose with one of the teachers from the piñata factory after a day of hard work.
Gail was among the volunteers who worked with the expert piñata crafters to create piles of piñatas that can be sold to the Rotarians–including the ones who made them–as souvenirs as they head back to Utah. The profit from the sales of piñatas this week could fund the organization for two years!
The first big take away from this week, for me, is the recognition that it takes serious organization to pull off something this big. Not just any organization can pull together 700 people to travel 1,000 miles at their own expense to volunteer to help people they've never met, may never meet and will likely never see again. Think about the value of belonging to such an organization. Think about the value of the opportunity to lead a club or a district full of clubs like that. You don't have to start from scratch when the world is already rife with service organizations and faith-based organizations that you can leverage to accomplish your good goals!
The post When These 700 People Roll Into Town, You'll Love What They Do appeared first on Your Mark On The World.