What's The Biggest One–For–One Item Yet? Hint: It's Bigger than You Think
Guest post from Jared Johnson of Powerof2 Realty.
Some call it One For One®. Others call it "Buy 1, Give 1" (or B1G1). Either way, the idea of buying something you want with the added bonus of giving something to others is still growing in popularity.
So what is the biggest, most expensive item involved in this movement? … A house.
In November of 2012, a 7.4 earthquake rocked the San Marcos region of Guatemala, leaving buildings leveled and more than 50 people dead. Following the earthquake, Jared Jones, a real estate broker and investment partner of many, and Jim Gawrys, Jared's friend and real estate partner, flew down to meet some contacts there on the ground to help with the rebuilding.
When they met the Rodas-Morales family in a rural community outside of San Marcos, their mission quickly turned into one of building, instead of rebuilding. Every member of the family has lived in extreme poverty their entire lives. Jared and Jim observed that the poor condition of the dwelling contributed to an already challenging life and made it especially difficult for children to get the education needed to better their situation. A leaky roof, the absence of light, and a floor flooding with mud was not conducive to study, and destroyed nearly unaffordable school books.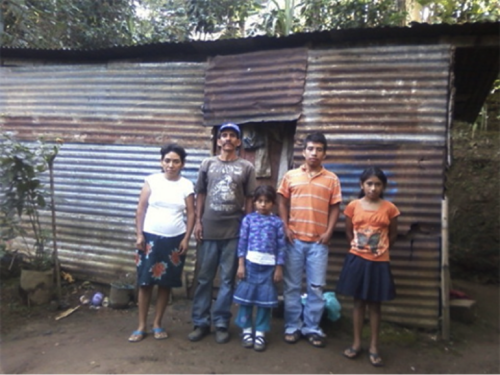 The family has never known anything different and did not ask for help, but they got it anyway when community leaders guided Jared, Jim and their collected funds to this family.
Immediately there was coordination to build a more adequate home for the family and construction began within the next couple of days. The original shelter made from scrap wood and metals on a dirt floor was torn down to make room for a new home. Jared, Jim and their colleagues funded a 12ft x 20ft structure with a level steel-reinforced concrete foundation, steel-reinforced concrete block walls, an aluminum roof, two sliding windows and a steel door.
Not only was this structure larger than their previous one, but the family repurposed all of the torn down materials to enhance their outdoor kitchen. In total, this expands their covered living space while improving it dramatically. Cleaner, warmer, drier, safer. It's not exactly what citizens of developed countries would call paradise, but for this family, it has been a miraculous transformation.
"I'm so overwhelmed. Nobody has ever thought of us," said Rosalinda Morales with tears in her eyes, recounting that she didn't know what to think or believe when the family was told that a group of Americans would be building them a proper home.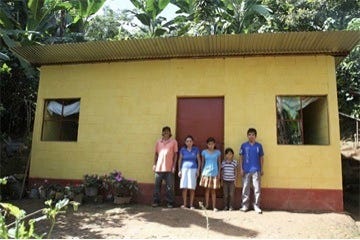 After arriving back at his home in Riverside, CA, Jared Jones called another entrepreneurial friend, Jared Johnson – that's me – to propose a new business concept.
"Based on my success in real estate, I could build a lot of homes over the course of my life. However, we'll never build as many homes as we could if we were to position this philanthropy inside of a business model," he told me.
Our mission is to leverage the U.S. real estate market to improve housing for the world's poorest families. Toward that end, we developed Home For Home. For Every home sale or purchase, we will build a new home for a family in need.
Home For Home allows consumers to, when buying or selling their home, generate funds sufficient to replicate what has been achieved for the Rodas-Morales family. Currently, POWERof2 Realty, founded by the two Jareds, operates as its sole real estate partner. However, we're hoping to expand partnerships to other real estate companies and agents across the nation as consumers raise their hands to participate in this program at no additional cost.
Consumers get an authentic real estate professional who is willing to share their commission to build a new home for a family in need and sample before and after photos of the family they chose to sponsor. That's right, we post the stories and photos of families who have been identified by community leaders onto our website so that clients can choose which family they wish to sponsor.
According to the National Association of Realtors®, 4.7 million homes were bought and sold in 2012. At POWERof2 Realty, we believe that approximately 5.9 million new homes could have been built in 2012 for the world's poorest families, accounting for buyers, sellers, FSBOs (for sale by owner), new construction and other factors.
Right now we're building homes in rural Guatemala, but we're looking into additional locations to expand this philanthropy to, including Honduras, El Salvador, Nicaragua and Cambodia. Based on our projections, if everyone using a real estate agent were to participate in the Home For Home program, we could adequately house the entire country of Guatemala in just 5 months and potentially Cambodia within the same year – at no additional cost to the consumer.
Because the need being addressed isn't a reoccurring one, a new home represents a multigenerational benefit. This makes the Home For Home the most financially viable and sustainable model for improving housing for the world's poorest families.
Will you help us?
The post What's The Biggest One–For–One Item Yet? Hint: It's Bigger than You Think appeared first on Your Mark On The World.