What If Your Old Laptop Could Change The World?
Becky Morrison found a way to empower people in the developing world by founding Globetops to gather used laptops for those who need them.
Becky explains her motivation for founding Globetops, "For years we have been presented images of people in the developing world who are poor and suffering. But there is another demographic that we don't see – those who are passionate and powerful! People who may lack resources, but who have big visions for their lives and who are doing great work in their communities."
"If we can get ourselves out of the way, anything is possible," she adds.
"There is already enough stuff in the world. The problem is that it's not in the right places. Everyone is talking about recycling nowadays, but I'm more interested in redistribution," she concludes.
On Friday, January 23, 2015 at 2:00 Eastern, Becky will join me here for a live discussion about Globetops and the effort she is making to make her mark on the world. Tune in here then to watch the interview live.
You can download an audio podcast here or subscribe via iTunes.
More about Globetops:
Globetops connects people who have laptops they don't use anymore with someone around the world who needs one.

Most of the time when we donate money or goods, we never get to see what happens on the other end. With Globetops, the donation process is transparent. Donors choose which person to give their laptop to based on the project that lights them up the most.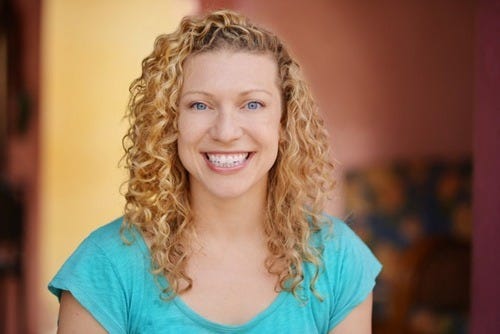 Becky's bio:
After graduating from NYU's Department of Film/TV Production Becky moved to California to work on the Disney animated film, "The Wild". She then moved on to live-action, working on feature films including "The Brave One", "Duplicity" and "I Am Legend" – on which she coordinated the 200+ production staff required to shoot the film's exteriors. Becky took a brief break from Hollywood in 2008 to production manage the award-winning independent feature "Entre Nos", which premiered to critical acclaim at the Tribeca Film Festival. She delved into the world of large-scale rock n' roll in 2010, producing the visual content for the band U2's 360 world tour. Later that year she conceived of and produced the first 3D film to be shot in India – "Kumbh Mela: A Gathering in 3D". She has produced projects for NBC, VH1, PBS, Food Network, USA, HGTV, Syfy, and Discovery Channel among others. In 2012 she produced the show opener for Sunday Night Football which garnered an Emmy nomination for Best Show Opener. Becky has also worked extensively in commercials: coordinating, managing and producing over one hundred projects. In addition to her film work, Becky is also the founder of the non-profit organization Globetops which connects people who have laptops they don't use anymore with someone around the world who can use one. Globetops is active in Haiti, Africa, India, Brazil, and the US and support individuals in improving their communities through passion and access to technology. She currently resides in Brooklyn, NY.
Remember to "join the cavalry" by subscribing to our content here.
The post What If Your Old Laptop Could Change The World? appeared first on Your Mark On The World.