We're Eager To Help! Here's How
If you are trying to raise money for a cause, you need exposure for your campaign. You need attention and eyeballs, but that will only be effective after you get your family and friends to support your campaign with at least 10 percent of your goal–no one ever puts money in an empty tip jar!
GoodCrowd.info has created several free services to help you get exposure for your campaign.
First, you can download Devin's book, Crowdfunding for Social Good. when you join the Your Mark on the World Cavalry (subscribe to this blog–also free). The book will guide you through preparing and executing a successful campaign.
Here's how we can help you get attention for your campaign for free:
Sharing with like-minded people on LinkedIn

Tweets to over 20,000 followers

Sharing your press release here at GoodCrowd.info

Hosting your interview here

Google Hangouts

Covering your story for Your Mark on the World or Forbes
If you are raising money for something without a direct social impact, we regret that we don't have an audience for you. If you are raising money for yourself, no matter how desperate your need may be, we don't have an audience for you.
Because we don't have time and bandwidth for vetting every crowdfunding campaign that comes along–no matter how noble one might seem–we will rely on the wisdom of the crowd. In other words, we won't do anything until you start making progress on your fundraising to prove that you are willing to do the work required to be successful.
Get your close friends and family to back your campaign early and be sure to set a goal that is reasonable given your personal network. We'll use our resources to help only after you've raised 10 percent of your goal or $1,000, whichever is smaller.
LinkedIn: Join the group Crowdfunding for Social Good we've created on LinkedIn and post a link to your campaign there. Please check out the other campaigns posted there and support them, too.
Tweets: If you have raised at least 10 percent of your goal or $1,000 and you tweet your campaign link with a mention of @devindthorpe, we will retweet it to our growing list of followers. We'll retweet once per day as long as you tweet with a mention of @devindthorpe!
Press Releases: If you have a press release, please send it to news@devinthorpe.com and we'll share it here on GoodCrowd.info.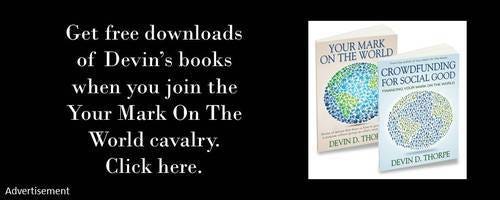 Guest Posts: You can write a guest post or do an online interview for us here. A guest post for this blog should include a focus on your social impact objectives. Our readers are primarily interested in the good you hope to do in the world. A good blog post will be shorter than 500 words and will include a good photo or video. You can find more tips for a good post here.
If you would prefer to complete an online interview that we can share, click here.
Google Hangouts: In rare cases, if your story is very compelling, after your guest post goes live and your social impact is meaningful, we may be able to schedule a live interview using Google Hangouts to help you share your story with a wider audience. A live Google Hangout would not only be posted on this blog, but also on Google+ and YouTube so you could embed the video anywhere else you like.
CrowdFundBeat or Forbes: If you have exceeded your funding goal before your campaign ends and have raised more than $25,000 for a social cause that really excites us, we may be able to post a live Google Hangout to Devin's Forbes blog.
The post We're Eager To Help! Here's How appeared first on Your Mark On The World.