'WaterCredit' Turns World's Poor Into Paying Customers
This post was originally produced for Forbes.
Water.org is leading a revolution in the provision of clean drinking water in the developing world, turning the recipients of charity into regular water customers through microloans funded by impact investments.
Gary White, CEO of Water.org, explains the problem, noting, "The poor are not a problem to be solved, they are the solution. I see constant innovation in the financial sector—new models, new products. Water.org is applying that kind of thinking to the philanthropic sector—creating new opportunities for private and philanthropic capital to make systemic change. Access to water and sanitation has been the focus of charity. But there's a market-based solution. We realized that if we could provide the poor with access to small loans at reasonable rates, we could get them into the water system. And not as charity, but as customers."
White explains further, "Changes in the water supply & sanitation (WSS) market at the Base of the Economic Pyramid (BOP) have unleashed significant new demand for WSS services. There have been significant gains in reducing poverty over the last two decades, and the trend will continue with support from the international community to eradicate extreme poverty by 2030. These socioeconomic changes are driving an increased willingness and ability to pay for improved water access and water quality as well as improved sanitation."
"We created WaterCredit to unleash the power of the poor. By enabling the poor to finance toilets and taps in their own homes, we're spreading capital costs across a broader swath of stakeholders," he adds.
While these are still early days, Water.org is past the pilot phase and is scaling up its WaterCredit initiative. White explains the progress and impact:
Evidence from Water.org's and WSP'S existing programs in Bangladesh, India, Kenya and the Philippines demonstrate that a viable market can be made for financing water and sanitation improvements. MFIs have developed and launched water and sanitation lending programs that have disbursed over $120 million in loans. A conclusion from the programs have shown that as access to water and sanitation credit became available, low-income clients chose to take out loans and were able to repay those loans.

Water and sanitation lending programs have demonstrated benefits for financial institutions, development partners and most importantly clients and their households. These findings indicate that microfinance principles can be successfully applied to the water and sanitation sector and leverage funding to achieve greater reach than traditional subsidy based models. Governments and NGOs can work with MFIs, as both demand generators and financiers, to help accelerate access to safe water and sanitation.
On Thursday, January 7, 2016 at 4:00 Eastern, White will join me here for a live discussion about WaterCredit. Tune in here then to watch the interview live. Post questions in the comments below or tweet questions before the interview to @devindthorpe.
More about Water.org:
Twitter: @water

For more than twenty years, Water.org has been at the forefront of developing and delivering solutions to the water crisis. Founded by Gary White and Matt Damon, Water.org pioneers innovative, community-driven and market-based initiatives to ensure all people have access to safe water and sanitation; giving women hope, children health and communities a future. To date, Water.org has positively transformed the lives of more than three million people living around the world.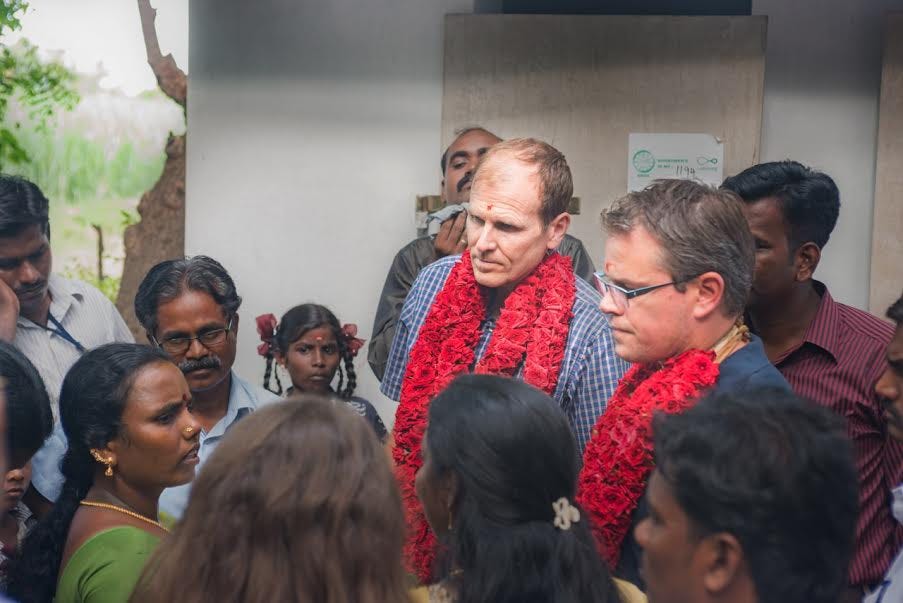 Gary White, courtesy of Water.org
White's bio:
Gary White is Chief Executive Officer and Co-founder of Water.org, a nonprofit organization dedicated to empowering people in the developing world to gain access to safe water and sanitation. (Water.org is the resulting organization of the July 2009 merger between WaterPartners, co-founded by White in 1990, and H2O Africa, co-founded by actor Matt Damon). White's entrepreneurial vision has driven innovations in the way water and sanitation projects are delivered and financed, and these innovations now serve as a model in the sector.

White has led Water.org during a period of rapid expansion, growing revenue by an average annual rate of 50 percent since 1994 and positioning Water.org as an innovative leader in the global water supply and sanitation space. He developed the organization's WaterCredit Initiative, creating new financing options for poor populations to meet their water supply and sanitation needs.

White is a leading advisor in the water and sanitation space, counseling organizations such as the Michael & Susan Dell Foundation, MasterCard Foundation, PepsiCo Foundation, Hewlett Foundation, and Diageo on responses to the global water crisis. White is a founding board member of the Millennium Water Alliance and Water Advocates.

In 2002 he received the Distinguished Alumnus Award presented by the School of Public Health at the University of NC-Chapel Hill. In 2003, he was named a fellow of the British American Project. In 2008, he was inducted into the Philanthropy World Hall of Fame. In March 2009, WaterPartners received the Skoll Foundation's Award for Social Entrepreneurship and White was inducted into the community of Skoll Social Entrepreneurs. In October 2009, White received the ONEXONE Difference Award for his work over the past two decades in addressing the global water crisis. In 2009, he was named an advisor to the Clinton Global Initiative. In 2010, he was named the Kansas City Global Citizen of the Year by the mayor of Kansas City, MO. In 2011 he was named to the TIME 100 list of the world's most influential people. Also in 2011 he was named one of 28 Alumni of Distinction among a pool of more than 50,000 living graduates of Missouri University of Science and Technology. In 2012 White received the World Social Impact Award from the World Policy Institute as well as being named one of the Schwab Foundation Social Entrepreneurs of 2012. Most recently Gary was invited to join the World Economic Forum's Global Agenda Council on Water.

White's educational credentials include three degrees in Civil and Environmental Engineering from the University of North Carolina at Chapel Hill and the Missouri University of Science & Technology.
The post 'WaterCredit' Turns World's Poor Into Paying Customers appeared first on Your Mark On The World.