Volunteer Launches Business To Help Kenya
Guest post from Kirsten Dickerson.
I used to volunteer in the mornings at a homeless shelter, and then would end my days styling rock stars in music videos. I needed a creative outlet, but also desired a passion to help those in need. After many trips overseas for humanitarian and film work, my passion to help alleviate poverty and suffering among women and children grew immensely. I volunteered with Mother Teresa, spent time with orphans in China, cared for children with AIDS in Africa, and walked alongside homeless youths in America. I had given a little of my heart to each person I encountered and they had helped to radically shape and change my worldview for the better.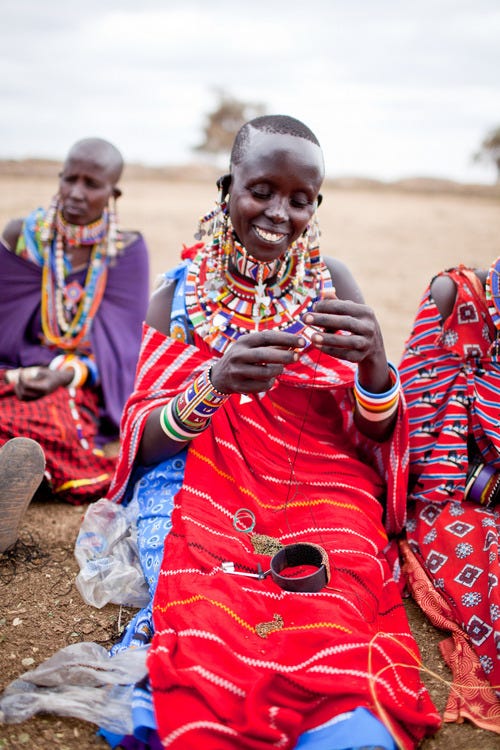 In addition to the knowledge garnered through my travels, I also learned valuable lessons in life from my friends in widely varied circumstances, who came from very opposing worlds. Some of my friends were famous and known around the globe, while others I knew slept under bridges. I shared the love of food and fashion with many of my friends, but felt turmoil in my heart when so many others that I knew went to bed hungry. I felt confused and frustrated trying to manage these friendships and shared passions that never seemed to connect. I knew, eventually, that would have to change.
I decided to take my friends on a journey around the world to meet and learn from one another. My hope was that these experiences would be mutually beneficial for everyone and that these trips would be so impactful that their lives would be changed forever. Over the course of fifteen years, we organized over thirty cross-cultural trips to countries throughout Africa, Asia and the Middle East. My friends from the West saw firsthand the reality of poverty and oppression that so many beautiful souls endure each day all over the world. Today, many of them continue to support the on-the-ground, indigenous led efforts to alleviate poverty.
One of these trips, in particular, stands out. Six years ago, I led a group of Hollywood friends to India and came home with a very specific vision in mind. I realized that I had the opportunity to combine my love of design with my passion to alleviate poverty. During my visit, I saw that many of my Indian friends who formerly lived in brothels and begged on the streets, had learned design skills through a non-profit organization. They knew prized skills such as jewelry making, sewing, and block printing. I could see that they're lives were transformed immensely, personally, socially and economically, after acquiring these skills. I was filled with hope and excitement for these women and children. I cherished the idea of using micro-enterprise skills training to empower the poor in a way that brought dignity, sustainability, and beauty into the world.
My brain was racing and I began to ask myself, "What if I collaborated with these women to provide modern design and help develop a sustainable market for products? What if I could connect my designer friends in the United States with the hundreds of at-risk women that I knew from my travels around the world?" My dream grew more and more each day. That dream eventually culminated into what's known today as Raven + Lily, a socially conscious lifestyle brand dedicated to empowering women through design.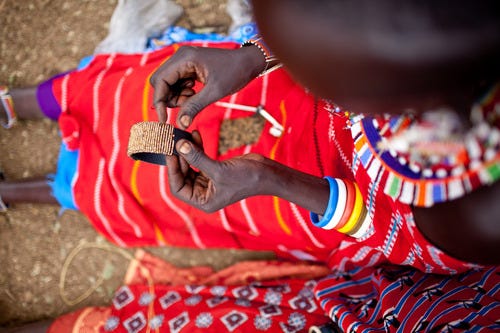 Today, Raven + Lily is helping transform the lives of hundreds of women and children by designing and marketing stylish, eco-friendly products that reflect both the beauty and culture of the women who made them. We currently help employ at-risk women in Cambodia, India, Ethiopia, and America. All of these women have come from poverty and many are HIV+, but none of them live in despair anymore. They are now filled with hope. The inspiring stories of these women are transforming the way consumers use their purchasing power. Something beautiful is happening on both sides of the globe and my seemingly opposing worlds have collided in a most wonderful way.
Recently, I was absolutely thrilled to have the chance to launch a new partnership in Kenya with a group of tribal women known as the Maasai from the Esiteti community. These women have amazing hand beadwork skills to make their traditional tribal jewelry. These Maasai women have decided to be the first generation to eradicate FGM (female genital mutilation) from their community as well as send their girls to school. Opening a market in the West to sell an exclusive Raven + Lily collection of their designs will help make that possible. We launched our Kickstarter Campaign to fund this new partnership. Our goal is raise at least $30,000 by August 1st for marketing, design, and inventory of our new Maasai Jewelry Collection.
Collectively, the women artisans determined that 50% of the money grossed from jewelry sales will go directly to funding school for their children and the other 50% will go towards a fund that provides basic needs within the community.
Manei, a Maasai woman artisan, shares how her quality of life has changed, "Since we have started our beading business, it has really helped us educate our children. Everything has changed. Most of all, we are now feeling more respected in our community because we are earning an income."
My heart is filled with excitement to see that these dreams of the Maasai women, especially for their children, come to fruition. They cannot do it without the support of a company like Raven + Lily, yet Raven+ Lily, cannot do it without the support of the greater community and our growing customer base.
Empowering these amazing Maasai women through design is a collaborative effort of everyone who joins our Kickstarter campaign and helps us see their dreams realized. To support our campaign, visit: http://www.kickstarter.com/projects/1364737491/fair-trade-maasai-jewelry-raven-lily
To shop our current collection and read about our artisans, visit: www.ravenandlily.com
To follow us on twitter: ravenandlily // facebook: ravenandlily // instagram: ravenandlily
The post Volunteer Launches Business To Help Kenya appeared first on Your Mark On The World.