Vivienne: "I will end child slavery in my lifetime"
Guest post from Vivienne Harr, age 9. Follow her at @VivienneHarr.
hiya! i am vivienne. i am nine. i am ending child slavery in my lifetime. that may sound like a lot, but i am doing it!
on may 5, 2012, i saw a picture of two boys with big rocks strapped across their heads. to feel better, they were holding hands. i learned that these boys are brothers … and slaves. i thought slavery ended with abraham lincoln. but it still happens. i wanted to do something about it, because compassion is not compassion without action. it's just feeling sorry for someone.
here's the tricky part: the only business experience i had was a lemonade stand. so i decided make a stand every day rain or shine to end child slavery. i had a lot of support from my family, our neighborhood and the whole world, actually. (you can see my journey right here). on day #173, i made my goal of $100,000 and wrote a check for $101,320 to not for sale. well i wrote it, but my parents had to sign it!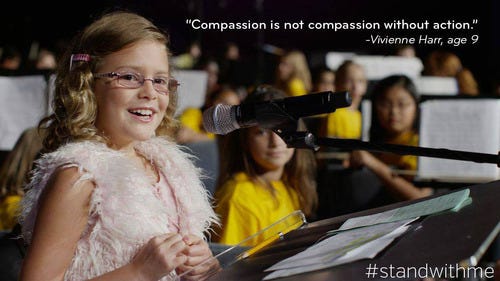 then, my parents said: "honey, your reached your goal. you did it. you're done!" when i asked them if "child slavery was done," they shook their heads "no." so i said: "then i am not done." i kept going…and i am still going!
one day i thought: "what if everyone could enjoy my lemon-aid and that could help end child slavery? wouldn't everyone want to do that?" well we're doing it. when you enjoy make a stand lemon-aid, you are making a stand for hope and freedom. i hope you'll think about making a stand with us!
you don't have to be big or powerful to change the world. you can be like me! you just have to set your heart to it.
find what you stand for…and make a stand!
The post Vivienne: "I will end child slavery in my lifetime" appeared first on Your Mark On The World.