Village X: The World's First Completely Transparent Mobile Giving Experience
Americans love to micro-donate to great causes while shopping, and global consumers overwhelmingly favor brands associated with a charitable cause, given comparable price and quality. Yet, when shoppers give at the supermarket, where does their money go? Is it really helping anyone?
The problem is lack of transparency. You buy, you give, but you don't see.
Village X, a Peace Corps-inspired social enterprise, hopes to change that with its patent-pending Store to Village (S2V) System. The System directs mobile donations of shoppers to grassroots projects and provides live mobile updates showing exactly how the money is used to help communities. In short, shoppers can BUY GIVE SEE.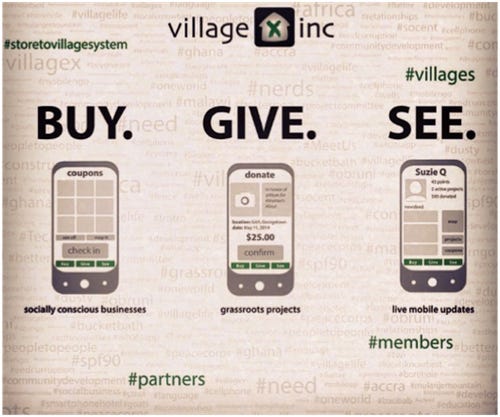 Village X has launched an Indiegogo campaign seeking one-time contributions to finish the System and bring it to the masses: igg.me/at/villagexinc. Once the System is complete and operational in Fall 2014, it will be free for everyone to use.
Nuts & Bolts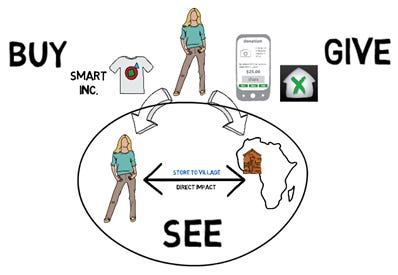 Step 1 – Download the Village X App: Suzie downloads the Village X app and registers as a member by providing her name, location and credit card information. She receives 10 reward points for signing up.
Step 2 – Find a Deal: On the BUY screen of her Village X app, Suzie sees that Smart Inc. (a socially conscious business in her city) has a sale on t-shirts for Village X members—10% off for 10 reward points. Suzie needs a t-shirt, so she bikes to Smart Inc. and checks in at the store, receiving another reward point.
Figure 1: Exemplary S2V Promotions
Step 3 – Redeem the Deal: Once she finds the perfect t-shirt, Suzie selects Smart Inc.'s promotion on the BUY screen and redeems the promotion in exchange for reward points, receiving a unique promotion code from the app. She presents the code to the store clerk at the register and gets 10% off her $30 t-shirt, a savings of $3.00. Suzie spends 10 points to use the promotion, but receives 5 points for making the purchase. Now she has 6 reward points (10 + 1 + 5 – 10).
Step 4 – Micro Donate (optional): After redeeming the promotion, Suzie feels her app buzz and advance to the GIVE screen, where she can customize a donation in voice, text, or picture. Since she saved $3.00, Suzie elects to use the app to give those dollars plus an additional dollar. It's close to Mother's Day, so she writes, "Love you, Mom" and records herself saying, "This is for the woman who taught me everything I know about fashion." She then uses the app to set the amount at $4.00 and submits the donation, which is billed to her credit card. She can share her donation via social media.
Figure 2: Exemplary S2V Micro Donating
(Doesn't match example above)
Step 5 – See Live Mobile Updates: Immediately after donating, Suzie sees the grassroots project receiving her funds. The SEE screen of the app is populated over time with live mobile updates from the village committee overseeing the project. Her phone will notify her when the village updates her project, and she can share the updates via social media. In addition to seeing the project unfold through text and pictures, she can see the committee, village, and village's past projects, as well as a map showing the village's location. She can also view a tally of her projects, donations and reward points.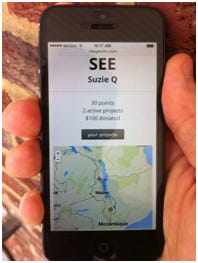 Figure 3: Exemplary S2V Live Mobile Updates
Step 6 – Do It All Over Again: Peruse for deals, support great businesses, earn reward points, micro donate, and see your impact, all from your phone. Unless you specify otherwise, Village X will assign your donations to projects and villages you have given to in the past. That way, you can focus on giving for the biggest impact and developing a relationship with a place and its people. Village X also plans to allow members to identify the types of projects they want to support (e.g., clean water). This will enable the System to match donations to projects based on member preference.

All the pieces of the Store to Village System are already in place – shoppers eager to use the System (aka Village X "members"), participating villages and partner businesses, and a web design firm to write the code that connects everyone. But, without the S2V System, these natural collaborators cannot start working together.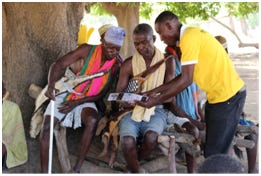 Village X describes its goals as "ambitious yet achievable." Its long-term vision is to pioneer a sustainable business model that changes the paradigm of cause participation, such that villages chart their own development course and donors expect a completely transparent experience, powered by the engine of American commerce. Village X also envisions sharing the fundraising capability of the S2V System with existing organizations with similar values (e.g., US-based nonprofits), thereby magnifying its philanthropic impact.
As President Kennedy said on October 14, 1960, in Ann Arbor, Michigan, in a speech foreshadowing the creation of the Peace Corps, "[t]here is certainly a greater purpose, and I'm sure you recognize it. Therefore, I do not apologize for asking for your support in this campaign." Village X urges you to recognize its greater purpose of inspiring people to give on a regular basis and enjoy the satisfaction of seeing exactly how their giving has helped others, all from the convenience of their phones.
For more information on how to help, visit Village X's website (www.villagexinc.com). The company is also active @villagexinc on Facebook, Instagram and Twitter.
Remember to "join the cavalry" by subscribing to Devin's content here.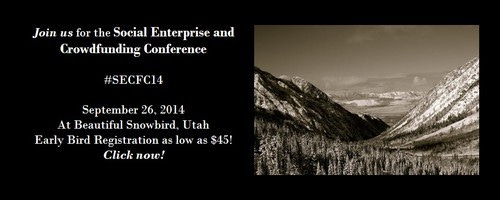 The post Village X: The World's First Completely Transparent Mobile Giving Experience appeared first on GoodCrowd.info.