Utahn Devotes Himself to Serving Uganda
This afternoon I had the pleasure of meeting John Shavers, the founder of the Interethnic Health Alliance which is a small nonprofit serving the people of Uganda.
Originally, the organization was founded to serve Utah women in the prison system who had HIV/AIDS or were at risk for contracting and spreading it. When their state funding ran out, they refocused their efforts on Uganda and have been working there since.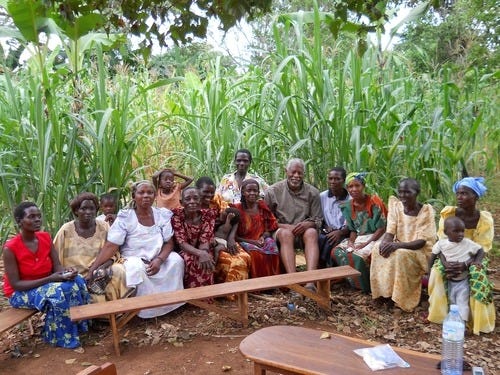 Shavers, the gray-haired gentleman near the center of the photo of women supported by IHA microloans, is a clinical psychologist. He will leave in two weeks to Uganda for the 8th time in the past several years.
IHA describes its mission as follows:
OUR MISSION IS TO ASSIST THE RURAL COMMUNITES OF DEVELOPING COUNTRIES, PRIMARILY UGANDA, IN OBTAINING ADEQUATE HEALTH CARE, EDUCATION FOR THEIR CHILDREN & AN ADEQUATE WAGE. WE DO THIS THROUGH ENGAGING IN DIALOG'S WITH COMMUNITY MEMBERS AROUND ISSUES IDENTIFIED BY THE MEMBERS THEMSELVES. OUR CURRENT MAJOR INITIATIVES ARE; ASSISTANCE IN STARTING SELF-SUSTAINING BUSINESSES PROVIDING RESOURCES FOR SCHOOLS AND ORPHANAGES MITIGATING THE IMPACT OF DECLINING FUEL RESOURCES.
Presently, IHA is focused on five inititatives:
Micro loans to women-managed groups.

Clean water in rural schools.

Solar power and lights for rural schools.

Reusable hygiene kits for women.

Computers for refugee families.
It is always a pleasure to meet someone like Shavers, with a real passion for action. He is not content to stand by while others suffer.
The post Utahn Devotes Himself to Serving Uganda appeared first on Your Mark On The World.