Friday July 27, 2012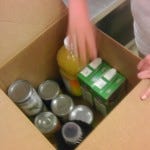 Today at the Utah Food Bank with had filled grocery 360 grocery kits for low income seniors. It was great to see how quickly we were able to set this up. The food for this program comes from the Federal Government; the Utah Food Bank and its volunteers are responsible for the distribution.
What will you do this week to leave your mark on the world?
The post appeared first on Your Mark On The World.