This Guy Is Responsible For Reducing The Impact Of CES
This post was originally produced for Forbes.
CES, that is, nerd heaven, 2016 just wrapped in Vegas. Over 6,000 members of the media attended. More than 170,000 people were at the event that covered over 2 million square feet of exhibition space. It was huge.
Now, I want you to imagine cleaning up that mess. Think about all the waste going to the landfill. My eco-friends are crying as they think about the environmental impact.
This is where Jeff Chase , V.P. of Sustainability for Freeman, the event planning organization that supports CES for the Consumer Technology Association, enters the picture. Chase explains, "Working with CTA, Freeman helped to create and manage a waste/recycling plan to help reduce the footprint of the event. Working with several recycling vendors and partners of the Las Vegas Convention Center and the Sands Expo Center we help find new ways to reduce the amount of items going to the landfill by working on an awareness campaign to exhibitors on how to reuse or repurpose left over materials."
Chase says they even found ways to benefit local charities with their environmental programs. "Furniture, flooring, fixtures and building materials were all given to several different charities," he says.
Some of the milestones reported this year include recycling half a million square feet of carpet, up 70 percent from the previous year. The balance over 1.1 million square feet was reused. Almost 28,000 square feet of vinyl banner materials were repurposed into tarps, hockey rink liners and outdoor movie screens.
The effort extended community-wide. "The Consumer Technology Assocation held a wonderful E-Waste program on Sunday at the Las Vegas convention center for the local residences to bring their old electronics to be recycled. This is the first year to offer this service and will continue next year," Chase says.
On Thursday, January 14, 2015 at 3:00 Eastern, Chase will join me here for a live discussion about the efforts to reduce the environmental impact of CES. Tune in here then to watch the interview live. Post questions in the comments below or tweet questions before the interview to @devindthorpe.
More about Freeman:
Twitter: @FreemanCo

Founded in 1927, Freeman is the leading global partner for integrated experiential marketing solutions for live engagements including expositions, conventions, corporate events, and exhibits. Headquartered in Dallas, with over 70 offices in North America and the U.K., Freeman produces more than 4,300 expositions annually, including 135 of the 250 largest U.S. trade shows, and 11,000 other events worldwide. Customer-driven, Freeman offers a total package of solutions, with a scope of products and services unmatched by the competition. An employee-owned company, Freeman places an emphasis on respect for people and providing unparalleled customer service. Freeman has received numerous trade show industry awards for excellence in leadership, creative design, community service, innovation and customer-driven partnerships.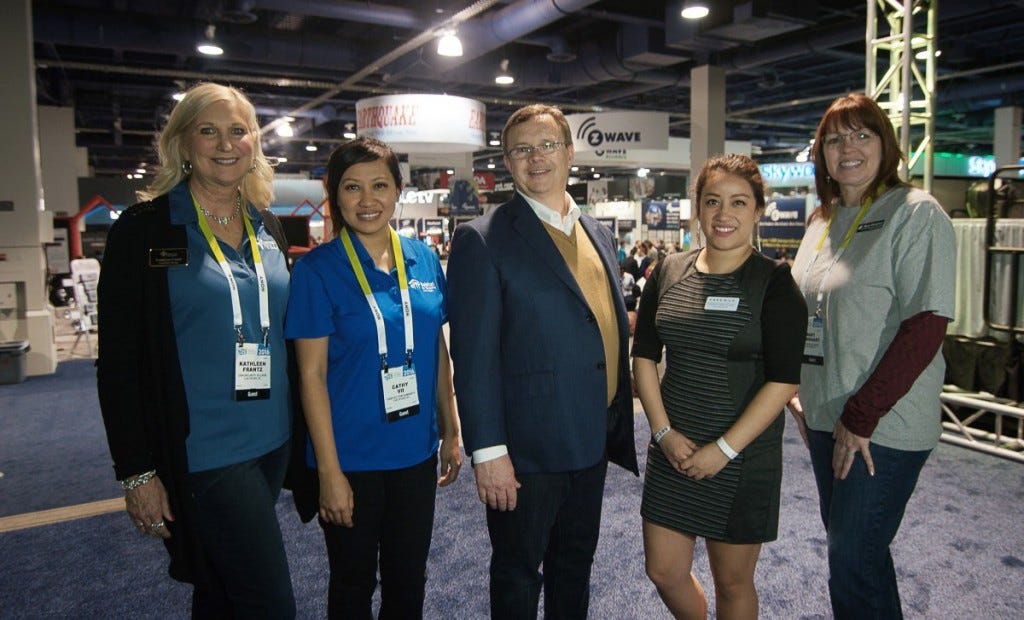 Jeff Chase, center, with representatives of charity partners from Habitat for Humanity, Goodwill, Teachers Exchange and Opportunity Village, courtesy of Freeman
Chase's bio:
Twitter: @GreenChase73

Jeff has been a passionate driving force on many sides of the trade show / event industry for 28 years. He spend his first 5 years as a General Services Contractor working in Nashville/Washington DC, and then got a job in California to take the position of Show Director for one of the largest tradeshows in the industry, and over the next 8 years he helped grow that show in the United States and launched it in Europe and Asia. Then he started his own event production agency which he ran successfully for 10 years and worked with clients such as eBay EBAY -4.00%, PayPal, Visa, Google and many others, then sold it to FreemanXP, the premier Experiential Marketing Agency. His current focus and passion is working as the Vice President of Sustainability. He works closely with many Fortune 100 companies like McDonalds, Oracle, Salesforce, SAP, and Autodesk to help them meet their goals for green/sustainable events. He serves on the Board of Directors for the Green Meetings Industry Council (GMIC)
The post This Guy Is Responsible For Reducing The Impact Of CES appeared first on Your Mark On The World.