The Women of Crowdfunding
This post was originally produced for Forbes.
While tech entrepreneurship continues to be dominated by men (see Cheryl Snapp Conner's piece), women appear to be playing a larger role in the crowdfunding ecosystem.
Note that Sally Outlaw, included in this article, is one of my clients.
There is a growing list of influential women leading the crowdfunding industry. Sara Hanks, CEO of CrowdCheck, Jilliene Helman, CEO of Realty Mogul, Jenny Kassan, CEO of Cutting Edge Capital, Lesley Mansford, CEO of Razoo, Sally Outlaw, CEO of Peerbackers, Danae Ringelmann, Co-founder of Indiegogo, Joy Schoffler, CEO of Leverage PR, and Joanna Schwartz, CEO of EarlyShares will all join me for a live discussion about the crowdfunding industry.
The live discussion will occur at 2:00 PM Eastern on May 14, 2014. Tune in here then to watch the discussion.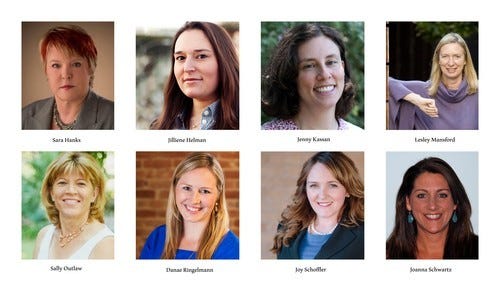 Hanks' bio:
Sara Hanks, co-founder and CEO of CrowdCheck, is an attorney with over 30 years of experience in the corporate and securities field. Sara's most recent position was General Counsel of the Congressional Oversight Panel, the overseer of the Troubled Asset Relief Program (TARP). Prior to that, Sara spent many years as a partner of Clifford Chance, one of the world's largest law firms. Sara began her career in London and later joined the Securities and Exchange Commission and as Chief of the Office of International Corporate Finance led the team drafting regulations that put into place a new generation of rules governing the capital-raising process.

Sara received her law degree from Oxford University and is a member of the New York and DC bars and a Solicitor of the Supreme Court of England and Wales.
Helman's bio:
Jilliene Helman is the Founder and CEO of RealtyMogul.com. Realty Mogul is crowdfunding for real estate, the largest online marketplace for investors to pool money and buy shares of pre-vetted real estate investments.

Jilliene is responsible for overseeing the strategic direction and operation of the business.

Previously Jilliene was a Vice President at Union Bank, where the majority of her time was spent in Private Wealth Management working with the broker-dealer, registered investment advisor, real estate lenders and wealth planners. Jilliene is a Certified Wealth Strategist, holds Series 7 and Series 63 securities licenses and earned a degree in Business Administration from Georgetown University. She has been featured in countless publications including Forbes, Entrepreneur, NYT and Bloomberg , and is a frequent speaker on the subjects of crowdfunding, real estate finance and entrepreneurship.
Kassan's bio:
Jenny has over eighteen years of experience as an attorney for and creator of social enterprises. She is the CEO of Cutting Edge Capital, a consulting firm that helps social ventures raise capital in alignment with their goals and values. Jenny is also an attorney at Katovich & Kassan Law Group, a law firm that serves social enterprise. Her legal practice areas include small business start-up and financing, securities regulation, nonprofit law, and cooperatives.

Jenny earned a masters degree in City and Regional Planning from the University of California at Berkeley and earned her J.D. from Yale Law School. She worked for eleven years at the Unity Council, a nonprofit community development corporation in Oakland, where she served as staff attorney and managed community economic development projects including the formation and management of several social ventures designed to employ and create business ownership opportunities for low-income community residents.

Jenny is the President of Community Ventures, a nonprofit organization dedicated to promoting the economic and social development of communities. She also co-founded the Sustainable Economies Law Center, a nonprofit that provides legal information to support sustainable economies. She currently serves on the Board of Directors of Post Carbon Institute.
Mansford's bio:
Lesley Mansford is the CEO of Razoo, a leading crowdfunding platform for causes, with over $220M raised for nonprofits. Mansford is a seasoned CEO, marketer and entrepreneur with over 20 years of experience in interactive entertainment with companies like Electronic Arts. She was co-founder and COO of pogo.com, the largest online casual games community acquired by EA in 2001. In the same year she received the Superstar award from Ad Age. She speaks regularly on the power of online to democratize philanthropy. She is a powerful advocate around issues like women's entrepreneurship and child sex trafficking in the US. Her board positions have included The Leukemia and Lymphoma Society, The Leadership Institute for the Ecology and the Economy and Women's Initiative for Self Employment.
Outlaw's bio:
As co-founder and CEO of peerbackers.com, Sally has helped thousands of entrepreneurs reach their crowdfunding goals. Sally is a seasoned entrepreneur having run her own businesses for the last twenty five years. Her media and business ventures took her across the globe – including ten years of conducting business in Russia. Sally is a speaker on the topic of small business financing at various universities, business incubators, and entrepreneurial events and has been a repeated source on the topic of crowdfunding for national media outlets. Her book, "Cash from the Crowd" on how to successfully crowdfund, was published fall 2013 by Entrepreneur Press.
Ringelmann's bio:
Danae Ringelmann co-founded Indiegogo in 2008 with a mission to democratize fundraising and has since helped to propel the company into the world's largest crowdfunding platform. Today, as Indiegogo's Chief Development Officer, Danae is focused on driving total customer satisfaction and steering the company's employee culture and value initiatives.

Prior to Indiegogo, Danae was a securities analyst at Cowen & Co. where she covered publicly traded entertainment companies including Pixar, Lionsgate, Disney and Electronic Arts. Danae also focused on cable network, NFL, newspaper and hedge fund clientele while at JPMorgan's Investment Bank and Private Bank.

Danae was listed on Fast Company's "Top 50 Women Innovators in Technology" in 2011 and was named one of Fortune's "40 Under 40″ in September 2013. Danae frequently speaks at conferences around the world, including TEDx, Le Web and CeBIT. Danae also testified before the United States House Small Business Subcommittee on Investigations, Oversight and Regulations on "Financing America's Small Businesses: Innovative Ideas for Raising Capital" in June 2013.

Danae is a CFA charterholder and holds an MBA from the Haas School of Business at UC Berkeley. Danae graduated with a B.A. in Humanities from UNC-Chapel Hill, where she was a Morehead Scholar and varsity rower. She currently resides in San Francisco.
Schoffler's bio:
Joy Schoffler, Principal of Leverage PR, is a nationally recognized author and speaker, overseeing day-to-day operations and directing strategy for all of Leverage's public relations accounts.

Prior to launching Leverage PR, Joy consulted and worked with a number of growth-phase firms, including serving as Director of Acquisitions for the two-time Inc. Award-winning investment firm, The PPA Group. Companies Joy has worked with have been acquired, raised large amounts of capital, secured Fortune 500 accounts (from startup phase) and experienced tremendous growth through creative messaging and dynamic media strategies.

Joy has shared her knowledge in several outlets, including: Entrepreneur.com, Social Media Monthly, MO.com, The Glass Heel and MarketingProfs. She has also been a featured speaker for a number of events and conferences, such as Crowdfunding BootCamp, Startup America, Kingonomics, SV Crowdfund, Execsense, SXSW and the Crowdfunding Professional Association's annual conference. She has additionally done behind-the-scenes work for high-profile events: Crowdfund Texas, The Crowdfunding BootCamp and a crowdfunding summit in Washington D.C. titled "The State of Equity-Based Crowdfunding," which included a press conference held at the National Press Club, a luncheon on Capitol Hill, a White House meeting and a meeting with SEC officials responsible for Titles II & III of the JOBS Act.

In 2014, Joy's efforts were truly recognized, as she became a Stiletto Woman in Business Awards Finalist, an Austin Under 40 Finalist and won the Women Communicators of Austin Outstanding Austin Communicator Award.

Outside of the private sector, Joy served as a Finance Officer for six years in the U.S. Army Reserves and three years as a Public Relations Officer for the Texas State Guard. Her service included a year on active duty for Operation Iraqi Freedom, where she led a 16-man team of finance soldiers and interned at the Pentagon. Joy sits on the board for Athletes for Change – an organization of NFL players dedicated to helping foster kids –the Crowdfund Intermediary Regulatory Advocates (CfIRA) – the main lobbying organization for the crowdfunding industry that works directly with the Securities and Exchange Commission (SEC) – and the Financial Industry Regulatory Authority (FINRA), to help establish industry standards and best practices.
Schwartz's bio:
Joanna Schwartz is an accomplished senior executive and entrepreneur with 18 years of experience founding and leading financial services, technology, consumer product, and e-commerce businesses. Joanna is CEO of EarlyShares, a leading funding platform that connects smart investors with unique opportunities. By enabling individuals and companies to leverage the opportunities created by the JOBS Act, EarlyShares helps small investments ignite big ideas. Prior to joining EarlyShares, Joanna served as Managing Director of small-balance commercial lender Silver Hill Financial, leading the company from inception to over $1 billion in annual volume.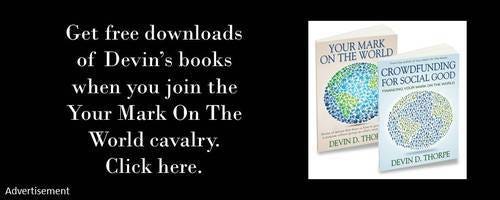 The post The Women of Crowdfunding appeared first on Your Mark On The World.