THE STORY OF A THOROUGHLY MODERN SCHEHERAZADE TURNED ETHICAL HEDONIST
Guest post by Alison Jane Reid
I have two great passions in life. The first is writing and the second is slow food. By the time I was seven I knew I would be a writer. Reading and living in my imagination is and was as important to me as breathing.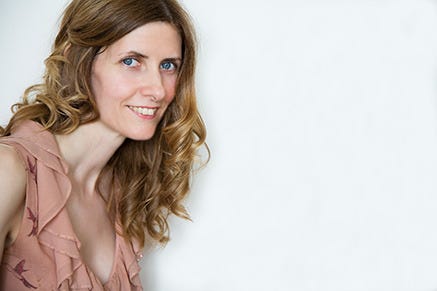 The second passion found me. I was a freshman at university in Wales studying for a degree in English Literature. The eighties was a miserable time to be a foodie. It was the era of boil in the bag fish, pot noodles and cuppa soup. Ghastly doesn't begin to describe the situation. Everything had the pervading taste of plastic and chemicals. Then something utterly marvelous happened. A tiny jewel of an organic bakery opened in my Welsh university town, with a ridiculously long name in Welsh, which I still can't pronounce. At the time it was like entering a lost, culinary Elysium – the holy grail of baking nirvana.
Soon the secret was out. Every day there would be a queue of discerning students who had discovered that our daily bread was better than quick, fumbled, inexperienced sex or binge drinking in the student bar. You have to remember the traditional craft of baking had been sacrificed on the altar of industrialized convenience. Bread if you can call it that, came pre-sliced and anemically white and tasted like sawdust and glue. Just in the nick of time revolution was in the air, and my little bakery was right there offering a tantalizing glimpse of food that was not only delicious; but thoroughly life enhancing too.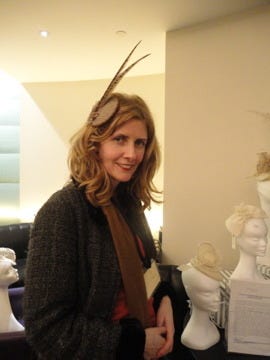 I am trying on a fascinator, made of nettles. The picture was taken at the London Fashion Week Exhibition for Sustainable Fashion and Accessory Design.
Suddenly, bread was no longer an abomination – it was a meal. Did I want a rich, nutty wholemeal organic tin, shot through with tangy, decadent layers of caramelized local cheddar? – Or a soft, yielding Pain de Campagne that made the perfect partner to thick, homemade soup? I've saved the best until last. The cakes were the work of a genius. The wholemeal organic Chelsea Bun was my eureka taste moment. The day I became an organic girl forever, with an eternal cake habit. The bakery made a bun that was absolute cake decadence. It was a cross between really good Christmas cake and a toasted teacake. Reader, it was a fat, sticky, nutty, fruit-packed slab of unadulterated pleasure – and I can still smell the sweet, aromatic aroma of cinnamon today.
The bakery and joining a student food co-op set me on a path to culinary discovery that continues to delight and sustain me to this day. Yet it is only in recent years that I have finally had the time and the opportunity to write about food and some very exciting chefs who truly understand that great cooking begins with really good raw ingredients, as un-tampered with as possible.
For the first part of my grown up life, I concentrated on developing a successful career as a feature writer, writing about icons and national treasures, and my love of real food remained in the background, a private passion. Despite a rather snooty English teacher telling me I was aiming my sights too high to become a leading journalist, I proved her wrong. For the best part of the last eighteen years I have worked as a high- flying journalist. Training at Mirror Group Newspapers and going on to work for The Times Magazine for a decade, creating interviews and theatrical fashion stories with the icons of our age from film icons, to national treasures and naturalists to adventurers and captains of industry. I have interviewed: Sir David Attenborough, Karl Lagerfeld, Naomi Watts, Clive Owen, Yves Saint Laurent, Kate Moss, Kim Cattrall, Colin Morgan, Brian May, Marianne Faithfull, Helena Christiansen, Hugh Bonneville and Richard Branson to name but a few. I have also contributed features and opinion pieces to: The Lady, Country Life, The Orient Express Magazine, Newsweek, Red and You Magazine. My work has been published around the globe.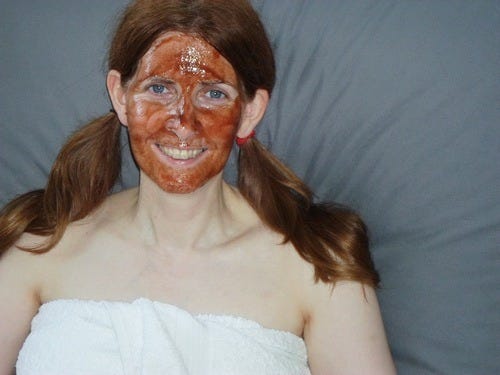 Covered in organic chocolate for the first Ethical Hedonist Chocolate Odyssey Event for Organic September 2013.
I love writing with a passion, and thrive best in an atmosphere of intense creativity and encouragement.
Occasionally, my public and private interests were indulged, but not often enough! Sue Peart, the editor of You Magazine encouraged me to create a serious of groundbreaking articles in the mid noughties, which held a mirror up to the fast world of fashion and asked the question – how could it become more sustainable? I interviewed and styled Sienna Miller, in the little known Fairtrade label People Tree, and she asked You Magazine readers to buy organic knickers and change the world. The feature created a lot of excitement and Philip Green invited the brand to be stocked in Top Shop.
I went on to interview and style the daughters of British rock 'n' roll royalty in organic and recycled couture clothing – and talked to Bono's wife Alison about putting the sex appeal into sustainable fashion.
Then, suddenly things started to get tough.
Everything changed in 2008 when the media and journalists were very badly affected both by recession, and the growing impact of the Internet. Towards the end of 2008, I experienced a sudden and very dramatic fall in fees for my journalism. There was no warning. It was a terrifying and worrying time. Gradually, I woke up to the truth. Fees were plummeting because the audience for print journalism was vanishing. While a few people clung to what was fast becoming 'the old media' – most people were finding out what was going on the world by going online, and disserting magazines and newspapers. It was a huge shock. My finances went into free fall and my health suffered terribly from a constant struggle to survive.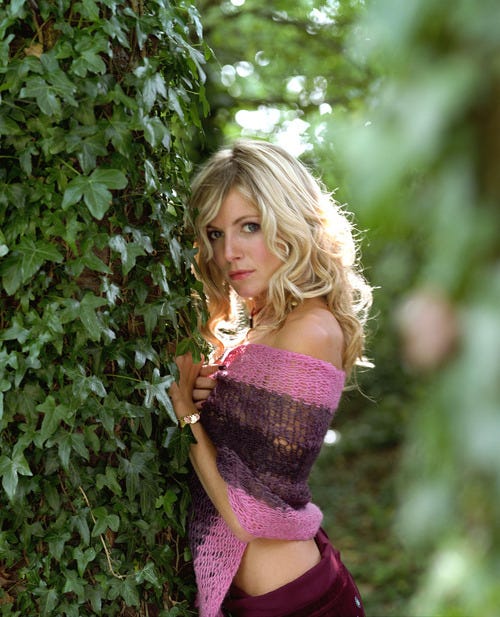 Sienna Miller starred in my sustainable fashion feature for You Magazine fashion shoot and helped to start a revolution
I faced a stark choice. Either think about a dramatic career change or join the digital revolution. I didn't know the first thing about digital technology. At the same time, I have always been naturally entrepreneurial, and I knew that it would be a personal tragedy to give up journalism. I started to research setting up a website, and read one very good piece of advice. A fellow journalist said that if you wanted to be successful online, you needed to find your niche. 'Follow your passion he decreed'. It was the best advice I have ever been given.
That was the day I decided to merge my private passion for food and sustainability with my love of writing about icons and national treasures and The Ethical Hedonist started to take form.
My idea was simple, to create a magazine inspired by the life I have lived since I was an eighteen year old fresher at university – a life which happily revolves around eating delicious slow, local and organic food, dressing in gorgeous vintage gowns, using organic skincare and seeking out authentic treasures that are made by talented artisans to last a lifetime. I would also include exciting interviews with world-class icons from Sir David Attenborough to Colin Morgan and Brian May.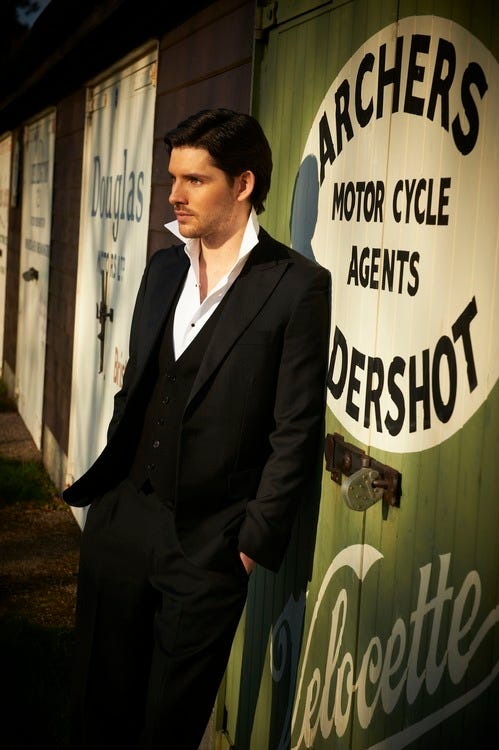 Colin Morgan, the ethical star of BBC Merlin – I interviewed and styled him and the interview has become a global hit
I don't like the idea of cults. Far too dangerous; but I do want to share the life of an unashamedly optimistic Ethical Hedonist! I like the idea of changing people's perception of what it means to live a slow, authentic life, one dress, one cake and one loaf of real, slow bread at a time. The last five years have been a slow, exciting and sometimes frustrating journey. There were periods when I had to press the pause button on EH, and go off and do something else to keep a roof over my head, and that of my gorgeous cat – Belle de Jour.
Then, after parting company with a magazine over ethics and fees, I won a scholarship for Ethical Hedonist and my journalism with School for Creative Start-ups. This was my breakthrough moment. Former Dragon, Doug Richard realized there was a very serious need to help creative people succeed in business, especially during a recession. After an interview at Somerset House, I was picked to be just one of hundred people in the UK given this opportunity in 2012/13. I spent ten months attending boot camps, and learning how to turn my idea of Ethical Hedonist into a dynamic business.
Fast-forward five months, and I am really proud of how far I have come. Ethical Hedonist has some amazing content and Christian; my web maestro and cameraman extraordinaire is doing a brilliant job of transforming the look and functionality of EH as I develop more and more content. Money is starting to come in from the exciting new Directory that features a growing A-Z of brilliant sustainable brands from extraordinary bed makers to super sustainable luxury hotels. I have a lovely graduate intern working with me called Harlen, who overcame dyslexia as a child to graduate with a degree in journalism. Her enthusiasm spurs me on every single day. I have also been offered my first major deal to create Ethical Hedonist content on London for a really lovely sustainable brand and a second deal is also being discussed with a brand that has been at the forefront of green innovation for thirty years. To that you can add a calendar of EH events for 2014 and some very exciting interviews and fashion videos.
Now my dream is to offer a trainee-ship to one lucky aspiring journalist in 2014 – so please join my emerald revolution. Become an Ethical Hedonista and help me make that dream come true and reach for the world with journalism that inspires, educates and truly makes a difference.
****Check my interview with Gordon Buchanan – BBC cameraman turned presenter for Wild Burma – In Search of a Lost Kingdom on BBC 2 tonight. The program takes a critical and magical look at the extraordinary species diversity that still exists in Burma. If we want Asian elephants to survive and thrive in the wild, we need to help Burma protect them.
Alison Jane Reid December 2013
Images Copyright Mike Owen/Alison Jane Reid/Eyevine All rights reserved.
The post THE STORY OF A THOROUGHLY MODERN SCHEHERAZADE TURNED ETHICAL HEDONIST appeared first on Your Mark On The World.