The Nature Conservancy CEO On Entrepreneurship For The Environment
This post was originally produced for Forbes.
When Mark Tercek took the reigns as CEO of The Nature Conservancy in 2008 he brought a new perspective. As a Managing Director at Goldman Sachs, Tercek's career evolved into a focus on sustainability, recognizing the vast economic value of nature and the ability of business to actually contribute profitably to the health of the planet.
In Tercek's book, Nature's Fortune, How Business and Society Thrive in Nature, he explains how his experiences at Goldman Sachs and at TNC prove that protecting the environment makes economic sense. For example, he called attention to a shift in attitude at CocaCola, noting that in 2002 water was not listed as an important input in its annual report and by 2012, water had become a key focus. CocaCola has adopted a policy of "replenishment," with the goal of creating ecological means of returning as much water to the environment as the company uses. Not to be outdone, Pepsi has promised to become "water positive." Tercek explains the economics that have driven the shift and how preserving and restoring the natural environment can be much more affordable than "gray infrastructure," man-made remedies like levies, dikes and sea walls.
On Monday, February 3, 2014 at 3:00 Eastern, Tercek will join me for a live discussion about the role of business and entrepreneurs–and others–in the effort to protect the environment and turn back climate change.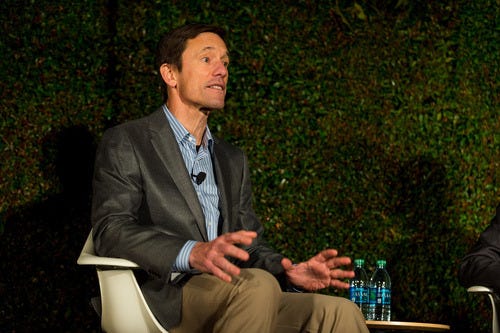 Mark Tercek, CEO of the Nature Conservancy (Photo credit: Fortune Live Media)
Tune in here and listen while you work.
According to a Nature Conservancy Magazine article about Tercek, first sought to leave Goldman Sachs in 2005 to pursue work focused on the environment, but Chairman Henry Paulson convinced him to stay by inviting him to form a new group, the Goldman Sachs' Environmental Strategy Group, where he could work on his passion. When the opportunity came up, however, to head The Nature Conservancy in 2008, he jumped at the chance.
Tercek attributes his desire to work for the preservation of the environment to his role as a parent. "I want to be able to look my kids in the eye," he says, "and tell them I did all I could to leave the world a better place."
Before beginning his 24 years at Goldman, Tercek completed an MBA at Harvard after earning a BA at Williams College.
This interview is part of a series that will examine what can be accomplished in the fight to solve the world's biggest challenges within the next thirty years. The solution to every big problem also presents opportunities entrepreneurs will exploit to change the world. From this series of interviews, a book, working title: Thirty Years to Peace, will emerge.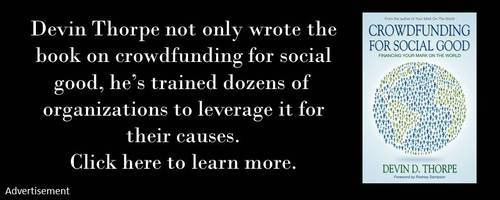 Please help me continue this conversation below, on Twitter or on my personal website.
The post The Nature Conservancy CEO On Entrepreneurship For The Environment appeared first on Your Mark On The World.