Teen Entrepreneur Makes Giving Back Top Priority
Katelyn Lohr is not your typical teenager. At age 13, she launched her own company, Freetoes Brand, Inc., to sell her invention: socks without toes, which are now sold across North America in stores like Toys R Us, Hallmark and Learning Express.
What really makes Katelyn special is her passion for giving back. She has donated hundreds of pairs of her socks to Project Aftershock, supporting the recovery in Haiti.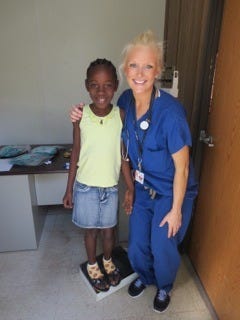 Nurse, Laura Whitney
On Wednesday, September 10, 2014 at 6:00 PM Eastern, Katelyn will join me for a live discussion about her remarkable company and her passion for giving back. Tune in here then to watch the interview live.
You can download an audio podcast here or subscribe via iTunes.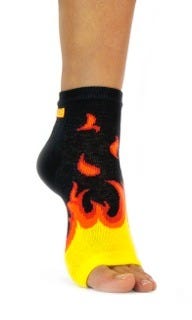 More about Freetoes:
Freetoes Brand Inc. Is a limited Company, established in 2012 located in Vancouver BC Canada

The product and business was created in 2010 by Katelyn Lohr at the age of eight. The company Freetoes toe-less socks are a very versatile product that works for anyone ages 6-60 and are used in a wide variety of ways.

Freetoes are now sold in Ladies and children's fashion and footwear, spas and salons, sports and dance supply stores, and are perfect for camping. Freetoes make the perfect gift for any age as they are fun, new and extremely practical.

Now sold in these major US chains: Toys are Us, Hallmark, Learning Express locations and 100's of others across North America.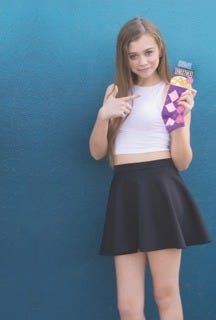 Katelyn's bio:
In 2008 when I was eight, I created Freetoes toe-less socks. I wanted to wear my flip flops when it was cold outside and my mom said "No, you have to wear socks and shoes" So I came to her with scissors and socks. My way of following the rules and still getting what I wanted. I wore my Freetoes to school and and of my friends wanted some so I asked if I could use my own money, buy socks, cut the toes off and sell them to my friends. I made $100.00 in my first week. In 2009 with my Oma's help we started cutting sewing and selling at local markets and festivals around the lower mainland. With the help of my Oma and the rest of my family, we cut sewn and sold over 10,000 pairs. In 2012 I was featured on CBC'S Dragons Den ( Canadian version of Sharks Tank) and shortly after partnered with local BC company Tickled Planet. Freetoes are now sold in 100's of retail locations across North America and to customers around the world from www.freetoes.com.
Remember to "join the cavalry"by subscribing to our content here.
The post Teen Entrepreneur Makes Giving Back Top Priority appeared first on Your Mark On The World.