Spreading Good "Karma" to 88 Million, One Consumer At A Time
Guest post by Tim Sinclair, co-founder of U-Be-Livin-Smart.
"We Feed 400,000 people a day and we have a need to feed about 1.2 million," said Lee Cheney, Food Fund Sourcing Manager, The Food Bank for New York City. Lee was taking us on a tour of their facility in Harlem. I was listening to her but was frankly distracted looking at the long line of people waiting for food. I was watching a little girl playing with her Mom in line as they waited. She was completely oblivious to her surroundings and looked to have come straight from school. I thought to myself, this is a way bigger problem than we had imagined when planning our mission.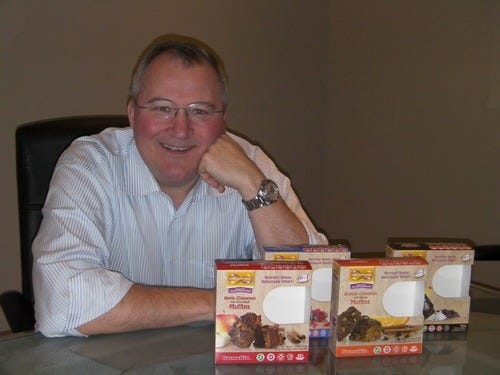 Tim Sinclair, co-founder of U-Be-Livin-Smart
You see, just last week our company, U-Be-Livin-Smart, officially launched our Feed 88 Million program. To kick off the program, we donated 18,000 of our healthy, nutrient-dense muffins to hungry New Yorkers at the Food Bank for New York City. As a child I remember vividly how our local food bank helped my Mom as she struggled to raise six of us. To say we have a problem in North America feels inadequate. It is like a slow motion train crash happening all over North America and life is so busy we just don't see the steel and cars collapsing into one another.
For so many people in our own communities, hunger and food insecurity are an everyday reality. According to the USDA, about 50 million Americans live in food insecure households. In addition, one in eight Canadian households experiences food insecurity according to a recent report by the Canadian Institute of Health Research. With our food donation program, us at U-Be-Livin-Smart have made it our goal to feed 88 million North Americans in the next decade who are underprivileged and undernourished. The reason we have publicly declared this goal is twofold: 1) To humanize a problem that feels at best marginalized and at worst completely lost in our society because there is no context for the issue, and 2) To allow consumers to become involved and have a tangible impact in a very simple and small way, every time they make a food purchase decision. Our modest program (the need is far greater then our program) is not flying at 100,000 feet but rather grounded in a grass roots approach. Our product is donated in the same community a purchaser lives in so the ability for the individual to see his or her "small and simple impact" is there within their community. All too often problems like feeding undernourished, underprivileged people get aggrandized to the point that we as individual consumers can't really see how our "small and simple choice" impacts anything. There is always a nagging cynicism about whether our action "is really helping" as it often is not personalized and that may make us feel guilty as consumers. Without bureaucracy or hoopla our consumers and our company have fed over 60,000 people since January 2013 and will continue to do so as our brand grows. The U-Be-Livin-Smart brand is simply about our consumers enjoying great tasting nutrient-dense foods while at the same time knowing that their purchase is feeding underprivileged, undernourished people in their own community.
Having worked in the food business for over 25 years, in some great organizations like Campbell's Soup, E&J Gallo Winery and Gordon Food Service, I felt like I was old enough to have learned some things as well as having made a boat load of mistakes (read – learning and by the way still making them) and young enough to have the energy and naiveté to think I can still help change the world in some small way. In January 2013, I co-founded U-Be-Livin-Smart and began making and selling healthy, affordable, nutrient-dense food products to retailers in North America. That is how our consumers and we at U-Be-Livin-Smart have already fed over 60,000 people in North America.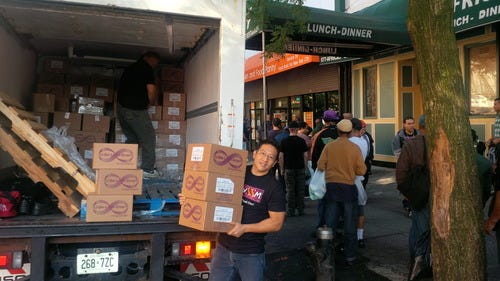 Baked right into our business model (pun intended), Feed 88 Million, is more than just corporate social responsibility. It's a living, breathing part of our ethos. We know how hard it is to find foods that taste good but are also nutritious and we believe we can make a difference.
How does Feed 88 Million work? For every package of any of our products bought in a community, our consumer (through their purchase) and we at U-Be-Livin-Smart feed a needy individual in that community through a nearby food bank. As I said above, what's unique about our program is that consumers can really make an impact in their own communities just by making a food brand choice. The program is well underway and has already gained a presence in major cities such as, Dallas, Buffalo, Toronto and Vancouver. Every month we are bringing the program to new regions, in hopes of achieving our goal of feeding 88 million underprivileged and undernourished children and adults over the next decade.
I think one thing in particular that sets U-Be-Livin-Smart's program apart from other food initiatives out there, is that our consumers donations actually deliver a quality product that tastes good and is highly nutritious. Being 100% nutrient-dense, the "Karma"ffin product delivers nine grams of protein, one whole serving of fruits and vegetables, four grams of fiber and only has 130 calories per muffin. Not to mention these muffins are gluten and nut free, have no added oil, salt, sugar or additives and preservatives. With a lot of help from consumers and our own initiative we really do think our products can make a difference in communities across North America.
Tim Sinclair, co-founder of U-Be-Livin-Smart, has more than 25 years of food marketing and business experience. Over the past 12 years he has served as CEO at Nealanders International as well as Bridge Brand Foods. He was also General Manager for Campbell's Soup Grocery Division and has worked in senior management positions at Campbell's Soup, E&J Gallo Wines and Gordon Food Service.
U-Be-Livin-Smart seeks to make affordable, healthy, great tasting, nutrient–dense products while supporting the nutritional needs of 88 million underprivileged children and families in North America.
The post Spreading Good "Karma" to 88 Million, One Consumer At A Time appeared first on Your Mark On The World.