Solving Energy Poverty through participatory finance.
Guest post by Audrey Desiderato, Co-Founder of SunFunder.
I believe that energy poverty is my generation's greatest development challenge, and also our greatest opportunity. Today, 1.3 billion people around the world lack access to electricity. In Tanzania where I currently live, only 15 percent of households are connected to the grid, leaving 7.1 million mostly rural households, off the grid.
What does it mean to live in energy poverty? No lights. You have a cellphone but must walk miles to charge it. Dirty fuel like kerosene grows more expensive by the day, but you have no choice—it's your only option for lighting. Every year, the global poor spend $37 billion on poor-quality energy solutions to meet lighting and cooking needs.
A few months ago, I spent some time out in the field with Off-Grid:Electric, an off-grid solar company based in Tanzania. I attended a training session for their M-POWER agents and we asked them, " Why do you want to become an M-POWER agent?" Their responses (translated from Swahili):
"I want to give people an alternative to save them from the harmful effects of kerosene."
"Solar is a solution that fits all parts of the community – both rich and poor people."
"I've seen in my village that children living in houses with M-POWER solar energy study more."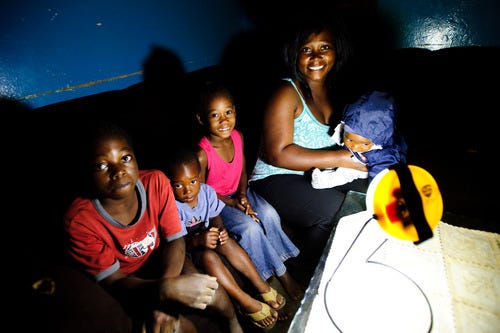 Photo by SunnyMoney/SolarAid.
Energy access touches on all aspects of people's lives and produces economic, health, education and environmental benefits. The United Nations has declared 2014 to 2024 as the Decade of Energy Access. I'm not sure if meetings, press releases and grand new programs provide us with a measure of progress. Instead, I like to measure progress through the number of families who have leapfrogged from firewood, candles, and kerosene straight to solar-powered LED lighting solutions.
Delivering modern energy solutions is not a one-size-fits-all, vaccine-like program. It requires a deep understanding of local market needs, appropriate technologies, robust distribution channels and innovative payment mechanisms. The challenge and opportunity of energy poverty then belongs to local problem solvers, i.e. entrepreneurs.
The SunFunder team comes from the U.S., France, India, Indonesia and Columbia. We are solar finance and international development practitioners, designers and programmers, and entrepreneurs. Our goal is to support off-grid solar companies in developing countries by helping overcome one of the largest obstacles they face—access to finance. Our solution is simple:
We meet, vet and select high-quality, impact partners that need working capital finance to reach more households.
We allow anyone in the world to make loans to these companies through our crowdlending platform and network of investors.
Companies get access to affordable debt finance, investors get repaid within 12 months, and more households have solar energy.
Everyone wins.
For example, take our latest project with SunnyMoney. This $25,000 loan provides inventory financing for SunnyMoney's Solar Schools campaign, and will enable the team to sell and distribute solar lights to 4,500 students in rural Tanzania. According to their impact study, since beginning to use a solar light, children are now doing one more hour of study every night. This project is currently 75% funded on our website by 138 people. There's a saying in Tanzania, "kidogo kidogo hujaza kibaba", meaning "little by little, fills the pot". If we all pitch in and invest as little as $10, we can help SunnyMoney reach their goal of impacting close to 400,000 homes in Tanzania this year.
The post Solving Energy Poverty through participatory finance. appeared first on Your Mark On The World.