Solar Roadways Brings The Road To Life
Scott Brusaw and his wife Julie have created a remarkable new solar technology that we can all drive on. Solar Roadways, his company, is developing a new glass road surface that can generate electricity.
On May 14 at 7:00 PM Eastern, Scott will join me for a live discussion about his company and the new technology.
Solar Roadways is presently raising money with a crowdfunding campaign on Indiegogo.
Tune in here then to watch the interview.
More about Solar Roadways:
Solar Roadways is a modular paving system of solar panels that can withstand the heaviest of trucks (250,000 pounds). These Solar Road Panels can be installed on roads, parking lots, driveways, sidewalks, bike paths, playgrounds… literally any surface under the sun. They pay for themselves primarily through the generation of electricity, which can power homes and businesses connected via driveways and parking lots. A nationwide system could produce more clean renewable energy than a country uses as a whole. They have many other features as well, including: heating elements to stay snow/ice free, LEDs to make road lines and signage, and attached Cable Corridor to store and treat stormwater and provide a "home" for power and data cables. EVs will be able to charge with energy from the sun (instead of fossil fuels) from parking lots and driveways and after a roadway system is in place, mutual induction technology will allow for charging while driving.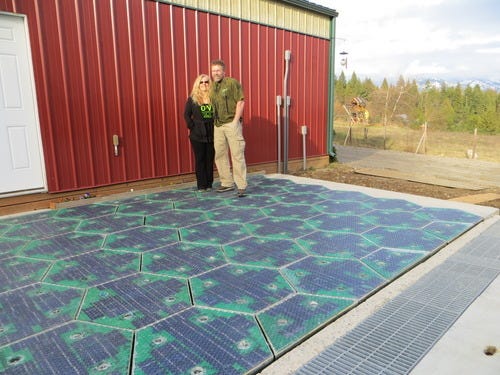 More about Scott Brusaw:
Scott is an electrical engineer (MSEE) with over 25 years of industry experience. This includes serving as the Director of Research and Development at a manufacturing facility in Ohio (developing their line of products for over 12 years), a voting member of NEMA (National Electrical Manufacturers Association), and developing several networked control systems from the ground up. Scott has multiple patents and his hardware and software have been sold internationally.
The post Solar Roadways Brings The Road To Life appeared first on Your Mark On The World.