Social Entrepreneur Seeks Impact Through Recycling Your Clothes
Evrnu is a social enterprise with a mission to reduce waste by recycling cotton clothing. By taking clothing that would otherwise go into the landfill or be incinerated and converting into a usable textile fiber, Evrnu is allowing consumers a new choice in fashion.
Founder Stacy Flynn said, "Sustainable practices and textile innovations like Evrnu that reduce resource extraction and waste will save the fashion industry from itself."
She notes, "The fashion world thrives on style obsolescence and consumption." She hopes to fundamentally change the fashion industry by enabling ever-changing fashion to become more environmentally friendly.
Stacy is presently raising money for Evrnu via a crowdfunding campaign on Indieogo, where, with just a week to go she is approaching her goal of $25,000.
On Tuesday, November 25, 2014 at 7:00 PM Eastern, Stacy will join me for a live discussion about Evrnu. Tune in here then to watch the interview live.
You can download an audio podcast here or subscribe via iTunes.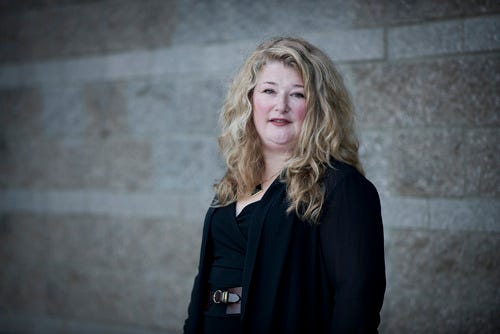 More about Evrnu:
Evrnu is a social purpose corporation that specializes in garment recycling technology. We manufacture and distribute a regenerated, high-quality, textile fiber created from cotton garment waste. Our mission is to transform the millions of tons of garment waste into a renewable fiber resource. We are committed to creating an integrated approach to fiber production that enables the textile industry to safeguard natural resources while also reducing landfill input and textile incineration.
Stacy's bio:
Stacy is a textile and apparel specialist with 20 years of industry experience who is actively reinventing the business model for textiles to preserve the future of apparel. In 2010, she traveled to China on a business trip without the buffer of big corporate credentials she'd always had on previous trips. After seeing firsthand the devastating impact of her life's work on the environment and people, Stacy made a commitment to sustainable innovation.

After a diverse background working with both startups and large multi-national corporations like DuPont, Target, Eddie Bauer, and Rethink Fabric, Stacy launched Future Resource Collective (FRC), a collaboration hub and incubator for sustainable innovations in the apparel and textile industry. In 2014, FRC launched its first social purpose corporation, Evrnu, which uses a patent-pending technology that recycles cotton garment waste to create premium, renewable fiber. Stacy has a BS in Textile Development and Marketing from the Fashion Institute of Technology and an MBA in Sustainable Systems from Bainbridge Graduate Institute at Pinchot University.
Remember to "join the cavalry" by subscribing to our content here.
The post Social Entrepreneur Seeks Impact Through Recycling Your Clothes appeared first on Your Mark On The World.