Smile Train's When You're Smiling Campaign Marks Original Approach to Cleft Lip and Palate Support and Awareness
Installation to premiere at New York City's third annual Photoville with Special Guest Host IMG Model Sailor Brinkley Cook
Cleft charity Smile Train's new crowdsourced initiative unites voices in song #singforsmiles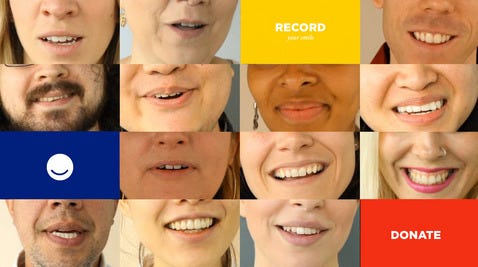 / PR Newswire / — Smile Train, the world's largest cleft charity, today announced the launch of When You're Smiling – an interactive campaign that leverages the talent of worldwide crowds to elevate support and engagement around cleft lip and palate repair and related treatment. In a fresh, original approach to nonprofit awareness-building and fundraising, the initiative uses crowdsource techniques to unite voices in song around Smile Train's mission to provide new smiles – and lives – to children with clefts around the world.
Smile Train's When You're Smiling initiative, inspired by the song made famous by Louis Armstrong, is comprised of two components:
An interactive website featuring a crowdsourced performance of the song, When You're Smiling. Participants from around the world can record and upload a clip of themselves singing a line from the classic tune. The site then loops the videos through ever-changing arrangements, encouraging viewers to share, record their own line and donate. Audiences can view and participate in the campaign at: smiletrain.org/powerofasmile.

A one-of-a-kind installation at New York City's third annual Photoville will reproduce the online experience and create a live opportunity to lend a voice to Smile Train. Smile Train will also display a photography exhibit of five Power of a Smile stories, spotlighting real patients whose lives were transformed through cleft repair surgery. IMG model Sailor Brinkley Cook will serve as host of Smile Train's VIP reception at the event and contribute her own smile and voice to the cause. The When You're Smiling installation will premiere at Photoville on September 18 at Pier 5 in Brooklyn Bridge Park.
"'When You're Smiling is so powerful because it propels supporters and donors, across all ages and geographies, to join together in sharing support for our life-changing cleft repairs," said Smile Train CEO Susannah Schaefer. "Cleft impacts a child's ability to eat, breathe and speak, and raising awareness of our solution is critical. "What better way to do so than empower worldwide audiences to lend their own smiles and voices to the cause?"
Smile Train is proud to be a Marquee sponsor at Photoville 2014, as well as the exclusive sponsor of Photoville's educational initiatives, which provide free workshops and tours to New York City's public middle school students. Local schools M.S. 180 and I.S. 96 Seth Low that are involved in Students for Smile Train, a program that empowers students to learn about Smile Train and fundraise on its behalf, will also have the chance to participate in the Photoville experience.
"Photoville's approach to photography makes it the perfect venue for showcasing our new campaign and worldwide work," said Schaefer. "We're thrilled to participate in this creative form of storytelling to emphasize the importance and joy of a smile, and the transformative impact of our surgeries and related treatment on real lives and communities."
Half of all donations from Photoville's opening night festival will go toward Smile Train. Additionally, gallery-style photography displayed at the exhibit, gathered from Smile Train's work around the world, will be available for purchase in exchange for a $250 donation – the cost to help fund one cleft repair surgery. Smile Train will also provide postcard-sized prints of the photography from the exhibit, in exchange for smaller donations of any size.
Founded in 1999, Smile Train has performed more than one million cleft repair surgeries around the world and currently reaches 350+ children each day and 128,000 each year.
About Smile Train
Smile Train is an international children's charity with a sustainable approach to a single, solvable problem: cleft lip and palate. Millions of children in developing countries with unrepaired clefts live in shame, but more importantly, have difficulty eating, breathing and speaking. Cleft repair surgery is simple, and the transformation is immediate. Smile Train's sustainable model provides training and funding to empower local doctors in 85+ developing countries to provide 100%-free cleft repair surgery in their own communities. To learn more about how Smile Train's sustainable approach means donations have both an immediate and long-term impact, please visit smiletrain.org.
The post Smile Train's When You're Smiling Campaign Marks Original Approach to Cleft Lip and Palate Support and Awareness appeared first on GoodCrowd.info.