Smile Train Marks 1 Millionth Smile Repair
This post was originally produced for Forbes.
Smile Train recently celebrated its 1 millionth cleft palate surgery. The remarkable milestone was reached after the organization created a global organization by teaching local doctors to perform the surgery.
Unrepaired cleft palates are not just a cosmetic problem, but often leave children with difficulty eating, breathing and speaking. In the developing world, failure to have the birth defect corrected can have life altering consequences.
On Thursday, May 29, 2014 at 12:00 Eastern, Satish Kalra, Smile Train's Chief Programs Officer, will join me for a live discussion about the organizations remarkable work. Tune in then to watch live.
More about Smile Train:
Smile Train is an international children's charity with a sustainable approach to a single, solvable problem: cleft lip and palate. Millions of children in developing countries with unrepaired clefts live in shame, but more importantly, have difficulty eating, breathing and speaking. Cleft repair surgery is simple, and the transformation is immediate. Smile Train's sustainable model provides training and funding to empower local doctors in 85+ developing countries to provide 100%-free cleft repair surgery in their communities to 340 patients each day and 127,000 each year.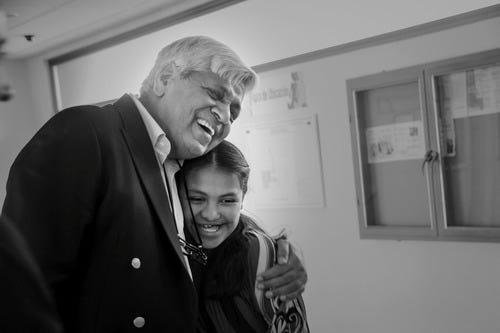 Satish Kalra with patient
Kalra's bio:
Satish Kalra joined Smile Train in 2000 and is currently the Chief Programs Officer, overseeing all aspects of program development and implementation. Prior to taking on this position in 2011, Satish spent 11 years as Smile Train's Regional Director for South Asia. Under his leadership, Smile Train's programs grew to more than 160 partner hospitals in India, Bangladesh, Nepal and Sri Lanka, performing over 300,000 free cleft reconstructive surgeries on children in South Asia who would otherwise never have been able to afford them. Satish was educated as an engineer, completing undergraduate and postgraduate studies in India.
The post Smile Train Marks 1 Millionth Smile Repair appeared first on Your Mark On The World.