SIERRA LEONE: HARNESSING THE POWER OF PINEAPPLES TO BOOST JOBS & HEALTH
By: Dr. Robert Kagbo, PhD, Director of Agriculture, World Hope International
In the African coastal nation of Sierra Leone, memories of a brutal 11-year civil war still-linger as the country continues to work to rebuild its infrastructure, its people and their livelihoods. Though more than 10 years have passed since the war's end, the devastating effects are still tangible – most notably in the country's extreme levels of poverty, food scarcity and stagnant economic growth.
Growing up in a poor family in rural Sierra Leone, I know all too well the many struggles that my people have had to endure. From malnutrition and HIV/AIDS to illiteracy and lack of clean water sources, it's no surprise that Sierra Leone currently ranks 177 out of 187 countries worldwide on the Human Development Index, a measure of life expectancy, literacy, education, standard of living and quality of life.
Despite the grim story this ranking tells, there is hope for my country – hope found in Sierra Leone's largest industry – agriculture. By leveraging the land's rich, fertile soil and natural resources, Sierra Leone can create a more robust and stable economy. As the newly appointed Director of Agriculture for World Hope International (WHI), a U.S.-based Christian relief and development organization, we have recently launched a new innovative agriculture program involving pineapples, which is designed to grow Sierra Leone's agricultural export base and provide small holder farmers with jobs and year-round income. Why is this so important?
Employing nearly 75 percent of working Sierra Leoneans and making up close to 50 percent of the country's GDP, agriculture plays a crucial role in Sierra Leone's economy. Yet the majority of Sierra Leone's poor live in rural areas – where agriculture and small holder farming are the primary sources of livelihood. The plight of these farmers worsens during Sierra Leone's "Hungry Months" – the four-month season in between harvests when farming families often eat only one meal per day.
To combat and ultimately eliminate the difficult "Hungry Season," pineapples- with their high market-value and ability to be harvested year-round – will play a key role in WHI's agriculture program. Overall, the program aims to introduce the concept of cultivating pineapples to be commercially exported (a first for Sierra Leone!) to smallholder farmers in Sierra Leone – creating an estimated 2,500 long term and sustainable agricultural jobs, as well as year-round incomes for farmers.
Through the "Planting Pineapples, Harvesting Hope" program, WHI will work with 160 villages to enhance local pineapple farming by training and educating farmers to grow pineapples on a massive scale – in large farming plots or in their own villages – and improve their local institutional capacities to a level that will earn them steady income and jobs. Moreover, farmers will have access to a direct buyer and guaranteed market for their fruit. Africa Felix Juice (AFJ), the first manufacturer to export significant value added goods from Sierra Leone since the end of the country's long civil war, will purchase pineapples grown by these smallholder farmers and produce juice concentrate to be sold all over the world. The result? A win-win for all!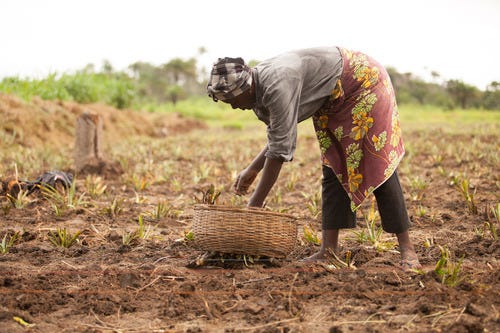 The best thing about the pineapples program is that its influence spans beyond small holder farmers and Africa Felix Juice. Families, villages and future generations will reap the benefits of pineapples through more stable communities and a stronger economy. As Sierra Leoneans look to restore our country from its broken past, pineapples offer hope for a fruitful future.
To learn more about WHI's pineapples work in Sierra Leone, check out this short video at worldhope.org/pineapples or consider making a charitable gift this holiday season at worldhope.org/catalog.
About Dr. Robert Kagbo:
Dr. Robert Kagbo is the Director of Agriculture at World Hope International. A native Sierra Leonean with a PhD in Agronomy and Soil Science, Dr. Kagbo has extensive experience in agriculture in West Africa. Motivated by a deep desire to leverage both his training and knowledge to give back to his home country of Sierra Leone, Dr. Kagbo views the pineapples program as an innovative means of poverty reduction and economic stimulation.
The post SIERRA LEONE: HARNESSING THE POWER OF PINEAPPLES TO BOOST JOBS & HEALTH appeared first on Your Mark On The World.