Shhh! Don't Tell Starbucks The Future Is Coming On A Bicycle Wearing Blue Hair
This post was originally produced for Forbes.
Maria De La Croix may one day prove to be the biggest mistake Starbucks SBUX -1.56% ever made. You see, the blue-haired young woman applied for a job as a barista with the global leader in high-end coffee shops and was turned down, she says, because her hair was "too blue."
Lest anyone at Starbucks feel bad about the decision, no one could have guessed what would happen next. Suffice it to say, there is a mic drop coming.
With the help of some friends, De La Croix built a solar powered coffee shop on a bicycle and completely reinvented the coffee shop business. She calls her company Wheelys Cafe.
Her stores on wheels cost just $5,900, on which she makes a profit margin of 50 percent, she says. The shop is the key. By mass producing the bike-based shops, the company has reduced the production costs to about $3,000.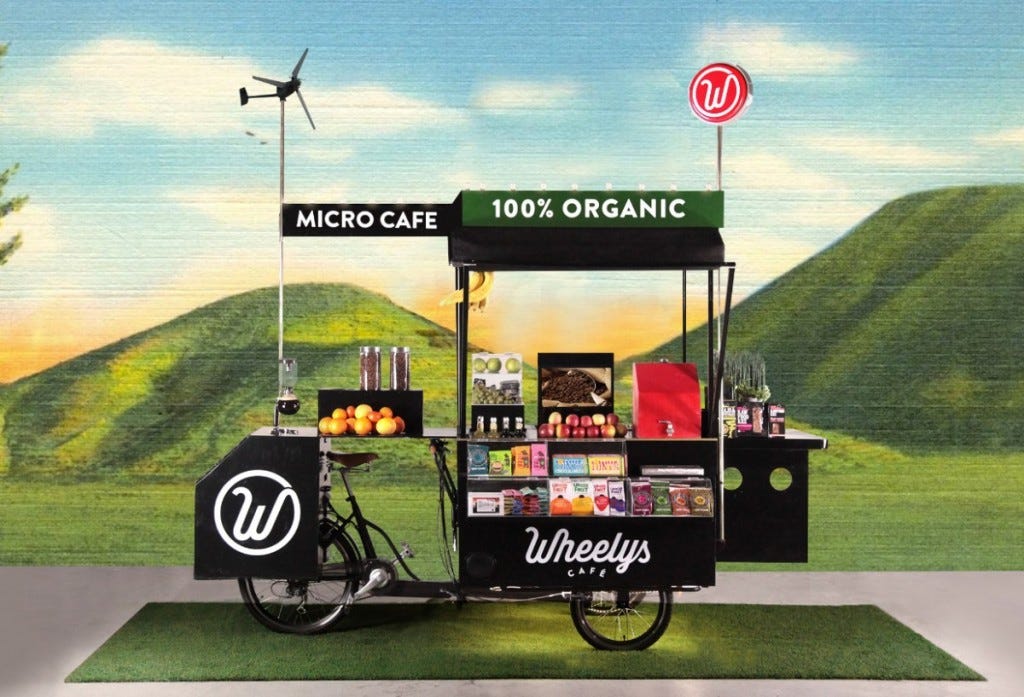 Wheelys 4 cafe on a bicycle, courtesy of Wheelys
The company also developed an app De La Croix compares to the Uber app, allowing the shop owner to charge customers and order supplies. The company makes 5 percent on every transaction. She explains, "We are running a test version in Stockholm. A café with a $12,000 turnover generates $600 per month to Wheelys through a 5% charge on the app, and through supplying coffee. The important thing is that both the app and the supplies are cheaper than independent competitors. This means that even non-Wheelys cafés who join our integrated system would benefit."
In addition, the company is launching a coffee subscription program as a third revenue stream. The Wheelys franchise owners will share in the profits on the subscriptions so the company won't be competing with its distribution partners, she says.
De La Croix is on a mission. "Wheelys is empowering young global entrepreneurs," she says. While Starbucks doesn't sell franchises, she estimates that it costs about $800,000 to open a store. At $5,900 per store, a whole new group of entrepreneurs can now participate in the global economy in a meaningful way.
Not only is the business addressing a fundamental social justice issue by empowering people of limited means, the stores sell organic items and power themselves with the sun.
"We are aiming to break the hegemony of the industrial fast food chains, and pave the way for an organic revolution. Helping us to do this is young hungry eco entrepreneurs from all over the world," she says.
While not yet profitable, Wheelys is off to the races; check out this growth reported by the company:
Wheelys has doubled in size every 6 months.

In 2014, the company was founded in Malmö, sells 20 cafés.

In 2015, Wheelys 2 is launched. The company Raises $100,000 on Indiegogo.

In May 2015, the company is accepted at Y Combinator.

In July 2015, Wheelys 3 is launched. The company raises $250,000 on Indiegogo.

In November 2015, the company moves HQ office to Stockholm.

In December 2015, Wheelys has 150 cafés in 40+ countries.

In January 2016, the company opens office in Shanghai

In February 2016, Wheelys closes a seed round of $2.5 million.

In March 2016, Wheelys 4 launched on Indiegogo, raises $650,000.

In May 2016, the company reports having 500+ cafés in 60+ countries.

In June 2016, the company is selling 2 cafés a day.
Mic drop.
Maria De La Croix, courtesy of Wheelys
Aaron Harris, a partner with Y Combinator, says, "I met Maria and the rest of the Wheelys team when they applied for Y Combinator. I remember reading their application and thinking 'This is a totally crazy and possibly incredible idea. I've got to meet this team.'"
He still feels the same way. "I think the business is amazing and hugely innovative. I lived in NYC for a long time, so the idea of a coffee cart isn't that new. What's novel is the way that the team has approached building a worldwide community of entrepreneurs bound up in a logistics network and incredible brand."
Justin Waldron, fo-founder of Zynga, met De La Croix through Y Combinator and invested. He says, "I became interested when I heard their vision for lowering the cost of starting a highly profitable business for anyone who wants to be their own boss. What ultimately convinced me is that Maria and the rest of the team behind Wheely's have a long history of creating movements and rallying a group of people behind a cause. Like the greatest companies, Wheely's is both a business and a movement toward a better future."
Being rejected by Starbucks created lasting motivation for De La Croix. In response to a question she gave an answer that cries out for a sarcastic, "Don't hold back; tell me how you really feel."
The problem today is that starting a café business (or ANY business) has become so expensive and complicated that the only really profitable cafés and shops today are global mega-brand behemoths that have descended upon our cities like a swarm of locusts.
In her own words, she shares the founding story for Wheelys:
Two years ago, I was turned down from a job at Starbucks for having to blue hair. I had no money for rent, so together with a few friends we built a café on wheels with our own hands. Instead of spending a lot on a storefront, we focused on making the freshest and best coffee, close to were the customers are. We wanted to avoid having a boss, spending hours at a desk or inside a dusty warehouse. But meeting friendly people, selling coffee in the sun. This was the beginning of Wheelys.
Wheelys gives shop owners flexibility and opportunity. Because the shops are on wheels, shop owners can move to different locations during the day, allowing them to be where the opportunities are best.
The menu sounds almost decadent–not what you would expect to buy off of a bicycle. It includes Turkish coffee, sweet tangerine juice, organic berries and raw chocolate.
By not buying real estate and eliminating the need for an electricity source by using solar power, the cost of a shop has been made affordable for millions of ordinary people.
The modern processes and global community of owners create a new sort of entrepreneurship. "Starting a business can be lonely and complicated. We don't think it needs to be. [We make it easy by] removing complicated POS-systems, and paper work with our Über-like app for charging customers and keeping track of supplies. Wheelys is a community of 400+ entrepreneurs from all around the world, sharing ideas with each other every day."
The new venture faces challenges–a lot of challenges, De La Croix admits. Shipping 200 kilogram crates with an entire cafe inside to more than 60 different countries around the world has been a big challenge, but one that has been overcome. She identifies opening a warehouse in China as another big one.
In addition, for a small business to deal with technical challenges on the other side of the planet creates unusual challenges for her. Another problem that seems likely to grow, especially after watching Uber's experiences, is fighting with local politicians about street vending regulations.
De La Croix remains optimistic despite the problems, "The challenges have been many, and more will occur. I'm happy to have such a strong and helpful community of Wheelers around the world."
She also sees some limitations to the business model. While $5,900 is a modest amount for entrepreneurs in the developed world, for many in the developing world it is still far out of reach.
Weather is also a challenge. She highlights the fact that it is "still difficult to be out selling for 8 hours in 45+ degree centigrade" heat. It would be similarly difficult when the weather is below freezing and, as in Sweden, sunlight is limited in the winter.
De La Croix has a vision for the change she hopes to bring. "We are not 100 percent perfect, not even 50 percent. We are a small company, and can't force the world to produce ecological steel for our bikes. But, while the unemployment around the world increases, we empower young global entrepreneurs, giving people who did not have a job before a new chance, giving hungry entrepreneurs a helping hand to start their business."
On Thursday, August 4, 2016 at 2:00 Eastern, De La Croix will join me for a live discussion about Wheelys progress to date and her vision for the future. Tune in here then to watch the interview live. Post questions in the comments below or tweet questions before the interview to @devindthorpe.
The post Shhh! Don't Tell Starbucks The Future Is Coming On A Bicycle Wearing Blue Hair appeared first on Your Mark On The World.