Sevamob Transforms Healthcare For Low-income Consumers In India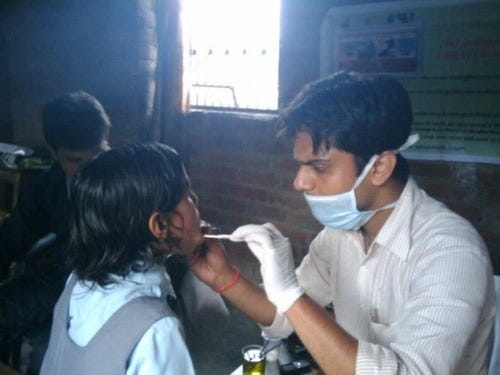 Guest post from Shelly Saxena of Sevamob
Why another primary healthcare company?
Kabirpur is a semi-rural area barely 20 mins from Lucknow, the capital of Uttar Pradesh – one of the most populous and under-served states in India. The local government run primary care center has unskilled medical staff. This staff often acts as commissioned agents for Lucknow based diagnostic centers and pharmacies. So for primary healthcare, residents end up traveling to Lucknow city and spend Rs 500 – Rs 1000 on transportation and doctor's appointment, when their monthly income is only Rs 5000 – 8000.
We launched Sevamob in Dec 2011 to fundamentally transform the delivery of healthcare to low-income consumers in such semi-rural and urban areas. For a low monthly subscription, we provide primary healthcare and insurance to students in schools and employees in organizations in these areas. Our goal is to achieve health outcomes through long term relationship with the patient instead of being just another 'fee for service' provider.
What's innovative about the model?
We deliver basic primary care on-premise by mobile clinics with the help of mobile technology. This includes preventive care, medicines for common ailments and prescriptions. For advanced primary care, prescriptions and appointments are provided by back-office specialists and a 24×7 call center. These work in tandem with a network of 3rd party service providers like pathologists and 24×7 hospitals. For emergencies, subscribers with appropriate plans can get up-to Rs 50,000 of hospitalization benefits in a given financial year.
Our secret sauce is our cloud based mobile technology, which includes a mobile app that works offline and is used by field teams and a web-based portal that is used by back-office. At signup, the app is used to capture patient demographics and electronic medical record. For prescription requests, trouble tickets are created in it with pictures from camera and text and description. The web based portal is used for management of subscribers, tickets and detailed reporting on operations.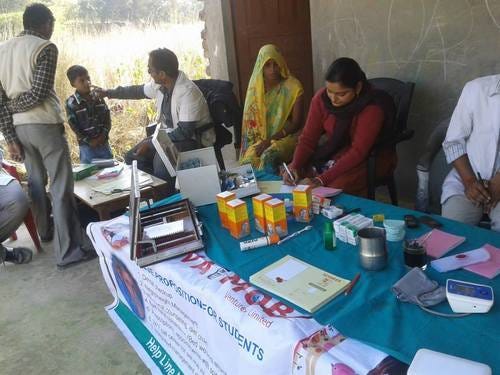 What's our social impact?
Our social impact includes improving health and welfare among children; higher productivity and incomes through improved "up-time" of workers and a safety net for emergencies. So far we have improved the lives of more than 3000 children and adults in UP.
What's our road-map?
Over the next 12 months, we will expand coverage from 2 districts to 5 districts in UP. We have also replicated the model in Liberia (Africa) through a licensee and plan to roll-out in additional geographies through licensees.
How can you help?
We are trying to reach out to re-sellers and licensees, who would like to promote the model for revenue share or replicate it in various low income areas. We also have a service called SevaAngels, which enables someone to sponsor healthcare of kids in orphanages and elderly people in old age homes and track health updates of the sponsored person online. We would love to connect with any for-profit or non-profit organization, which is interested in sponsoring healthcare of these people, who have no capacity to pay for their care.
The post Sevamob Transforms Healthcare For Low-income Consumers In India appeared first on Your Mark On The World.