Serving Our Nation's Young Heroes One Summer Camp at a Time
By: Betsey Fortlouis, Camp Corral Executive Director
In 2003, Sgt. Rosanna Powers was deployed to Kuwait, only to return a month later after finding out she was pregnant with her first child. Ten months after her young son was born, Rosanna was notified that her brother, Lance Cpl. Caleb Powers, and her fiancé and the father of her son, Sgt. Richard Lord, had both been killed—one day apart—serving our country in Iraq.
Rosanna now lives with her 10-year-old son in a rural town outside of Gainesville, Florida. Rosanna's son has grown up without a father, an uncle and kids who understand him most: the children of fallen military service members. However, thanks to Camp Corral, Rosanna has been able to give her son a priceless gift: a fun-filled week of summer camp with other military kids who are just like him.
Since October 2001, the world in which American military children grow up has changed dramatically because of high levels of deployment and an increased reliance on Reserve and National Guard members. More than 2.5 million military service members have deployed since 2001, and nearly half of those who serve are parents. As a result, we have seen an increased need for resources for military children, many of whom face similar challenges to those of Rosanna Powers' son.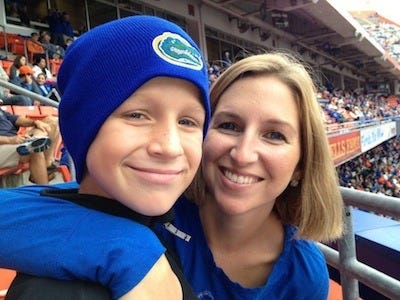 Rosanna and her son enjoying a sporting event.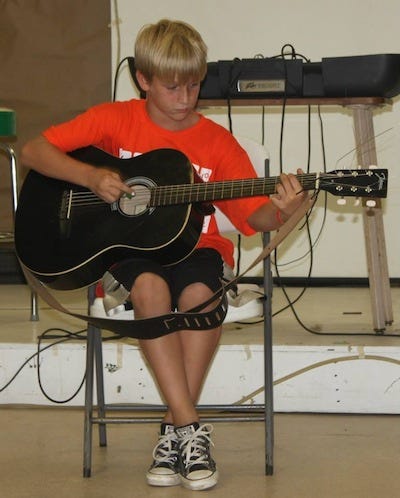 Rosanna's son playing guitar at the Camp Corral talent show.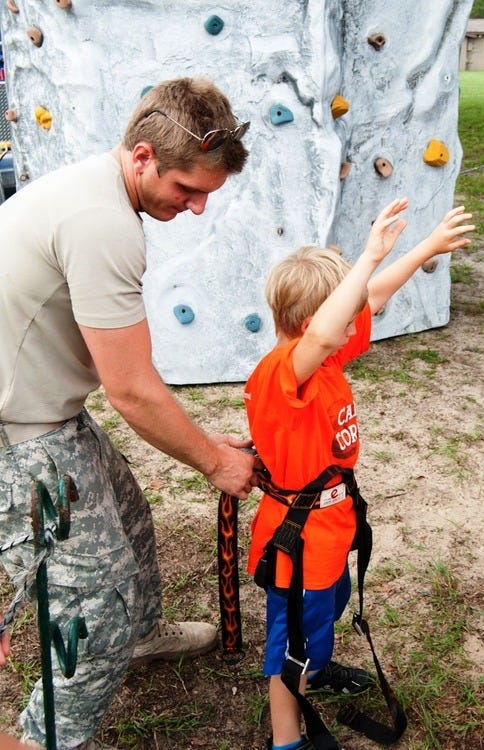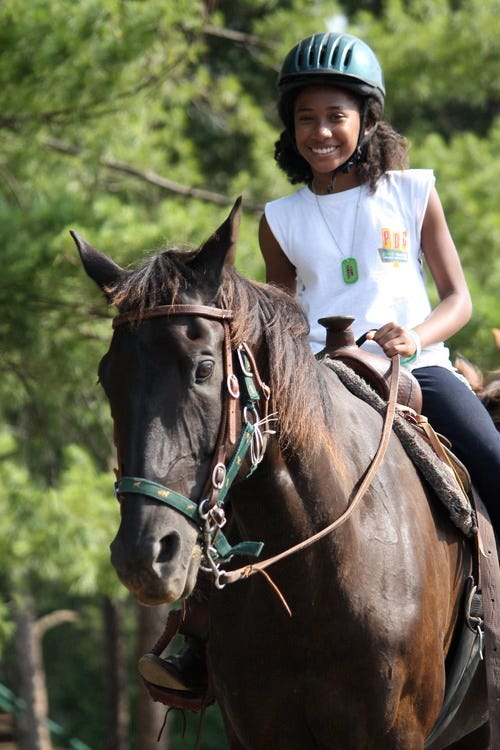 Launched in 2011 by Golden Corral founder James Maynard and his daughter Easter Maynard, Camp Corral is a nonprofit organization that provides a free week of summer camp to the children of wounded, disabled or fallen military service members. What began as a one-camp pilot program has grown into 22 camp sessions in 16 states across the country, with thousands of kids having the week-of-a-lifetime each year. Each camp celebrates "Hero Day," a time for campers to honor their loved ones, and is staffed with a military family life counselor. However, Camp Corral is not a "military camp." The camp's goal is to let military children just be kids for a week, and the programming includes traditional outdoor camp activities, such as canoeing, fishing, archery and horseback riding.
If there's one thing I've learned since joining the Camp Corral team as executive director in 2013, it's that the demand is high. Despite the generosity from so many individuals and organizations, 2,409 children were waitlisted this summer, demonstrating the increased demand from military families for opportunities for their children to have fun and connect with peers who share similar experiences.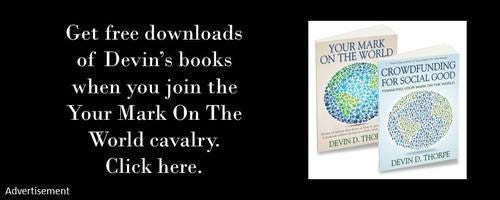 Military children face many unique challenges, including deployments, frequent moves, uncertainty, and the emotional and/or physical absence of a parent. Even after a parent retires or leaves the military, kids still face difficulties, such as assimilating into civilian life. For many children, it can be challenging to build friendships with those who don't understand what it's like to go through a deployment, have a disabled parent or grieve the loss of a parent. When we talk with camper parents, it's clear that many of their kids feel like the "odd man out" at school and in their communities, which is precisely why Camp Corral exists: "to serve those who have served us" by providing a place where military children feel at home.
Not only is Camp Corral so important for military children, but it has also proven to be a gift for the camper parents, including veterans, active duty and reserve service members. Thanks to so many donors who share our same passion for serving military families, Camp Corral is provided free-of-charge to all campers, excluding transportation costs. According to Cathy Valenza, a veteran and camper parent who lives in the Washington, D.C., area, she would never have been able to afford a high quality summer camp for her kids—the camps in her area are simply too expensive for a disabled veteran with four children. For other parents, Camp Corral gives them the opportunity to reconnect with a spouse for a week without typical, everyday parental responsibilities.
As we look a head to summer 2015, our goal is to expand our programs to additional states and give the gift of summer camp to even more of our nation's young heroes. We have talked with numerous camper families about their experience with Camp Corral, and it's evident that Rosanna's story is just one of many. Just like Rosanna's son, so many campers can't wait to return to camp next summer and dream of becoming a Camp Corral counselor when they are old enough. For these kids, Camp Corral is an opportunity to just be a kid for a week, have fun, and build lifelong friendships, and it is truly an honor to be able to serve military families in this way.
For more information about Camp Corral, visit www.campcorral.org. If you are interested in learning more about how you can help Camp Corral expand its programs and serve more military families, visit www.campcorral.org/donate or email us at campinfo@campcorral.org.You can also connect with us on Twitter and Facebook.
Remember to "join the cavalry" by subscribing to Devin's content here.
The post Serving Our Nation's Young Heroes One Summer Camp at a Time appeared first on Your Mark On The World.