Serious Talk About Ending Polio Once And For All!
This is another in a series of reports from a Rotary expedition to Ethiopia to End Polio Now.
Today, the Rotarians visiting Ethiopia for the National Immunization Day this week got serious with the World Health Organization and UNICEF to learn how we'll end polio once and for all.
We started the day with a discussion with Dr. Fiona Braka of the World Health Organization here in Ethiopia. She set the stage by explaining that there have been three recent outbreaks of polio on the African continent, one of which involves the Horn of Africa, more specifically Somalia, with some cases here in Ethiopia.
Many of the people in Somalia and the Somali region of Ethiopia are nomadic people who move around, crossing borders to which they are largely oblivious, following the rain. Concentrated in Somalia, they have experienced about 200 cases in this outbreak, which began in 2013.
The last case in Ethiopia was in January of 2014, now 11 months ago. Hardly cause to rest on laurels, the effort to wipe out polio here has focused largely on nomadic or pastoralist communities. As health workers move from house to house they will often mark visibly on the house an indication of the date and number of children immunized. One famous photo making the rounds here is of a health worker marking the camel of family in transit.
Later in the day, a smaller group of us had the opportunity to sit down with James MQueen Patterson, Patrizia Digiovanni and Shalini Rozario of UNICEF.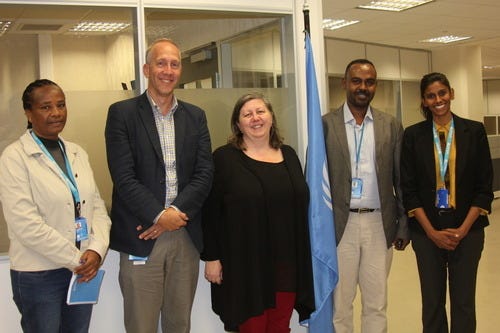 UNICEF Team: Almaz Merdekios, Immunization Officer, James McQueen Patterson, Health Specialist, Patrizia Digiovanni, Deputy Representative, Mohammed Diaaeldin Omer, Health and Nutrition Specialist and Shalini Rozario, Communication Specialist.
This was a data rich environment. James explained that there are about 13 million children in Ethiopia who need to be immunized several times. In addition, the country has pulled out all the stops to ensure that every child is immunized in the Somali region of Ethiopia.
In the relative short course of this outbreak, new measurement data shows that vaccinations improved dramatically and yet have already started to taper off as the population and the health care workers and volunteers become somewhat fatigued by the frequent effort to immunize.
The last case of polio in Africa was in late August, about 70 days ago. From our discussions with UNICEF staff, we learned that it is way to soon to celebrate. The monitoring and surveillance in Somalia and similar places in Ethiopia simply don't allow the confidence that every single case that happens is diagnosed and reported.
Note that some people who get polio, don't get paralyzed, meaning that they may have no idea that they've had polio. As aresult of these and other factors, James suggested that we need to be at least six months past the last case to begin seriously hoping that the last case is the last case.
Between the two discussions, the trip participants scattered around Addis to check on Rotary supported projects. The group I joined visited a school where Rotary had helped fund a water filter to ensure that the kids always have safe, clean drinking water.
The school is part of the Muday Association, run by Muday Mitiku Meles.
Muday founded the school more than a decade ago as a for-profit business. She was charging affluent members of the community to send their children to her school but allowing low income children to attend for free. The affluent parents began to rebel, threatening to leave. Muday would not be dissuaded: poor children would be welcome.
The paying customers all left and Muday was left to teach the poor children without the revenue for teaching the affluent children.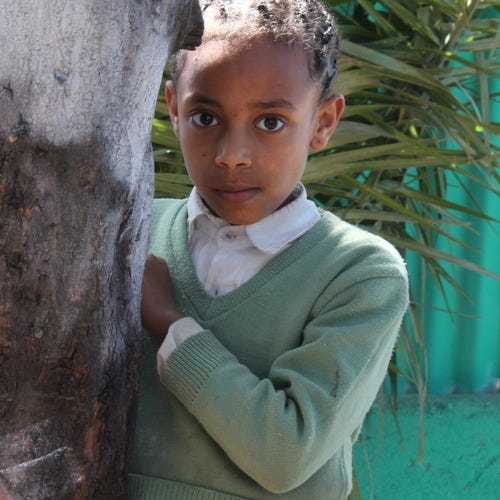 A student at Muday.
Ten years later, the school continues to grow. Not only is she teaching 180 children and feeding almost as many more who attend other schools in the community, she also trains mothers who were previously begging for a living or working as prostitutes. She trains them to make handicrafts, like scarves woven on manually operated looms using thread spun on site from cotton or wool.
Muday helps the women sell their wares and then give the proceeds to the women to help them develop their own sense of independence.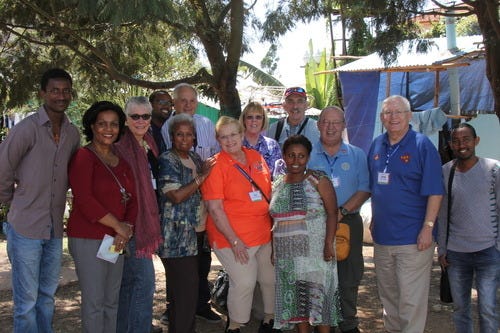 Muday Mitiku Meles (near the center in a dress) with Rotary volunteers and some of her staff.
In the spirit of a true social entrepreneur, Muday operates some agricultural businesses like milking cows and growing mushrooms to support her school. Her business leaves her short of budget and so she relies entirely on donations from individuals in the community.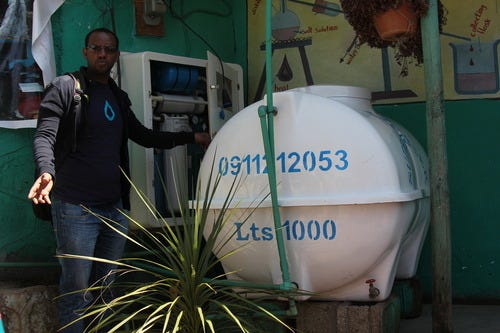 Dawit Alemishet of Splash explains the water filter's operation.
Rotary partnered with the nonprofit Splash to provide the drinking walter filtration system, which provides more than enough water for the entire population of the school.
The post Serious Talk About Ending Polio Once And For All! appeared first on Your Mark On The World.