Scooting To Sustainability (And Fun!)
Guest post from Michael Keating, CEO of Scoot Networks.
I have lived in cities my whole life and as soon as I was old enough to go places by myself, I have faced the same frustrating tradeoff: Save money or save time. Getting around the city, you can't do both. Buses and bikes will get you there cheaply, eventually. Taxis and cars will get you there fast but are expensive. Why hasn't someone invented a mode of transportation that is both fast and cheap?
As an environmentalist, that tradeoff is doubly frustrating. Living in the city is good for the planet. It puts everything you need close together in a way that lowers your impact while raising your quality of life. Except, of course, when you are in a hurry, and who in the city isn't in a hurry? Taxis and cars are bad for the planet, and worse in congested city centers. So why isn't there a mode of transportation that is both fast and green?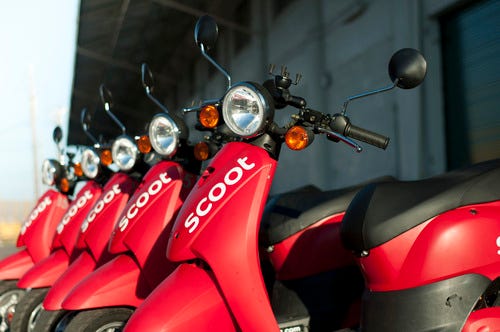 That's why I created Scoot: an all-electric, on-demand, one-way personal vehicle you can use for $5. Our little, electric, Vespa-like scooters will zip you across town just as fast as a taxi but don't cost much more than the bus. Conveniently, you can drop them off near your destination and not have to worry about bringing them back. With a top speed of only 30 MPH, they do not require a motorcycle license to ride, so we offer lessons to all new riders. And being battery powered, they have no local emissions and get the equivalent of 600 MPG, making them more efficient than most forms of mass transit.
Scoot is unique:
As a fast, cheap, green way to get around;

As an electric vehicle company that anyone can afford to use;

As a cleantech company that doesn't require hundreds of millions of dollars in public subsidies;

As a solution to climate change that people are clamoring for not because it saves the planet, but because it's FUN.
That uniqueness requires a unique way of growing the business. Initial funding came from angel investors who believed in our mission of making cities greener, better places to live and we built a mini version of the service in San Francisco: 36 scooters, 12 locations, over 1000 members, and enough revenue to support that small fleet.
Then we attracted investors like the venture firm Maveron (founded by Howard Schultz of Starbucks) who believed in the size of the market and our brand. Urban transportation is a trillion dollar industry and our riders love Scoot and what we stand for.
Now we are turning to the crowd to grow the business, knowing that we have proven Scoot will be huge and our best investors will be the people who want to see a service like Scoot in the cities where they live. Thanks to new rules and tools for crowdfunding, we are able to accept new investments of just a few thousand dollars, making it possible for a much larger group of people to support and benefit from the growth of Scoot. For details on that, or to participate, click here http://seedinvest.com/scoot.networks.
If a fun, affordable, electric vehicle service can be crowdfunded to profitability, how many more of the world's biggest problems are solvable if people band together around the right solutions? At Scoot, we are optimistic.
The post Scooting To Sustainability (And Fun!) appeared first on Your Mark On The World.