Sally will die while you read this post
A little girl like this one, let's call her Sally, will die of starvation while you read this post.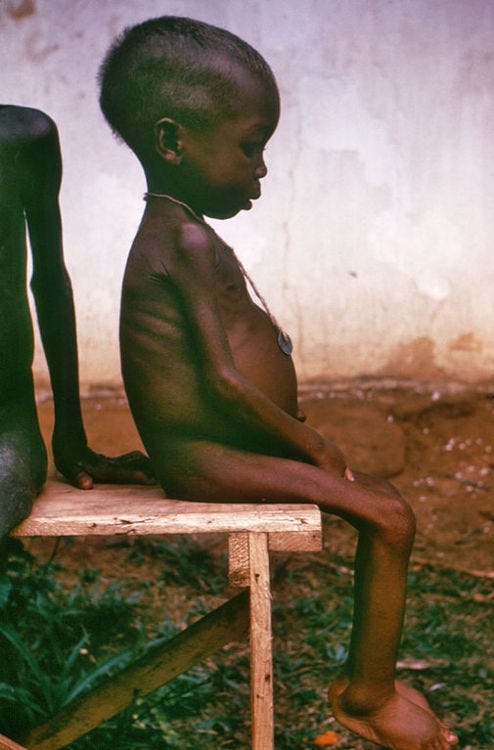 Sally has probably never had enough to eat, but war, famine or flood has recently cut her off from food altogether. She hasn't had anything to eat in days and couldn't eat anything now if she had the food to eat. In all likelihood, a fungus has grown behind her esophagus, making it too painful for her to swallow.
As she has approached death in recent weeks, her joints have become weak and painful. In her present condition, she no longer feels thirst and whether or not there is water available, she hasn't had any today. She's completely dehydrated.
She's no longer conscious so she is unaware now of what is happening as she breaths her last shallow breaths, but earlier today she knew what was coming. She's watched family members and friends die recently so she knows what to expect; she won't wake up from this nap. The apathy she feels at her own death and even the death of her family members is a symptom of her condition; she is literally too weak to care.
On average, almost 700 people, mostly children, die of starvation every hour; about six million every year.
Sadly, even mentioning these statistics will make you less likely to do anything about this tragedy. If you knew Sally, if you could help Sally, you would feed her. If it were too late for that, you'd take her to the hospital to be nursed back to health. Sally, you would help. In fact, if Sally were real and you knew you could save her, you would do almost anything for her.
Don't let the fact that Sally is a fiction and the statistics are real stop you from doing something.
The World Food Programme is working to end global hunger. Visit www.wfp.org to learn more.
The post Sally will die while you read this post appeared first on Your Mark On The World.