Rob Holzer Helps Corporations Put Their Good On
Rob Holzer is a kind of a big deal.
As the CEO of and Founder of Matter Unlimited, Rob helps organizations rebrand themselves with greater social impact at the heart of the new image.
"Plotting a long-term plan for reorienting a company around social purpose can seem daunting, particularly for large established companies, but is quite possible if approached strategically as long-term change management and brand evolution rather than through a lens of a traditional advertising or marketing campaign," he says.
Making the case for making the change, Rob says, "Creating a plan for social responsibility does more than help the communities in which you operate; it becomes a snowball effect within the entire organization. It begins to improve the quality of employee's work, their purpose for being there, the consumer outlook on the company and draws in fresh talent who is eager to be a part of the culture of good you have created."
"The idea of "Pragmatic Idealism" is something we strongly believe in, and something we try to drive into the core of each company we work with. Businesses need to act like businesses but they need to move from a singular drive for profit to a more integrated balance of profit and positive social impact," he concludes.
On Friday, January 9, 2015 at 3:00 Eastern, Rob will join me for a live discussion about his strategies for helping companies genuinely become more socially engaged. Tune in here then to watch the interview live.
You can download an audio podcast here or subscribe via iTunes.
More about Matter Unlimited:
Matter Unlimited is an organization that that challenges clients to orient their business, brand, and products through a lens of social impact. Inspired by the prescient idea that social responsibility creates a long-term competitive advantage, Matter Unlimited takes an elevated approach to corporate social responsibility by strategizing short and long-term social good plans that mutually benefit company and consumer. Founded in 2011 by advertising/digital agency veteran, Rob Holzer, Matter Unlimited works to galvanize a spirit of selflessness within companies, non-profits, and foundations, increasing social consciousness within successful companies and creating more positive impact on the world.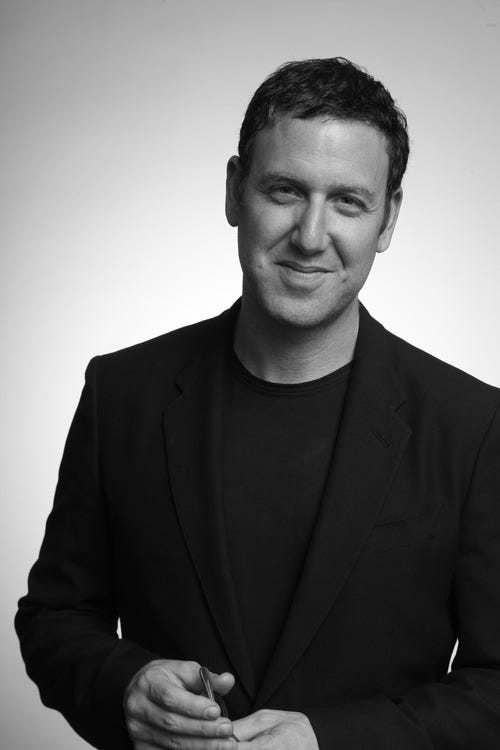 Rob's bio:
Over the past 20 years, Rob has been on the front line of innovation in advertising, digital marketing, and branding. His groundbreaking work for GE's "Ecomagination" campaign and Obama's HopeActChange.com site created a new barometer for success in the industry and set the stage for a new form of strategic partnership between agency and client.

Prior to creating Matter Unlimited, Rob was founder and CEO of Syrup which he created in 1998. In 2007, he successfully navigated Syrup through their acquisition by LBi (now part of Publicis). Rob's client roster includes TED, Clinton Global Initiative, NBCUniversal, Hilton, HP, PUMA, GE, MTV/Viacom, Gucci Group, Christian Dior, Google, and AOL among others.

Rob serves as an industry expert for Hyper Island, the Interactive Advertising Bureau (IAB), Sustainable Brands Conference, AIGA, The Art Director's Club, The One Club, NYU, and the League of Advertisers, and is often asked to appear as guest speaker on digital strategy and integrated advertising. He is a certified Shared Value Initiative Affiliate and is a mentor for Brazil-based technology accelerator 21212. Rob volunteers as a mentor for global entrepreneurial non-profit organization Endeavor.org and is the board chair for the non-profit Lineage Project.
Remember to "join the cavalry" by subscribing to our content here.
The post Rob Holzer Helps Corporations Put Their Good On appeared first on Your Mark On The World.