Report From Haiti: Change Enough Lives And You May Change A Country
This post was originally produced for Forbes.
This is the third in a series of articles from Haiti.
Wilkins Jeangilles was raised in Port-au-Prince by parents who didn't have the luxury of feeding him every morning before school. That didn't stop Jeangilles from finishing at the top of his high school class. College, as it is for most Haitians, regardless of their talent and intellect, was virtually out of the question for Jeangilles. Even if he had started, he would likely have been like the majority of Haitians who start at one of the local universities but never graduate. Then along came an organization called HELP.
"With HELP, it was like I was studying in another country with computers, internet, books—everything!"
After graduation, he went to work as the finance officer for Trocaire, an Irish NGO here in the "Republic of NGOs." About a year later, HELP itself came calling. Having lost their finance director, they asked him to apply for the position. Despite knowing him well, HELP put him through a thorough screening process.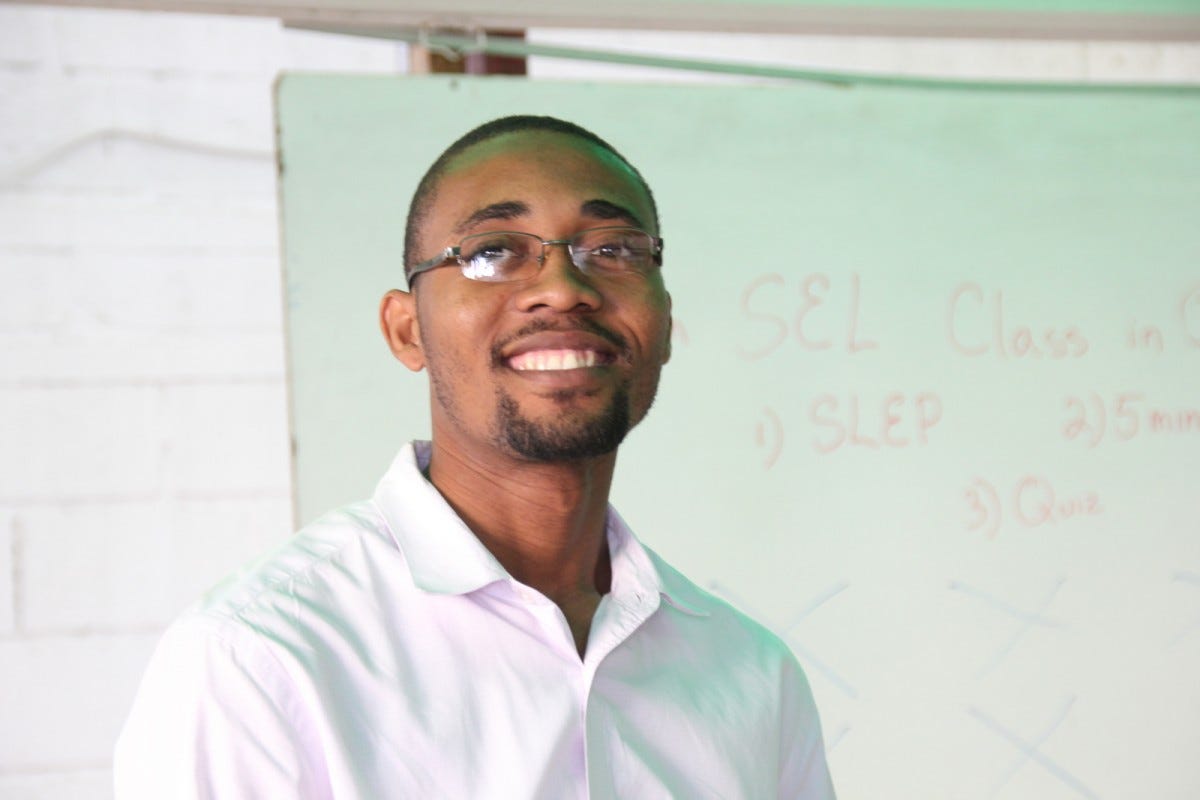 Wilkins Jeangilles, photo by Devin Thorpe.
Deputy Country Director, Amber Walsh, says Wilkins is among the very best students to ever complete the program.
Jeangilles, who confidently describes himself as "humble," believes he'd have entered and finished college even without the HELP scholarship. HELP provides housing, tuition, books, and a cash stipend for food and incidentals make sure the students can focus on learning. HELP also provides supplemental curricula in leadership, English and computer literacy. While the question of whether he'd have entered and finished college without HELP is actually impossible to answer, the odds are clear. With only 1 percent of high school students entering college and only a fraction of those graduating, it is highly unlikely that Jeangilles would be where he is today without HELP.
In the 1990s, Garry Delice, the Country Director for HELP, was the headmaster at the Louverture Cleary School, a remarkable Catholic boarding school for underprivileged kids that will figure in tomorrow's report from Haiti, as well, when the founding story for HELP begins.
HELP Founder, Conor Bohan, was working as a volunteer instructor there at the school, when one of the most remarkable students, Isemonde Joseph, famously asked Bohan for about $30 so she could apply to secretarial school. He enquired to learn if that was really what she wanted, only to learn that she really wanted to go to medical school but didn't have the money. Bohan raised the money to help her cover the relatively modest school fees.
Amber Walsh and Garry Delice. Photo by Devin Thorpe.
Delice says he remembers Joseph well. She was a natural leader. He met her in 1993, a few years before she was to graduate and ask Bohan for help. She came to Delice, he says, complaining about the quality of the food at the school, which he agrees was substandard. She organized all of the students to individually approach the cook to ask for better food. It worked, he says, and he never forgot her leadership.
At the same time Jospeh approached Bohan, Delice was approached by another student with a similar request. Delice says he and Bohan split the responsibilities. From that early generosity, Bohan built HELP. He lived and worked in Haiti running the nonprofit until about 2008, when he returned to live in the states and focus on fundraising there. Delice joined full time in 2006, giving Bohan the ability to return.
Jeangilles, the young HELP graduate and HELP finance manager, success story isn't just prospering. He's recently married, noting that because of his Christian faith, "we didn't even kiss before getting married." He credits his self-discipline for his success, explaining that everyone in his high school was focused on sex and that he was focused on his studies instead. This year, he father passed away. He now supports his mother and younger siblings. HELP's impact is far reaching.
Snaicah Sainval, photo by Devin Thorpe.
Snaicah Sainval, a current student in the HELP program working on a degree in agronomy at Quisqueya University who is shy and reserved, is the first in her family to go to college; her parents didn't graduate from high school. She is unequivocal; without HELP, she would not be in college, there simply wouldn't be money.
She appreciated the selection process. A group of students about two- or three-fold the size of those to be admitted into the program, are invited to "orientation." A misnomer, really, the three-week summer camp is focused on selection over orientation. The residential program is designed to see which students have the temperament for success in the program.
In a foreshadowing of their first year experience, students at the orientation are required to do some community service, always include some street cleaning. Because cleaning streets is relegated customarily to the least educated in Haiti it is a key test of wills to see who will enthusiastically pick up a broom and go to work at the menial task in order to gain admission to college that would normally mean never having to do that again. During orientation, the staff and students are monitoring the candidates to see which are ready for the HELP program.
During the first year of the program, students like Sainval, are required to organize a year-long service learning project. Typically these require some sort of physical work, like cleaning the streets. The goal however, is not just to develop a community spirit, but to give the students an opportunity manage and plan resources in an easy to understand context. Most have never had the opportunity to develop real leadership skills before.
Walsh, a Yale MBA who says she believe she is the only Yale MBA in Haiti, is focused on impact measurement, a discipline she appears to have brought to the organization. They've just begun a careful study comparing life and career outcomes for HELP graduates and similarly situated—bright, capable and underprivileged—high school graduates to see how the cohorts compare.
She notes that their graduates have near 100 percent employment, among those not currently pursuing graduate education. The average income is about $15,000 per year, more than seven times the $2,000 average income for high school graduates. Of the 30 HELP employees, 15 percent are HELP graduates.
Haiti's brain drain is among the worst in the world, with most college graduates leaving the country; only 16 percent stay in Haiti. Walsh boasts that a remarkable 86 percent of HELP program graduates are in Haiti today; most of those who are not are studying abroad and intend to return.
The success of the program is clearly tied to the screening process. This year, they received 291 applications for 25 spots. The cut the field in half looking only at grades and national test scores. The essays from the balance became the primary criteria for determining which applications would be invited to the three-week orientation that Sainval so enjoyed. This gives them an opportunity to get to know the most well qualified applicants well, including who has family resources that would allow them to go to college without HELP's scholarship.
Classroom addition at the HELP center. Photo by Devin Thorpe.
Delice, still an instructor at heart, described his focus on leadership. Standing at the white board in his small office in the HELP central office, an old home that seems to have survived the earthquake well, with classrooms made of bamboo in front and behind, he writes down the five leadership pillars they teach the students so I can't possibly fail to include them in my little notebook: courage, sacrifice, service, rigor and respect. Everything I see about the program, even the gentle chiding I receive from Jeangilles for returning later than anticipated from my dash to find lunch down the street, confirms that they live the principles as much as they teach them.
"I'm dreaming of having more HELP students working in government, in Congress. Why not have one become president?" Delice figures that creating this future isn't wishful thinking, they simply need to create bigger classes with 100 to 200 students, a big, but reasonable jump from the 25 that just entered the program. He believes that restoring ethics and integrity to the Haitian government is the key to Haiti's future prosperity.
The post Report From Haiti: Change Enough Lives And You May Change A Country appeared first on Your Mark On The World.