Ready And Wrestless, My Experience With Haiti's 2010 Earthquake: Then And Now
This is a guest post from Neil Koppel.
A Nation in Crisis… or Gifts Come In Many Forms
On January 12, 2013, Haiti was struck by the worst earthquake in its history and suffered dreadful human and economic losses. Initial reports estimated that the 7.0 magnitude earthquake left over 200,000 people dead and some 895,000 Haitians homeless. Haiti's capital, Port-au-Prince, suffered widespread devastation. Hospitals, churches and schools collapsed, residences and commercial buildings were significantly damaged or destroyed, and the few usable roads were blocked with debris. Even before the earthquake, Haiti was the poorest country in the Western Hemisphere, with more than 80 percent of its citizens existing in poverty. Hunger, unemployment, disease, malnutrition and limited access to education were an acceptable standard for many in Haiti.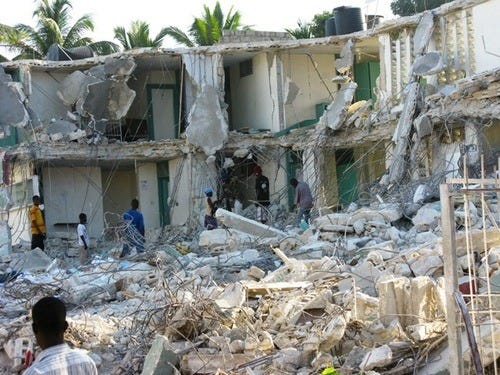 Found this outside airport upon arriving
At the time of the earthquake I found myself in the undefined state of being retired; taking my son to school and watching my wife play tennis were my rewards for doing well in the jewelry business. Having had a manufacturing company in Haiti more than 30 years prior, I knew the country and its people. This was a serious mess. It was apparent that food, medical care, shelter and sanitation were desperately needed. However, Haiti lacked vital infrastructure and an organized government necessary to respond to the disaster. The more time that passed the more bodies were piling up in numbers that defied comprehension. Port-au-Prince's morgues were so overwhelmed, that quick and dirty solution was to bury bodies with rubble on the side of the roads.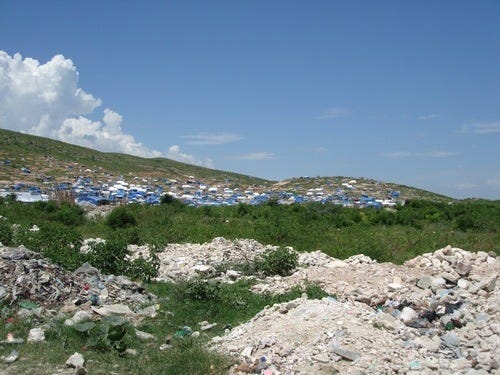 In the days and nights following the earthquake, it's estimated that over a million people slept in open fields, the streets or the lucky ones, in relief camps. No place could you find electricity, running water, sanitation or predictable food. Crime in the camps was widespread, especially against women and children. Many children lost one or both parents and they were especially vulnerable. Any police protection that existed before was now in disarray and the U.N. troops which were tasked with keeping the peace, were completely overwhelmed.
Ready for Takeoff
Tuesday night January the 12th, CNN reported the disaster and horrific images were starting to trickle in. I watched in disbelief and turned to my wife and as I was about to say, "I need to go", she said, "go". The arrangements to fly my aircraft there and needed to be coordinated through the U.S. Air Force who effectively had taken over the airport. Thursday I received my slot, Friday I was to be the 110th aircraft cleared in. I flew my Pilatus PC12 and piloted the first of what would become 58 missions over an 18 month period to Haiti. On my initial flight I brought a U.S. Air Force Colonel who was a surgeon, an emergency room pediatrician and two professors from Sacramento State University. They were associated with a Haitian orphanage for more than 20 years and had been trying to get to Haiti since Monday before the earthquake struck. I also packed in 700 pounds of much needed food and medical supplies, plus a precisely calculated fuel quantity to get me there and back.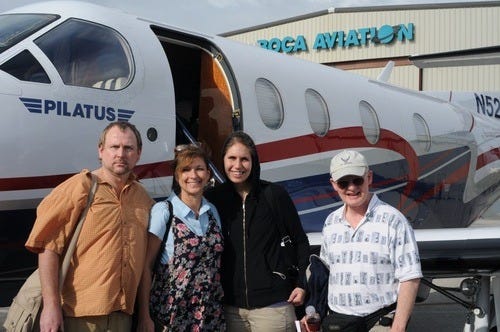 First Flight
When I arrived in Haitian airspace, there were aircraft stacked every thousand feet from 3,000 to 30,000 with no radar separation. They were all awaiting clearance to land and off-load recuse workers and cargos. My arrival slot number went out the proverbial window, and my maximum 15 minute hold time to burn jet fuel was quickly being consumed. The cacophony over the radio was impossible to communicate over and for an instant I was able to get through to the makeshift tower. No space to land… tarmac full… was the command, I explained grass was an acceptable runway option for the PC12 or they'd be launching a search and rescue operation for me if didn't land. They cleared us to land.
The first signs of devastation were the missing pieces from the tower and the terminal which had whole chunks missing from its walls. I was overcome with sadness and grief by the sheer scale of what I was witnessing. I had often read and heard about how a person has a defining moment. One that sets into play a path that before that moment is neither a choice nor an opportunity. This was mine. It's something so personal, that words are inadequate to describe the emotions.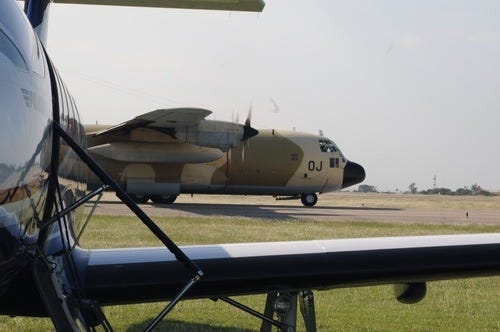 The first month and a half of trips were dedicated to bringing children to the U.S. that were in some form of medical crisis. There were no commercial flights in or out of Haiti, so utilizing my PC12 was literally a lifesaver. All-in-all there were 21 kids I brought back ranging from 3 months to 14 years old that had life threatening conditions. I coordinated with the NGO's Partners in Health and Project MediShare who provided the urgent care necessary once we landed back in the U.S.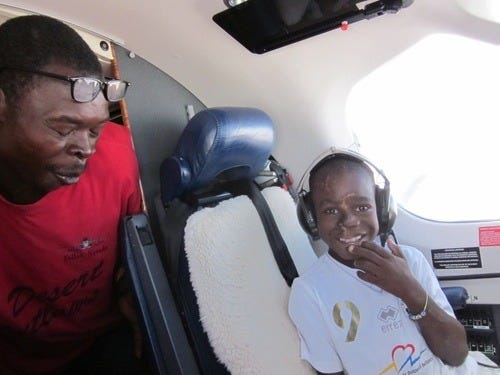 Arranged for plastic surgery and prosthetic arm and leg.
One of the flights I brought back an 18 year old mother and her 3 month old infant. The mother and child survived the earthquake and found themselves in an I.D.P. camp (AKA; internally displaced people's camp). While the mother was cooking in her make-shift tent, it caught fire and the burning nylon engulfed the young infant.
Time was of the essence to get the baby to a burn center and I picked up the mother and her baby in Port-Au-Prince the next morning. A doctor was provided by Partners in Heath to stabilize the baby during the flight back to Fort Lauderdale's (FXE) airport. As a quick footnote, Customs and TSA at Ft. Lauderdale did an amazing job clearing and making sure the rescue flights were handled in the quickest and most professional manner possible. Rarely do they get acknowledged for doing a good job, but during this crisis they did great. A corporate jet was standing by as we touched down to fly the 3 passengers to Shriners Hospital in Cincinnati. Within 10 minutes of landing they were taxing for take-off. I found out over 2 months later that the baby survived and was recovering.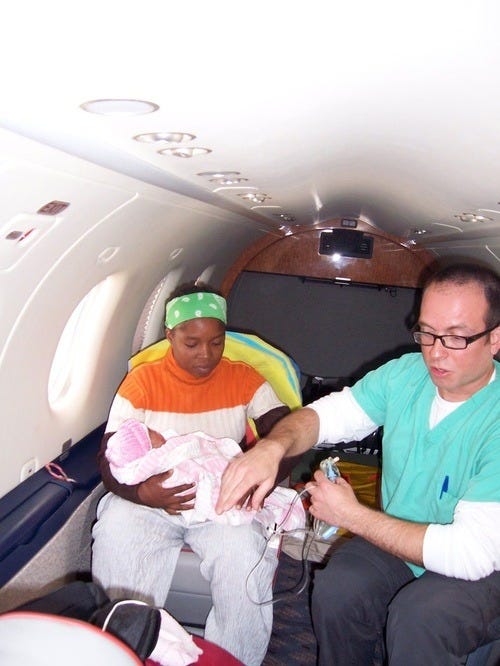 I never provided my name or contact information to any of the children or families I helped. However, after the flights I did check up on each to see their progress. It was incredibly gratifying to find out that every one of the 21 children survived.
For many of us, (me included), it seems like the smallest and most materialistic things are our biggest issues. In Haiti, I witnessed a mother whose dilemma was how she was going to get her baby to survive through the night. It was pouring rain and she had no shelter or food for days. That gave me the opportunity to take pause and think about what mattered at that moment.
There was another rescue of a 13 year old boy who has stepped on a nail and got tetanus. In the U.S. it's no big deal, an antitoxin shot and you'll be fine. However, after a week of corporate lawyers arguing that since the kid couldn't sit up and wear a seat-belt, he posed a "liability", just leave him to essentially die was their solution. Not okay with me. Project MediShare doing their great work arranged for a doctor, nurse and portable respirator that plugged into the PC12 to bring him back to Miami. Three weeks later he was jumping up and down on his bed and dancing to an iPod a nurse gave him.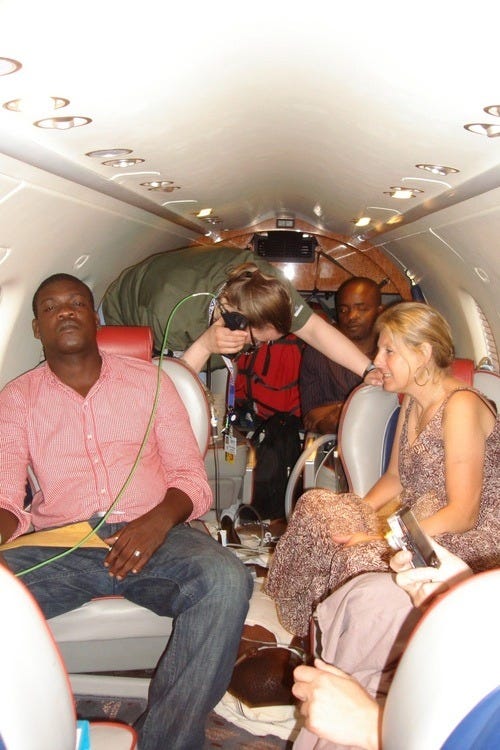 Working with J/P Haitian Relief Organization
In February as the situation in Haiti shifted from rescue and recovery to rebuilding, I met Sean Penn. He was at the J/P Haitian Relief Organization base in Petionville and we shared ideas of how to create housing and some semblance of normalcy. We agreed that the two most important problems to solve were to create employment and housing. However, giving a family a home without any means of support was a bad idea. That was something I experienced firsthand in my travels to India and Sean had his own similar thoughts.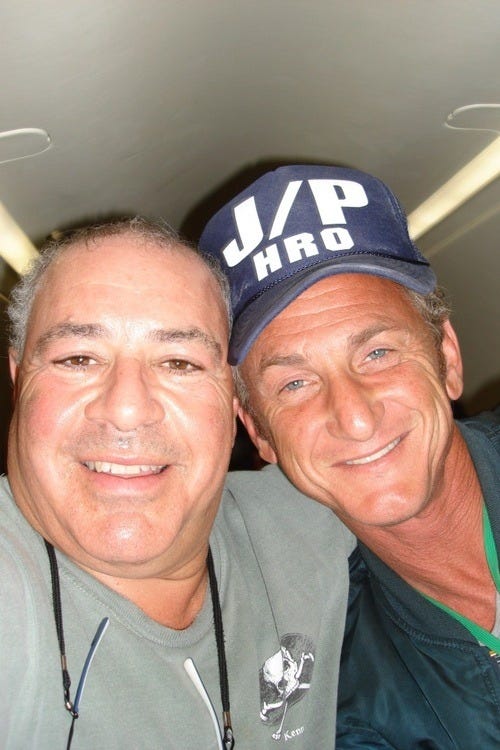 I obtained distribution rights for an inexpensive and quickly built home made of recycled plastic and aluminum, and a small amount of steel. Not only was it a home that three unskilled people could assemble in less than two hours (think Ikea), but one that a family could safely live in. It was strong enough to withstand a tropical storm and allowed the family the privacy for themselves and their children.
Sean's J/P HRO was the recipient of the very first one. Others were donated and one became a women's dispensary for feminine needs and a makeshift clinic.
I worked to get 10 acres of land donated and start the first prototypical concept. In early 2011, I completed the first village of 21 homes and moved over 125 people from an IDP camp in Belleville near Port-Au-Prince to the seaside town of Jacmel. What resulted from the village was indescribable; people who never held a screw driver learned how to build a house, kids went to school for the first time, we helped the men obtain work rehabbing the building in town and the families began growing corn and feeding their own families.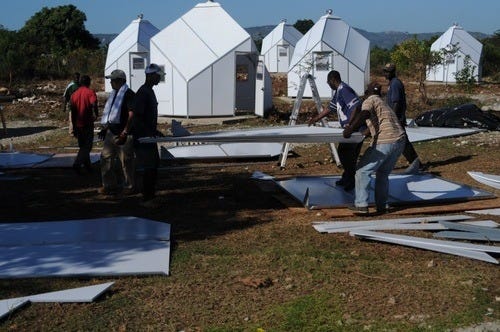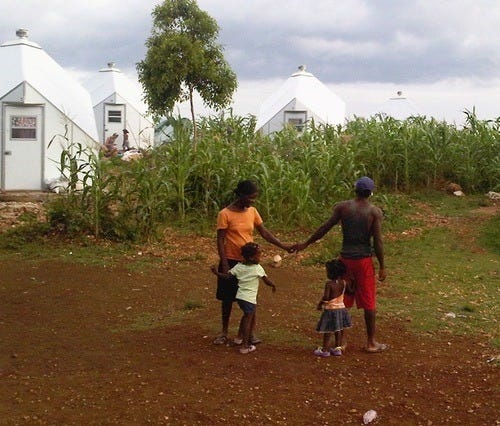 Shortly thereafter, I met a professor who taught at Cornel University who helped teach me what would grow and prosper on the fertile Haitian land. Together, taking Sean and my ideas, I developed this concept for a "holistic village". It started with 50 houses and families, a central village square, basic utilities and a school. Utilizing basic agriculture to raise chicks to maturity and then prepare, cook and finally sell them to NGO's and aid foreign aid workers to create a micro economy.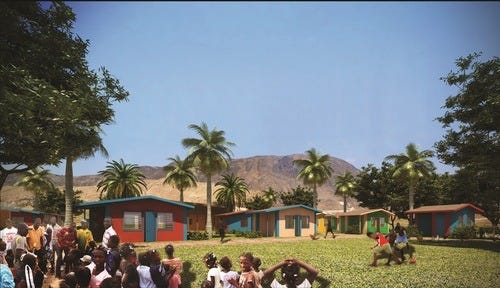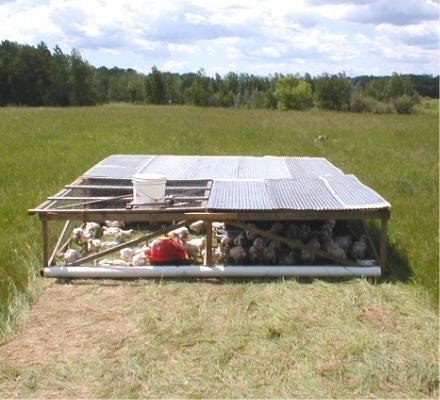 Links Jewelry is Formed to Support J/P HRO's Efforts in Haiti
Over those first 18 months and beyond I witnessed firsthand the commitment that Sean Penn and his staff at J/P HRO have to Haiti. I wanted to continue my support even after serious back surgery forced me to end my flights there. In April 2012, Links Jewelry was formed to bring people together and help the Haitian economy. Having formulated a manufacturing model that would benefit the U.S. and Haiti, Links had a very different focus than any business I had ever created.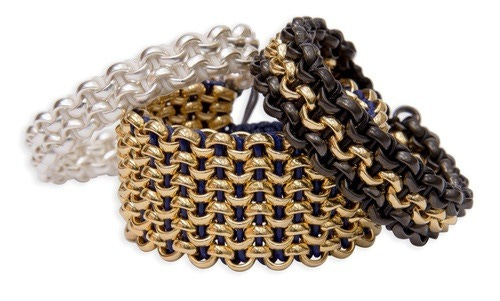 The plan started here in Florida manufacturing jewelry by hand and using American made materials that are fabricated with a Haitian labor force. Then, as sales increase and the number of units rise, a factory in Haiti will be built. The intention is to offer it to beneficiaries of Sean's camp who have received homes but are without predictable employment. It seems rather logical to me to give a country where there is 87% unemployment an opportunity that is only 690 miles away from Florida, labor is far less and the carbon footprint is 1/20th, duhh. Conventional wisdom might say to source it in China but that would defeat everything I have painfully experienced.
I want to give the Links customer the opportunity to buy an awesome piece of hand-crafted jewelry, while at the same time feeling good about making a difference. Additionally, by donating 10% of sales to J/P HRO, Links Jewelry is supporting the vision that Sean and I share for Haiti.
The 18 months that I gave the best of myself was echoed by thousands of other people I met. There were so many individuals in Haiti from every aspect of life, some with their possessions in a backpack for a 1-year stay, some generous and wealthy and some who would break a piece of bread in half so each of us could have our own slice. But, what I came away with is how grateful I am for the gift to have done what I loved to do most, fly and build stuff.
Best,
Neil Koppel
The post Ready And Wrestless, My Experience With Haiti's 2010 Earthquake: Then And Now appeared first on Your Mark On The World.