Quick Review: Ethiopian Polio NID Trip With Rotary
This is another in a series of reports from a Rotary expedition to Ethiopia to End Polio Now.
We're packing up and heading home. The group is a bit tired but ebullient at the same time. Ethiopia is an extraordinarily beautiful place with kind, happy people.
In a group of about 35 volunteers, virtually connected to Rotary in some way, I found some of the most wonderful people I've ever met. To a person, the focus of the trip was to do some good. And did they ever do good.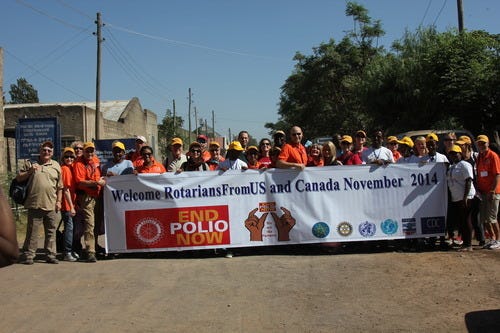 They were all thoughtful about and respectful to the local people, whether talking to local Rotarians or the children they inoculated. There was no attitude of North Americans coming to save the Ethiopians, rather an eagerness to simply dip an oar in the water alongside them to provide a bit of moral support and to build bridges.
Relationships are being built on this foundation. The Rotarians who come back year after year are leading projects in cooperation with local Rotarians to provide housing, clean water, libraries, food, education and so much more. These partnerships will evolve over time. Some will have a natural end as projects end, but others will go on indefinitely.
Ethiopia is a desperately poor country, but the economy is growing quickly. There are signs of that growth all around: new construction, roads, businesses, and a frantic pace that suggests they have work to do. What a great place for more foreign direct investment and impact investing!
The following video may help you to glimpse in a few minutes what I saw during my visit here.
Remember to "join the cavalry" by subscribing to our content here.
The post Quick Review: Ethiopian Polio NID Trip With Rotary appeared first on Your Mark On The World.