Prudential Promises To Build $1B Impact Portfolio
This post was originally produced for Forbes.
At a meeting of the U.S. Advisory Board and G7′s Social Impact Investing Taskforce at the White House last month, Prudential committed to build a $1 billion impact investment portfolio by 2020.
"Impact investing uses the power of markets to unleash private capital for public good. Done well, it can scale sustainable solutions to some of our toughest social challenges, such as affordable housing, clean energy, quality education, and workforce development," said Matt Bannick, Co-Chair of the US National Advisory Board and Managing Partner at Omidyar Network, in a statement following the event. "Impact investing has been a part of the fabric of social and community development finance in the US for decades. But we have only begun to see a glimpse of its promise, and smart public policy will help us get where we need to be."
Following the event, the National Advisory Board made several policy recommendations:
Remove regulatory barriers

Increase the effectiveness of government programs like the Overseas Private Investment Corporation

Provide incentives for new impact investments

Support social entrepreneurs

Standardize impact metrics
On Wednesday, July 23, 2014 at 4:00 PM, Ommeed Sathe, Director of Social Investments for Prudential, will join me for a live discussion about impact investing and the firm's $1 billion commitment. Tune in here then to watch the interview.
[At the time of the interview, I will insert a video player here. Bookmark this page and come back then to watch the interview live. Replays will be available here thereafter.]
More about Prudential:
For more than 135 years, Prudential Financial, Inc., has helped individual and institutional customers grow and protect their wealth. Today, we are one of the world's largest financial services institutions with operations in the United States, Asia, Europe, and Latin America. We also have one of the most recognized and trusted brand symbols: The Rock ®, an icon of strength, stability, expertise, and innovation.

We strive to create long-term value for our stakeholders through strong business fundamentals, consistent with our mission guided by our vision and directed by our company's core values. We are committed to keeping our promises and to doing business the right way.
Sathe's bio:
Ommeed is responsible for underwriting, origination, pipeline development and portfolio management activities. He also is director of the Newark Investment Fund, which provides investment resources to support the Strong Healthy Cities Initiative. Before joining Prudential in June 2011, Ommeed was director of real estate development for the New Orleans Redevelopment Authority, a quasi-public entity that alleviates blight, redevelops residential and commercial properties and implements crucial public projects in New Orleans. Previously, he was a real estate and land use attorney with Fried, Frank, Harris, Shriver & Jacobson in New York City. Ommeed has an undergraduate degree in neuroscience and urban planning from Columbia University; a Masters degree in city planning from the Massachusetts Institute of Technology; and a J.D. from Harvard Law School.
Remember to "join the cavalry" by subscribing to Devin's content here.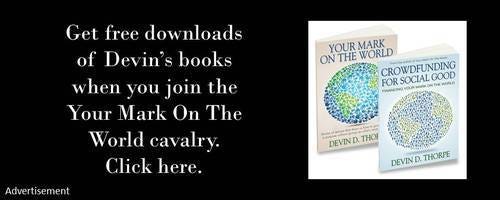 The post Prudential Promises To Build $1B Impact Portfolio appeared first on Your Mark On The World.