PopNod Reinvents Online Shopping, Donates to Nonprofits
Social entrepreneur Stephanie David has reinvented the online shopping experience, by magically offering shoppers both a discount and the promise that her company, PopNod, will donate a portion of proceeds to a cause you choose.
On Thursday, July 10, 2014 at noon Eastern, Stephanie will join me here for a live interview to talk about the innovative new site. Tune in here then to watch the interview.
You can download an audio podcast here or subscribe via iTunes.
More about PopNod:
PopNod is a social good online shopping destination that enables you to save money at your favorite stores while supporting the causes you care about. Members choose from hundreds of popular handpicked stores and numerous nonprofits and organizations. With every purchase, members earn cashback rewards, and PopNod matches 20% and donates to your favorite causes. PopNod does all the hard work so that you can focus on saving money and making your impact – a win/win for you and your causes. The e-commerce platform has expanded with the launch of PopNod for Employers, a Corporate Social Responsibility solution.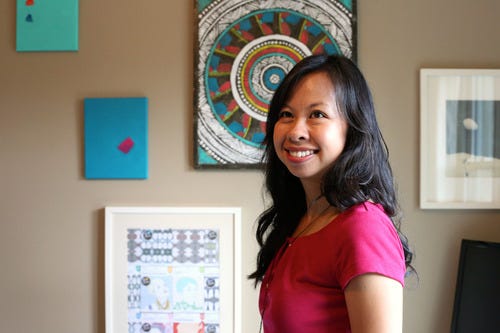 Stephanie's bio:
Stephanie David is an entrepreneur and explorer of life with a passion for building solutions for social impact and revolutionizing the way e-commerce connects with social good. Stephanie was selected by Business News Daily as one of "10 Female Entrepreneurs Who Inspired Us in 2013."

As an intrapreneur, Stephanie drove new business growth in large Fortune 50 corporations. Stephanie brings with her 12 years of experience in technology, business development, sales, operations management, partnership development, client management, marketing, and branding. She was fortunate to have worked at major corporations with highly innovative charitable giving and corporate social responsibility programs.

A chance trip to an elephant farm in Chiang Mai, Thailand propelled her to leave her most recent career with Microsoft in 2013 to revolutionize the way people make their impact on the world. Currently, Stephanie is helping people discover how to live at the intersection of style and social good. PopNod has been featured in major media outlets, including ABC News, US News & World Report, Netted by Webbys, Trend Hunter, and Business News Daily.
Remember to "join the cavalry" by subscribing to our content here.
The post PopNod Reinvents Online Shopping, Donates to Nonprofits appeared first on Your Mark On The World.