Polio Survivor Thrives At AIG, As Ironman Triathlete
This post was originally produced for Forbes.
Minda Dentler is a Director of Operations at AIG Multinational. She is also an elite athlete who competes in Ironman triathlons of 143 miles. And she's a polio survivor and spokesperson for Rotary International.
Nearly 30 years ago, Rotary began its effort to immunize every child in the world against polio. Its goal to eradicate polio is well within sight.
Dentler tells me that, "On World Polio Day, Rotary is streaming a live, worldwide event that begins at 6:30 p.m. CT on October 24th. Tune in at endpolionow.org. The event will feature a global status update on the fight to end polio, the challenges that remain, and how private citizens, corporations, and non-profits can join in the historic final push."
"I'll be sharing my polio story and viewers will learn how we can end this disease forever," she says.
She will be joined, she says, by the following people at the event:
Season 5 winner of NBC's singing competition "The Voice," Tessanne Chin

Musician Ziggy Marley, who will play a song dedicated to World Polio Day from location on-tour

Dr. James Alexander, senior medical epidemiologist at the U.S. Centers for Disease Control and Prevention

Bernadette Hendrickx from Sanofi Pasteur, the largest manufacturer of polio vaccine and World Polio Day event co-sponsor

TIME Magazine science and technology editor Jeffrey Kluger.

Rotary International General Secretary John Hewko, Rotary Foundation Vice-Chair Michael McGovern.
On Thursday, October 23, 2014 at 2:00 PM Eastern, Dentler will join me here for a live discussion about ending polio. Tune in here then to watch the interview live.
[At the time of the interview, I will insert a video player here. Bookmark this page and come back then to watch the interview live. Replays will be available here thereafter.]
More about Rotary International:
Rotary International is a volunteer service organization that brings together a global network of professionals and community leaders to help tackle the world's most pressing challenges. Rotary's chief role is fundraising, advocacy, awareness raising and mobilizing volunteers. Ending polio is Rotary's top goal.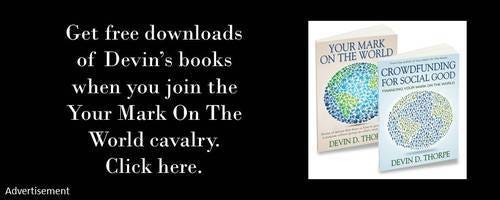 Dentler's bio:
Minda Dentler is currently a Director of Operations at AIG Multinational. Minda received a BA in Management Information Systems from the University of Washington and an MBA in Finance and Marketing from Baruch College – City University of New York.

Outside of work, Minda is a passionate advocate for polio eradication, the disease that has impacted her. Minda is also an accomplished endurance athlete. In 2013, Minda became the first female wheelchair athlete to complete the Ironman World Championship in Kona, Hawaii. In 2014, Minda was nominated for an ESPN ESPY Award Nominee for Best Female Athlete with a Disability. Through Minda's achievements as an endurance athlete and her speaking engagements, she inspires people to set and achieve their goals.

Minda has been invited by Rotary International to share her polio story on World Polio Day, a worldwide live streaming event on Oct 24th.
Remember to "join the cavalry" by subscribing to Devin's content here.
The post Polio Survivor Thrives At AIG, As Ironman Triathlete appeared first on Your Mark On The World.