Pan-Mass Challenge Raises $46 Million In 2016, $546 Million Over 37 Years
This post was originally produced for Forbes.
The Pan-Mass Challenge 200 mile bike-a-thon in Massachussetts appears to be the biggest athletic-based nonprofit fundraiser in the world. Founded by Billy Starr in 1980, the just completed 2016 event will raise about $46 million for the Dana-Farber Cancer Institute.
According to Starr, the PMC has an annual operating budget of about $4 million. Another $5 million of in-kind donations make it possible for 100 percent of donations to go to Dana-Farber. PMC funds the operating budget with event sponsorships and registrations so that 100 percent of funds donated can go directly to Dana-Farber for cancer research and treatment.
Riders are required to pay a registration fee of up to $230 in addition to raising $4,500 in donations. On average, the 6,3000 riders each raise $7,500, according to Starr.
He started the PMC in 1980 after losing his mother, a cousin and an uncle to cancer in the 70s. He started, he says, "before biking was popular." The goal was to raise money. The first event raised about $10,000 from 36 riders, including Starr, who continues to ride every year.
When they did the first event, Starr says he didn't have plans for a 1981 event, but the success of the first year propelled them. While total giving to Dana-Farber has now reached half a billion dollars, he notes that they didn't reach a total of $1 million until the tenth year.
Though this year's ride happened on August 6 and 7, fundraising will continue through October 1, 2017. Starr says the goal for this year is $46 million, up about $1 million over the 2015 total of $45 million.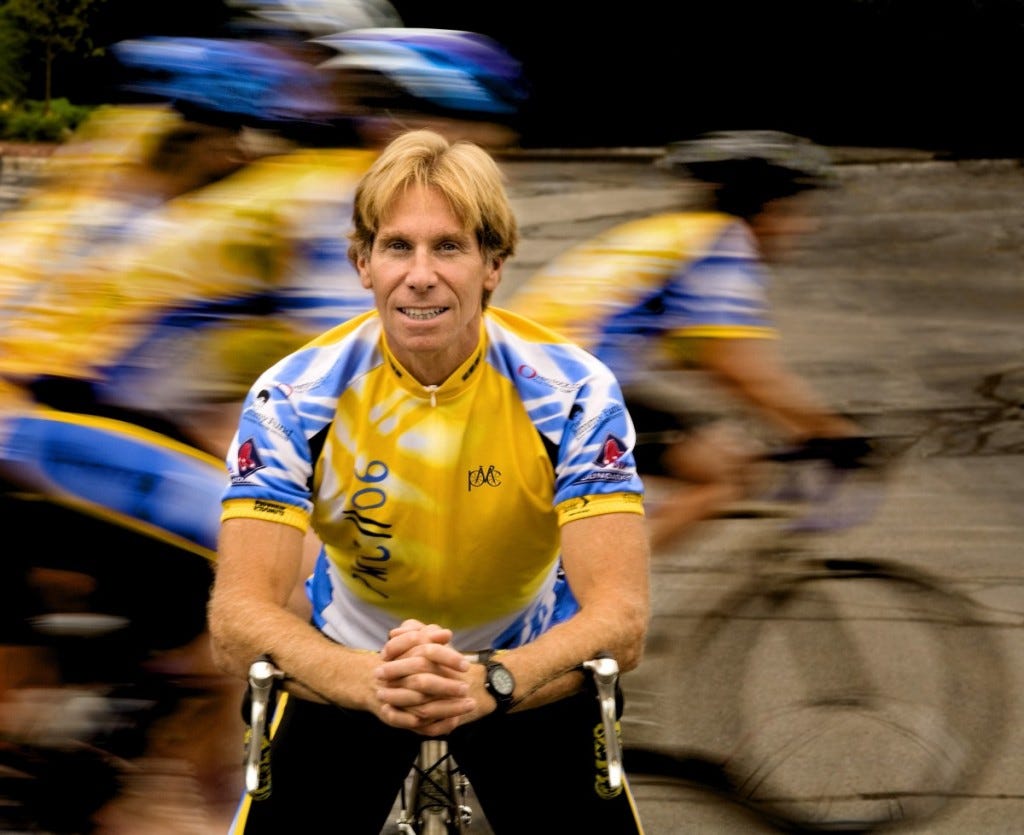 Billy Starr, 2006, by Bill Brett
Many people who participate, make it an annual event. Excluding first timers, Starr says, the average number of rides is 8.5. The PMC has 1,200 ten-year riders and 46 30-year riders.
Josh Bekenstein, a partner at Bain Capital and Chairman of the Board of Dana Farber Cancer Institute, is one of those who have ridden repeatedly–24 years in all. He says the money has made a difference. The prognosis for cancer patients today is much better than 37 years ago when Starr launched the ride.
Bekenstein says the ride can continue to grow and increase its impact. He points out that when the PMC produced $35 million in a single year that it had become the largest athletic fundraiser in the world, yet it has continued to innovate and grow since then. He expects that it will continue to do so.
Ellen Freeman Roth, a freelance writer and essay coach from Weston, Massachussetts, joined a ride after losing her mother and aunt to cancer. Later she did a story about the PMC and "became an ardent PMCer."
She may be Billy's biggest fan. "He's highly focused, bold, direct, and will not be deterred, characteristic of successful leaders across industries. His success in fundraising for cancer research has been astonishing. He was one guy with a vision working out of a garage, and he has raised hundreds of millions of dollars for Dana-Farber Cancer Institute."
She also points out the impact of the PMC on the cycling community. Thousands of people have gotten into the sport because of the ride. "Two decades ago I liked to ride a bike. I heard about the PMC and trained. Years of riding the PMC has led me to also get involved in other cycling events and in a broad cycling community, which has enriched my health and my life exponentially."
Billy Starr riding into Provincetown, MA as he completes the 192-mile route from Sturbridge, MA for the 37th time, courtesy of the PMC.
As she thinks about the past and future of the PMC, she recognizes the constraints on space and logistics have had an impact on the ride and the community that supports it. Because there is a limit to the number of riders, the minimum fundraising requirements have been edging up. "Because the PMC's mission is fundraising and the event draws so many, and a single event with limited roadways can accommodate a limited number of people, the financial fundraising commitment has to some extent moved the PMC away from its grassroots beginning."
The results, she adds, point to the success of the model but she hopes for ways to attract more people.
Starr has addressed the concern with a number of rides. The original ride was about 200 miles and every year the PMC does a two-day, 200 mile ride. Over the years, shorter rides, including a 100-mile one day ride has been added; 12 different route options were available this year. The fees and fundraising goals for the shorter rides are not as high as for the 200 miler.
Starr seems to approach life with a positive attitude. As we visited, he said, "The modern PMC shows what happens when thousands of people are aligned. I'm proud to live in this ecosystem. It is a nice world."
On Thursday, September 8, 2016 at noon Eastern time, Starr will join me here for a live discussion about the history and future of the Pan Mass Challenge and its impact on cancer. Tune in here then to watch the interview live. Post questions in the comments below or tweet questions before the interview to @devindthorpe.
The post Pan-Mass Challenge Raises $46 Million In 2016, $546 Million Over 37 Years appeared first on Your Mark On The World.