Our space for your story
Guest post from Chelsea Bakewell of Red Door Interactive.
You've got a great idea, you're working from your basement or friend's house and you're on that 5th cup of coffee. You're working for a startup and you're doing whatever it takes to get your feet off the ground. We can relate. Starting as a small company ourselves, Red Door Interactive has been through the necessary hurdles that small businesses must overcome in order to grow and flourish. Having recently moved into bigger San Diego & Denver office spaces to enhance employee's work capabilities, we understand that having a place of work to create and collaborate is crucial. Our Denver office currently has some space to spare, and we want to fill it with a promising startup that can take advantage of our open, creative environment. And so, in the spirit of Red Door's previous philanthropic initiatives, we have set out to give back to the community that has helped us get to where we are by giving a lucky startup rent free office space for 6 months.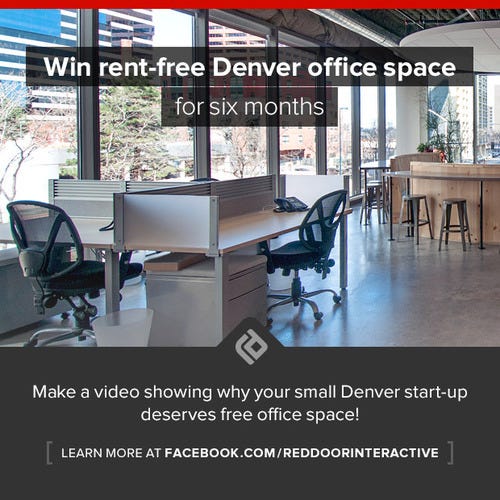 The "Win Free Office Space in Downtown Denver" contest invites Denver startups, four person or less, to enter a short video via our Facebook tab. The easily accessible online platform allows small companies to share their stories through an online gallery that will be displayed throughout the contest. The nature of contest was designed to encourage friends and supporters to get involved and vote for their favorite startup. In this way, the social impact of the contest will be to increase awareness of startups that enter and we are excited to serve as a platform for this initial exposure.
As always, it is important for us to be inspired and we encourage our entrants to share their stories based on several different criteria, but most importantly, their core values. Our core values, included but certainly not limited to are inspire, share, evolve, exceed and be 100% Jerk Free. After reviewing the videos, finalist will have the opportunity to interview with current Red Door employees, who will examine the startup's mission, culture and values to determine if the company is a fit. The winning company will have the chance to work in an open creative environment alongside a company that has been named an Ad Age "Best Place to Work" in 2010 & 2012. "We've got a great group of people here that inspire each other every day and contribute to our growth, but in the meantime, it was important to us to lend a hand to those just starting out. We've got a great space, and if some extra room will help a promising young company get started on the right foot, then there's no better way we could utilize it. We're looking forward to see what the entrepreneurial community in Denver has to offer! "
Opening our doors to give a deserving startup a home to build their business is right up our alley and we are bustling with excitement to meet our entrepreneurial neighbors in Denver. If you'd like to get involved please spread the word by sharing the contest details herehttp://bit.ly/162E8TT. If you have any questions about Red Door Interactive please feel free to contact me, Chelsea Bakewell, at RedDoorPR@reddoor.biz or tweet at us @red door.
The post Our space for your story appeared first on Your Mark On The World.