Off To India To See The End Of Polio
Today, I am on my way to India to learn more about how that country eliminated polio. Its last case of polio occurred three years ago; as a result, the World Health Organization has declared India polio-free. Only three countries, Pakistan, Nigeria and Afghanistan are considered polio endemic today.
Over the next ten days, I hope to post daily updates from my travel. I hope to do more than provide a travelogue, but reporting on my daily travel will be a part of my reports here.
The primary purpose of the trip is to write a report for Forbes that will not only review how Rotary, the Indian Government, the World Health Organization and the Gates Foundation worked together to end polio in India, but how those lessons can be applied in Pakistan, Nigeria and Afghanistan. I also hope to draw insights that will help the world deal with other scourges like HIV/AIDS, malaria and tuberculosis.
My travel began this morning hopping on the Trax light rail system in Salt Lake City, which runs conveniently from my home downtown straight to the airport. I still think it was unbelievably kind of the Federal Government to build me a personal shuttle to the airport. I was pleased to see hundreds of other people on "my" train this morning.
When I arrived at the airport, I was reminded of the nature of first world problems; the United Airlines reservation system was down for the first 30 minutes after I arrived, literally no one was able to check in for any flight.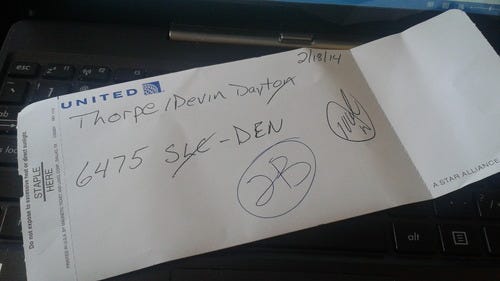 Finally, the United personnel began issuing hand-written boarding passes. Having arrived 87 minutes before my scheduled departure, I wasn't worried about making my flight—at least at first. Ultimately, the airline made a deal with TSA and I was scurried through the TSApre (super express) security line and got to my gate 30 minutes before the scheduled departure to Denver. The flight left 30 minutes late, but left me calmly approaching my connecting flight to Newark, where I will meet up with the rest of the little press contingent heading for Mumbai tonight.
My luggage was tagged with handwritten notes as well. It will be interesting—to say the least—to see if my bags arrive in Mumbai with me.
All things considered, I look forward to the experience of visiting India with an eye toward gaining even greater perspective about the nature of real problems.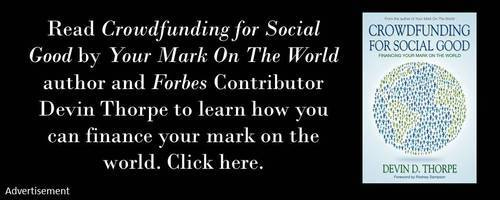 The post Off To India To See The End Of Polio appeared first on Your Mark On The World.