Nonprofit Lifts Leaders In Downtrodden Congo
One of my favorite small nonprofits, working in what may be the poorest country on the planet, is running a crowdfunding campaign on StartSomeGood with modest financial objectives and dramatic social ones. I recently conducted a quick interview with Ben Goldberg.
What is the social benefit you hope to achieve with or through your crowdfunding campaign?
Our crowdfunding campaign is for the Congo Leadership Initiative. With this campaign, we hope to help to achieve social change by educating youth in the Congo. The money that we raise goes towards an educational program called the Leadership institute that trains youth to be young leaders.

CLI offers a two-fold plan: first, an educational curriculum, and, second, opportunities for action. The problems that youth face do not only result from a lack of education but also from a lack of opportunity. Here, we want to provide both in order to create the brightest future.

The new training allows youth to attend a core training class, then specialize in a variety of electives, and then put their education to work with an action plan. Our action plans allow youth to create small businesses and be involved with different projects like scholarships, conferences, and volunteering.

Our efforts have already incited so much change in the Congo. Our members have launched more than 75 projects. One woman started a dressmaking business while others have focused on community health. The range and versatility that CLI offers allows Congo's youth to embrace their dreams. We just need your help to reach even more youth with this new curriculum!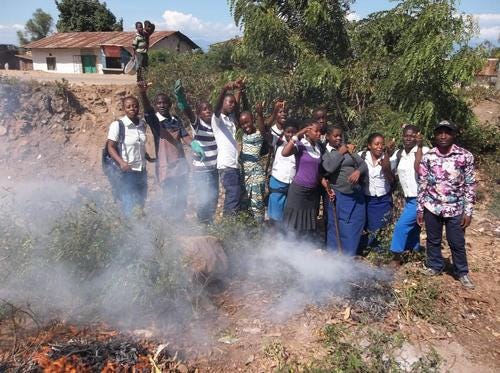 How much money are you hoping to raise and why? How much have you raised so far?
We are trying to raise a total of $2400 with a tipping goal of $1200 on Start Some Good. The tipping goal is our threshold, and if we do not receive at least that much, we will not receive any of the funds. So far, we have raised $250 and hope to reach $1200 in the next few weeks. The money from this campaign will go towards running the Leadership institute.

CLI prioritizes efficiency: With just $40, we can train a Young Leader for an entire year! This includes all costs for facilities, trainers, travel, and food. With our goal of $1200, we will be able to support 60 youth. Our goal with this campaign is to expand to train 60 additional youth, but we will be able to launch a new Leadership Institute site if we can support 30 youth.
Whom are you trying to help with your project and why?
The people we are trying to help with our project are the youth in the Congo. The Democratic Republic of the Congo is a country with many resources and potential for the future. The future for the country relies on its youth, and we are trying to increase their opportunities for education and business ventures with this project.

More than 50% of the Congo's population is under the age of 35, and almost none of these youth are given the opportunities and resources to fully tap their leadership potential. Even more, within the next 30 years, the population of the Congo will double. At Congo Leadership Initiative (CLI), we aim to give these youth the resources they need and deserve with a dynamic educational program called the Leadership Institute. We train leaders who will foster peace and advancement in the Congo. The future of the country rests on the shoulders of the youth!
What rewards, if any, are you offering to your supporters?
We are offering some great rewards to supporters at different levels. Our first level of rewards is a simple $10 donation, which gives a supporter an downloadable PDF of the Leadership Institute's curriculum. At $25, we offer public recognition of our supporters on a social media site. At $50, we offer a handwritten and personalized thank you letter from the staff here at CLI. Other rewards include a handwritten letter from a student in the Congo ($250), a Skype conversation about the organization with the staff ($500), and recognition as an official CLI sponsor ($2000).
Remember to "join the cavalry" by subscribing to GoodCrowd.info here.
The post Nonprofit Lifts Leaders In Downtrodden Congo appeared first on GoodCrowd.info.