New York's Leading Pet Adoption Organization Bideawee Celebrates 110 Years
This is a guest post from Bideawee.
Bideawee, which means "stay a while", in Scottish, is among the nation's oldest animal welfare and pet adoption organizations. Founded in 1903 by Mrs. Flora Kibbe, Bideawee has been providing shelter, care and compassion to homeless animals helping them to find their forever home for the past 110 years.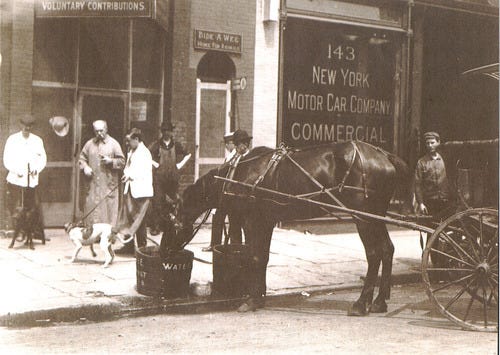 Bideawee Horse and Carriage, Circa 1906
During its early years, when horses and farm animals were common in New York City, Mrs. Kibbe was inspired by the progressive idea of caring for abandoned animals. In 1906, one of the services Bideawee provided was placing and maintaining fresh drinking water for carriage horses.
By 1909, Mrs. Kibbe housed 200 dogs in a building near her home. After having several neighbors complain about the constant noise, Mrs. Kibbe was forced to find a home for her and the dogs. Eventually, through the generosity of others, Bideawee found its permanent home in Manhattan at 410 East 38th Street, where the current New York City facility still operates.
More than 100 years later, the Adoption Centers at Bideawee are working harder than ever to match pets with their perfect companion. Bideawee matchmakers understand the needs and recognize the personalities of every animal in their care. Matchmakers get to know your living situation and lifestyle in order to find the very best match adopters with a pet that ideally suits their life and lifestyle which results in return rates well below industry averages.
With adoption facilities in New York City and in Long Island, in Westhampton, the organization currently has over 500 volunteers and 96 employees.
Bideawee is the only organization in the metropolitan New York area that has a vast array of traditional and innovative programs specifically developed to accompany pets and pet lovers on their life-long journey together. In addition to the Adoption Centers, Bideawee has an Animal Hospital that has helped over 75,000 private client pets and animals awaiting adoption in the past 10 years, learning programs and pet therapy, and the treasured Pet Memorial Parks and pet loss support groups. Bideawee truly cultivates and supports the life-long relationship between pets and the people who love them.
Every dog and cat deserves to live in a safe, loving, and suitable home. To learn more about how Bideawee can accompany you and your pet through your life-long journey together or to view pets in need of a loving home, visit www.bideawee.org.
The post New York's Leading Pet Adoption Organization Bideawee Celebrates 110 Years appeared first on Your Mark On The World.