My First Glimpse of Ethiopia
This is another in a series of reports from a Rotary expedition to Ethiopia to End Polio Now.
From a journalistic view of this trip, it is highly inappropriate of me to report on my arrival today, simply because my exposure to the place is so limited. On the other hand, from a journaling point of view, my first impressions are relevant, if only to provide a basis for further learning.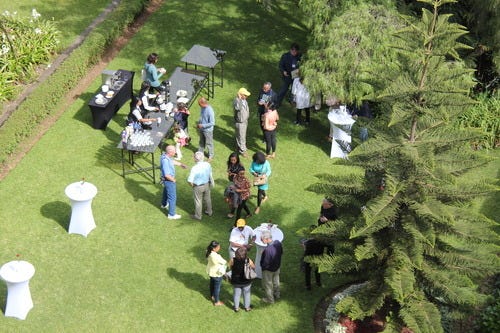 Reception for arriving volunteers held at the Hilton in Addis Ababa.
Having traveled about 30 hours without the benefit of any sound sleep, I arrived in Addis nearly two full days after I left, having also lost 10 hours by crossing time zones. I'd be lying if I said I arrived in good spirits. I was thankful simply to have arrived.
Having gone nearly 40 hours without a shower (I left Salt Lake City in the evening), I was hardly fit for a reception, so quickly checked in to the hotel, connected my computer to the internet (how many of you would have felt the compulsion to get connected to the internet first?) I took a shower and a nap.
The weather today was strikingly pleasant. Addis is just north of the Equator so one would normally expect hot weather, but Addis sits on a high plateau about 8,000 feet above sea level, making the weather just delightful.
The city, which I have seen little of so far, strikes me as somewhat more developed than I expected. So far, we have experienced no interruption in power or internet services. The streets are clean and drivers are well behaved. In my short travels today, we experienced no traffic jams. The city is also cleaner than cities of similar scale in some other developing countries.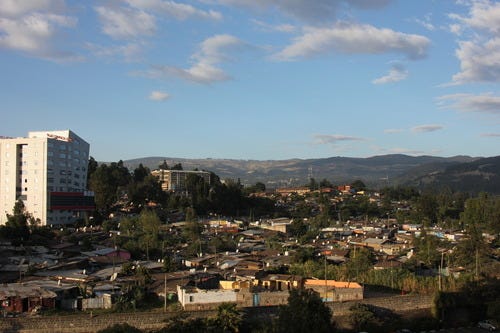 Addis Ababa from my hotel balcony.
My first experiences with Ethiopians have all be pleasant. Our group is led Ezra Teshome, a native of Ethiopia who now lives and works in Seattle. A Past District Governor for Rotary, Ezra is a State Farm Agent who has been leading groups like this one to Ethiopia for twenty years. He is extremely well respected in Rotary circles.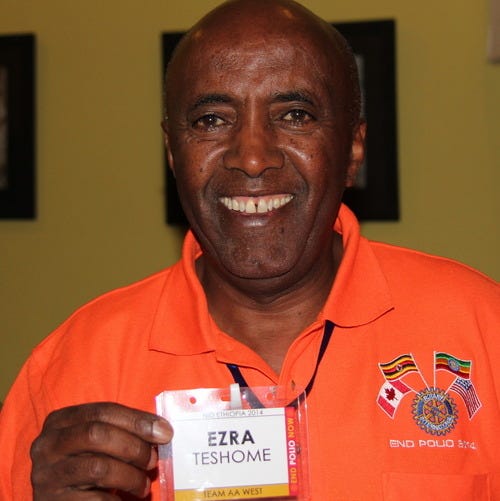 Ezra Teshome.
The post My First Glimpse of Ethiopia appeared first on Your Mark On The World.