Music Fans and Budweiser Make a Splash by Cleaning 20 of America's Rivers and Lakes
Guest post from Budweiser.
As Part of Budweiser's America Made Better Program, Volunteers Worked 3,000 Hours In Support of Local Watershed Clean-Ups and Community Beautification Projects
This summer, music fans from across the country took off their headphones and put on their work gloves to help clean America's rivers and lakes. A total of 1,312 volunteers joined Budweiser as part of its America Made Better campaign, which is focused on water conservation, designating a driver, and military support.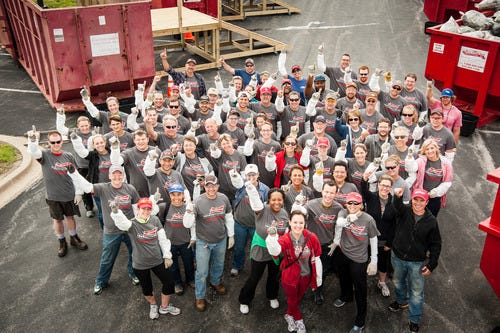 The initiative connected adults to local watershed cleanups in 20 cities, including Atlanta, Chicago, Columbus, Denver, Houston, Los Angeles, New York, Philadelphia, San Francisco and St. Louis, and rewarded volunteers with tickets to Budweiser Made in America parties. Volunteers worked more than 3,000 hours to collect 20,000 pounds of trash, gather 32,300 pounds of recyclables, plant 5,400 trees and native grasses and remove hundreds of invasive species.
"It was incredibly powerful and inspiring to see how, from city to city and person to person, we all share the desire to help improve our communities," said Shana Ruffus, director of Environmental Outreach for Anheuser-Busch. "Through the great work of our employees, volunteers, and partners like River Network, Budweiser has been able to make a real impact. We have always been committed to an America made better and this effort is just one more way to further that goal."
To facilitate the majority of the America Made Better projects across the country and to support healthy watersheds throughout the country, Budweiser donated $150,000 to River Network, $30,000 to Great Lakes Forever, and $50,000 to Living Lands & Waters.
Even though clean-ups have wrapped up for this year, adults can still help our country's rivers, lakes, and beaches by visiting www.causes.com/americamadebetter for more information on the Budweiser America Made Better platform and to view a program recap video. For every view the video receives, the Anheuser-Busch Foundation will donate $1 to River Network, up to $20,000. This is the third installment launched under the Budweiser America Made Better platform on causes.com, which will unlock a total donation of $50,000 for our three water partners.
The post Music Fans and Budweiser Make a Splash by Cleaning 20 of America's Rivers and Lakes appeared first on Your Mark On The World.