Miracle Worker Offers Tips for Impact
You can download an audio podcast here or subscribe via iTunes.
Jean Krisle is a miracle worker. She observed a problem we all seem to recognize–a lack of free drug treatment beds for those who most need the help. Unlike the rest of us, Jean did something about it.
Jean launched 10,000 Beds, Inc., a nonprofit dedicating to finding free treatment beds for addicts who have no resources and no where else to go. The beds come from treatment facilities around the country, which Jean asks them to donate.
Jean has learned some lessons from her efforts and shares three tips that will help any social entrepreneur make miracles happen:
Collaborate. There are myriads of problems in our world that seem overwhelming, but solutions are available if we can simply think creatively, be proactive, and increase collaboration between organizations.

Be creative. The fact that there are solutions available to the challenge you are facing, doesn't preclude another BETTER solution from being out there. Think differently. For us, instead of asking people for $20,000 to provide a scholarship for addiction treatment, we went directly to the treatment centers and talked to them about providing a scholarship bed. This approach is unheard of in our industry, but it makes so much sense.

Be brave. It's not easy to venture out on your own and ask questions that for some reason have never been asked before. It takes courage and passion and commitment to do so. For us, it seemed like our approach made so much sense that there must be a good reason it hadn't been done before. We almost didn't ask! But then we believed in our idea, built up and courage and started asking, and the response from treatment facilities has been amazing.
On Thursday, May 12, 2016 at 4:00 Eastern, Jean will join me here for a live discussion about her work and her three tips for having more impact–making miracles happen–as a social entrepreneur. Tune in here then to watch the interview live. Post questions in the comments below or tweet questions before the interview to @devindthorpe.
More about 10,000 Beds, Inc.:
Twitter: @10000beds @helpingrecovery

10,000 Beds, Inc. is a 501c3 nonprofit organization launched in 2015 to provide scholarship opportunities for addiction treatment to qualifying individuals in need. We do this by partnering with quality treatment centers throughout the nation who scholarship one or more treatment beds (the equivalent of a minimum of 30 days of treatment) each year. Our clients typically have no where else to go, they have burned every bridge, have no financial resources, they need and want help – they have hit bottom. Our goal is to identify and award 10,000 scholarship treatment beds by 2020.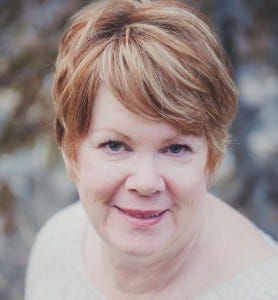 Jean Krisle, miracle worker, courtesy of 10,000 Beds
Jean's bio:
Twitter: @jeanbaughkrisle

Jean Baugh Krisle is the Founder and CEO of 10,000 Beds, Inc. Jean's résumé spans her tenure as Director of Marketing & Communications for CHOICE Humanitarian (Utah), Vice President of Communications for the Atlas Economic Research Foundation (Washington DC), Vice President of Development for several nonprofit organizations including Richard Paul Evans' The Christmas Box International (Utah) and the Rio Grande Foundation (New Mexico), Director of Corporate and Community Outreach for Suncadia Resort (Washington state), and Executive Director at several Chambers of Commerce in Southern California. Prior to "officially" jumping on the nonprofit wagon in the mid-80s, Jean served as a Trustee for Rim of the World Unified School District in Lake Arrowhead, California, and as a lobbyist for K-12 education in Sacramento.

A leader and trainer in the nonprofit industry for more than three decades, Jean's passion for addiction treatment and recovery is anchored in the love and heartache of a mother whose family has been affected by addiction. Combining her passion for recovery with her decades-long career in philanthropy led Jean to create 10,000 Beds in 2015. A professional speaker, coach, and consultant, Jean is committed to helping those who need addiction treatment but do not have the necessary resources to obtain it on their own.
Remember to "join the cavalry" by subscribing to our content here.
The post Miracle Worker Offers Tips for Impact appeared first on Your Mark On The World.