Microsoft: No Single Organization Can Close Skills Gap
This post was originally produced for Forbes.
Microsoft reported doing over $1 billion of corporate giving, mostly in-kind, for fiscal year 2015. The software giant is making giving a more integral part of its strategy, as I explored here. One current initiative is a drive to encourage more STEM (science, technology, engineering and math) education, a three-year, $75 million program called YouthSpark. [Full disclosure: I own an embarrassingly small number of shares in Microsoft.]
Here's the thing, Microsoft Philanthropies President, Mary Snapp (the first female lawyer at the company back in 1988), says, "No single organization or company can close the global computer science education gap. " This may be the best lesson social entrepreneurs can take from Microsoft's massive giving budget. When entrepreneurs set out to solve big problems, they need to partner with organizations who can help.
Microsoft has partnered with the Boys and Girls Clubs of America to expose a broader range of kids to computer science careers. The program provides a "Computer Science Pathway" with four modules, each one building on skills taught in the prior module. This builds upon Microsoft's longstanding support of BCGA which includes more than $100 Million in cash and software donations.
Collectively, the BGCA Clubs operate with a budget of about $1.4 billion annually, according to Julie Teer, BGCA's Chief Development and Public Affairs Officer. She explains, "BGCA has been around for more than 150 years with the same goal: to enable all young people the opportunity to achieve a great future. Over the years, and in particular in the last decade, BGCA has taken a focused approach concentrating on making sure kids and teens have the tools they need to achieve academic success, mental and health wellness and good character and citizenship."
Julie Tier, courtesy of Boys and Girls Clubs of America
She notes that over 11 million kids have no where to go after school and over the summer some 43 million are at risk of being unsupervised. Crime rates spike during these periods.
Some kids don't have enough to eat. Teri Jensen, a BCGA volunteer in Salt Lake City, says her Salt Lake Rotary Club provides volunteers and a $1,000 grant to help provide food for the kids at the Lied Boys and Girls Club. She says, "The Lied Club is located in one of the most economically disadvantaged neighborhoods in the city. Many BGCA Club members to not have enough to eat at home and rely on food provided at the Kid's Café. For the past several years the SL Rotary Foundation has contribution $1000 each year towards offering hot meals and healthy snacks. "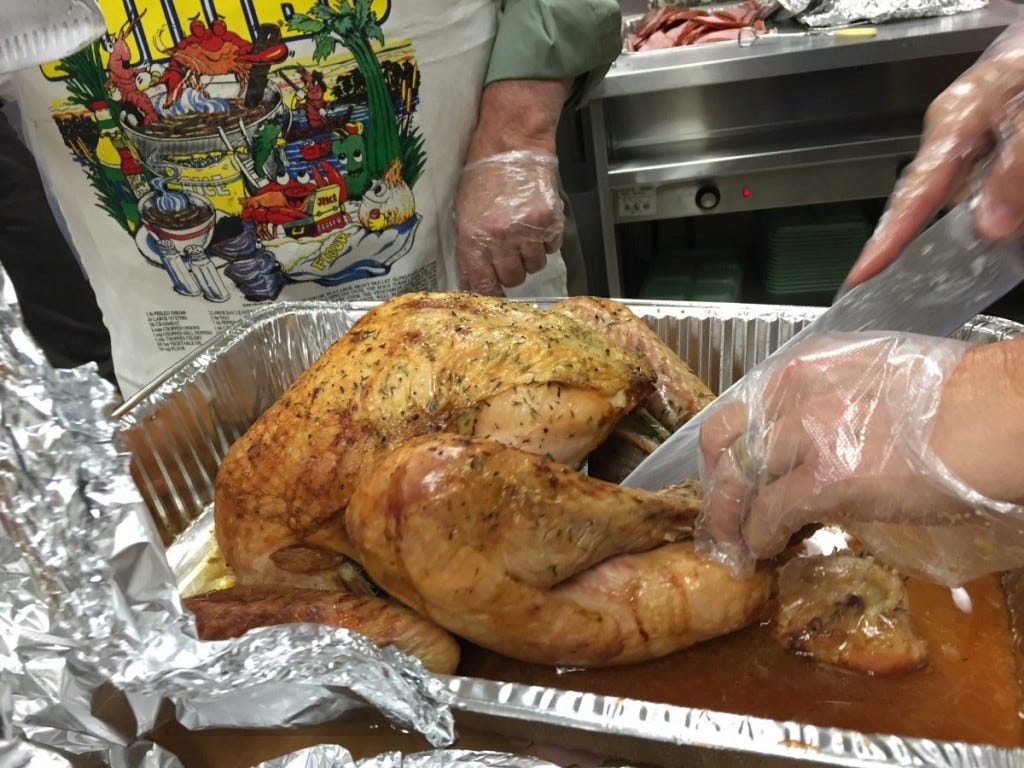 Salt Lake Rotary Club prepared a holiday feast for 250 people at the Lied Boys and Girls Club, courtesy of Teri Jensen
The Microsoft effort has the potential to provide life-changing impact for millions of kids. The partnership between Microsoft and BGCA can be instructional for social entrepreneurs.
While Microsoft's Snapp acknowledges that Microsoft Philanthropies is not a social enterprise, she says, "we share core values that social enterprises possess, as well as support many organizations and initiatives aimed at making the world a better place. Our organization was created to harness the culture and dedication that comes from Microsoft's 30-year legacy of giving, and creating social impact in a sustainable and scalable way. Microsoft's mission – to empower every person and organization on the planet to achieve more – cannot be accomplished as long as individuals and communities are excluded from access to technology and the knowledge needed to use and create with it."
Social entrepreneurs often begin by developing an understanding a problem they wish to address. For the Microsoft-BGCA partnership, the problems revolve around the lack of computer literacy and the central nature of that skill set to our current and future economy. Snapp says, "We use technology in almost every aspect of our lives, but far too few people understand how technology works or have the knowledge to create with it. As a result, many people won't be able to qualify for jobs in the not-so-distant future."
Snapp adds that America's educational system is partly to blame. "Lack of access to computer science education is a significant contributor to this problem. In the U.S., less than 25 percent of high schools offer computer science classes."
As a result, she says, "Only 2.5 percent of U.S. high school graduates go on to study computer science in college, and of this small percentage, only 1 in 5 computer science graduates is female."
Teer agrees. "Today's kids and teens are chief consumers of technology and many – especially those in underserved communities – do not get the opportunity to learn computer science either in or out of school. BGCA wants to grow our young people from mere consumers of technology to creators of it."
Snapp shares Teer's goal of making computer science more appealing to more kids. She says she's hoping "to break down barriers and stereotypes that are keeping large populations of youth out of computer science education — even when the opportunities are available."
Certainly, part of Microsoft's motivation is to provide a quality workforce. While BGCA doesn't face the same issue, many social entrepreneurs reading this will.
Teer describes the progress of the partnership to date. "Through our partnership with Microsoft, we're creating a computer science pathway made up of four levels that are designed to build upon one another so that kids and teens can attain coding skills. The program encourages youth to develop proficiencies in coding over time and at many levels. We're recently finished a pilot in 25 Clubs across the country where more than 1,000 Club members learned about Hour of Code and CS Unplugged, the first two levels in the pathway."
Mary Snapp, courtesy of Microsoft
Snapp identified one of the key challenges the program faces: expert staff shortages. "One significant challenge is the fact that today, there just aren't enough adults who are educated in computer science and trained to teach the next generation. In our partnership with BGCA, we are working closely with them to design their computer science program, as well as provide staff training."
While this isn't a problem social entrepreneurs are likely to face initially, it is the sort of challenge they will face as they scale their efforts.
Teer sees challenges in bringing the program to scale from her side as well. "A challenge that we face with this program (and others) is making it marketable and exciting, so that Clubs will want to utilize it and kids will see the value in the program. When creating a program we understand this challenge and we work tirelessly to demonstrate in the curriculum and through trainings how it activates that value. We'll continue to face these challenges as we expand the program model beyond the pilot to different communities across our footprint."
Snapp recognizes that the partnership with BGCA will not itself be sufficient to solve the problem. Other efforts will be required as well. Because most schools don't teach computer science, most students don't get the opportunity to gain programming skills. She says, " To truly make computer science education universal, there needs to be policy change. We continue to work with policymakers around the world to support the policy and funding necessary to bring computer science into the public education system. In the U.S., we're proud to support Computer Science for All, a national effort created by President Barack Obama to give all American students the opportunity to learn computer science in school."
This is another key consideration for social entrepreneurs, Snapp says. "I think one of the biggest questions for social entrepreneurs is understanding how to make big systemic change when the tools in their toolbox might seem limited to business-based solutions. Understanding the levers that need to be pulled to make change, and then figuring out the partnerships that are necessary to pull them is really key."
Similarly, Teer sees limitations in the program's potential reach. "Our programs do not reach all kids and teens. We currently serve around 4 million each year. It's important that other organizations and schools also offer these types of opportunities to fill the impending gaps in knowledge and preparedness for 21st century jobs."
She sees potential for mission-driven innovators to play a role here. "Especially in computer science, there could be many ways that social entrepreneurs innovate this type of programming to more audiences."
Snapp's vision for the future includes training a generation of social entrepreneurs. "Ultimately, we want every student to have the opportunity to study computer science, which includes computational thinking, problem solving and programming skills. This will empower students to achieve more – whether their goal is to become a computer scientist or not. All fields are becoming increasingly tech-infused, and having computer science knowledge is now as fundamental as learning reading, writing and arithmetic. Tech has the potential to help solve so many of the world's problems, and it's important that people from all backgrounds bring their point of view to tomorrow's innovations."
On Thursday, August 25, 2016 at 4:00 Eastern, Snapp and Teer will join me here for a live discussion about the partnership and the lessons social entrepreneurs can take from their experiences. Tune in here then to watch the interview live. Post questions in the comments below or tweet questions before the interview to @devindthorpe.
The post Microsoft: No Single Organization Can Close Skills Gap appeared first on Your Mark On The World.