This Memorial Day Consider Some Living Veterans
One of the great traditions of Memorial Day is to decorate the graves of veterans. Personally, I would encourage you to consider making a donation to a charity that supports living veterans this year.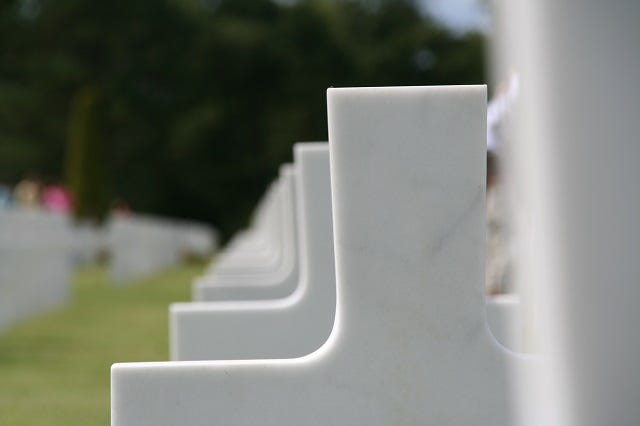 Crosses for American servicemen in Normandie, France. Photo by Devin Thorpe
Charity Navigator publishes a list of nonprofits that support veterans. I've reviewed the list and pulled five four-star examples for your consideration:
But there are millions of our fellow Americans living in poverty and/or living in rural or small town areas who lack the financial means to travel to distant medical specialists for essential care and treatment. Their future health or recovery depends on overcoming the distance-related medical access challenge. This is the reason an MMA-sponsored charitable medical transportation system exists in the United States.
HFOT builds homes as a departure point for these Veterans to rebuild their lives, and once again become highly productive members of society. Despite their life-altering injuries, many of our Veterans have embarked on new careers, completed their college degrees, or started families. Empowered by the freedom a mortgage-free and specially adapted home brings, these Veterans can now focus on their recovery and returning to their life's work of serving others.
Operation Homefront assists military families during difficult financial times by providing food assistance, auto and home repair, vision care, travel and transportation, moving assistance, essential home items, and financial assistance. Wounded warriors are a specific concern for us. That is why we have established Operation Homefront Villages. The caregivers for wounded warriors also need help and that is why we formed Hearts of Valor. We support every military family member. We host a gala each year that recognizes an extraordinary military child and we host multiple Homefront Celebrations each year to show our appreciation to military spouses.
Just as our troops provide cover for the wounded on the field of battle, we must provide cover for those who come home sick and injured. That's as true for a WWII sailor wounded on deck in the South Pacific as it is for a Marine bloodied in Afghanistan or Iraq only yesterday. But providing cover for America's disabled veterans present a challenge today. After seven years of continuous war, many Americans go on about their lives as if nothing is happening in Afghanistan and Iraq. We must put patriotism into action by caring for those who bear the scars of war.
Hire Heroes USA has built a national reputation of excellence for helping veterans find jobs, currently at the rate of more than 100 veterans confirmed hired every week. Thanks to the tax free contributions of generous donors and funders, our services are provided at no cost to any transitioning U.S. military member, veteran or spouse who registers for services. Our team, comprised of former military and business professionals, effectively trains veterans in the skills of self-marketing, then supports their career search until they find good jobs with great companies. The hallmark of our program is a personal approach where each veteran receives dedicated assistance from a highly-trained Veteran Transition Specialist in order to help them effectively communicate their military experience in civilian terminology. Signature services also include transition workshops and connecting the job seeker with veteran-friendly companies and employment opportunities through the Hire Heroes USA Job Board.
Remember to "join the cavalry" by subscribing to our content here.
The post This Memorial Day Consider Some Living Veterans appeared first on Your Mark On The World.